Goodbye Christopher Robin, directed by Simon Curtis (My Week With Marilyn) and releasing from Fox Searchlight, is a dramatic biography tracing the creation of beloved children's character Winnie the Pooh by author A.A. Milne. The film, which has opened in select cities but will open wide on Nov. 10, stars Domhnall Gleeson (The Revenant, Star Wars: The Force Awakens), Margot Robbie (Suicide Squad, The Wolf of Wall Street, the Legend of Tarzan), Kelly Macdonald (Swallows and Amazons, "Boardwalk Empire"), Alex Lawther (The Imitation Game) and introducing Will Tilston.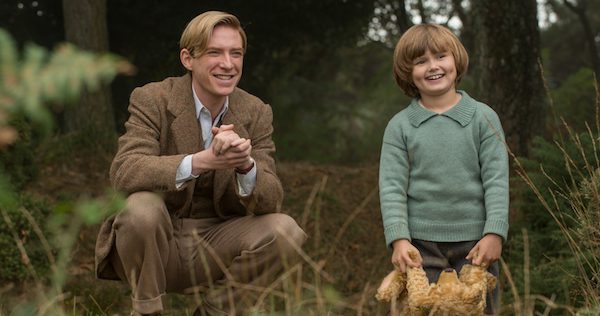 The film's official synopsis follows:
Goodbye Christopher Robin gives a rare glimpse into the relationship between beloved children's author A.A. Milne (Gleeson) and his son Christopher Robin (Tilston), whose toys inspired the magical world of Winnie-the-Pooh. Along with his mother Daphne (Robbie), and his nanny Olive (Macdonald), Christopher Robin and his family are swept up in the international success of the books; the enchanting tales bringing hope and comfort to England after the First World War. But with the eyes of the world on Christopher Robin, what will the cost be to the family?
In this exclusive interview, director Simon Curtis and newcomer Tilston ("Christopher Robin") talk to writer DeWayne Hamby about the film's pro-family message and Tilston's journey to the big screen.
This is a joyful movie but it's not just joy but joy through tragedy. What appealed to you about making this film?
Simon Curtis: Yes, it is rich and complex film based on a wonderful script by Frank Cottrell-Boyce and Simon Vaughan. I hadn't realized that Winnie the Pooh because so famous so quickly, because after the first world war, readers just needed the comfort of an innocent story and that A.A. Milne had had this traumatic time away in the first world war and was recovering playing with his son when they created the books.
Will, it's your first film and first audition, right? You beat out thousands of kids.
Will Tilston: Yes, there was a lot of kids. It was really fun, though. I'm not very competitive but I tried my best.
You fit the filming into schooling?
Will Tilston: Yes, tutoring. Tutoring was surprising fun because I would do science, which was really fun, but I also did sets of stories about the crew and I'd give them superpowers. It turned out to be pretty cool.
Simon Curtis: It's very demanding because for Will, he had to play this very big part but also during the working day had to have school lessons as well.
And working with children, you had a quote about it and directors talk about working with children.
Simon Curtis: It was a wonderful experience. He was very well prepared and he would get the mood of the scene almost always right off the bat. We were very lucky.
Has the estate seen the film? Has there been any input from them?
Simon Curtis: I don't think so, so much. But the biographer of A.A. Milne, Ann Thwaite White was sort of a technical advisor on the film and she's been very encouraging of what we've done.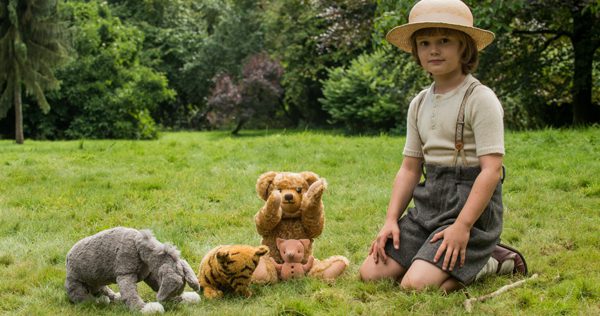 Another thing I pulled from the movie was the joy through the tragedy and a lot of that joy comes through Christopher Robin. In people's times of tragedy, there are times when small children pull you from that. Was that a theme you picked up on or was that a filter I was watching through?
Simon Curtis: What I've heard said to families who are going through tragedies, 'Let the children show you the way through it.' I think there is something in that. Certainly, Milne was a father in his class in his time. They didn't necessarily spend a lot of time playing with their kids but as you see in the film, he's forced to play with his son and discovers a real joy in it. That's his way of coming through what we now know to be PTSD, the trauma of World War I. Billy certainly helps him through.
It's a very family-affirming film.
Simon Curtis: I think so. I think it's a love letter to family. If anything, there's a message in it, which is 'Pay attention to your family. Pay attention to your children while they're around.' As the nanny says to Christopher Robin in the film, 'You never know what happens next.'
What have your friends said about the film? Have they seen it?
Will Tilston: They're really excited. They're more excited than me, if I'm honest. As I said in press interviews, I was walking down the hill, because I walk back myself and a bus went past and I saw my face on it and we all went crazy. It was really exciting.
In the film, Billy was quite overwhelmed with the press coverage. Has it been overwhelming for you?
Will Tilston: To be honest, it wasn't so nerve wracking, but it was just a load of stuff at once. I enjoyed it.
Goodbye Christopher Robin opens wide on Nov. 10 from Fox Searchlight Pictures.