Veteran actress Lois Smith, who first appeared onscreen opposite James Dean in East of Eden, is having a "remarkable" year, earning award nominations for her latest starring role in Marjorie Prime. In the new critical darling Lady Bird, which itself is beginning to gather its own accolades, Smith plays the surprisingly hip Sister Mary Joan opposite Saoirse Ronan's title character.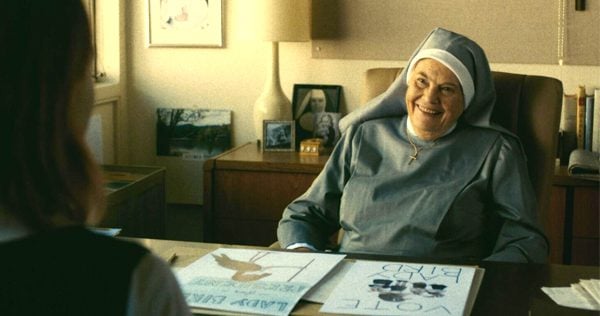 "I'm having a remarkable year," Smith said. "I feel very lucky to be involved in two lovely films that are both beautiful."
Smith, who is also known to audiences as Aunt Meg in the blockbuster Twister and other supporting roles in True Blood and Minority Report, said she loved the script when she first read it as well as the character of Sister Mary Joan, a "compassionate, smart" nun "with humor." In the coming-of-age drama, which centers on a young woman growing up in a Catholic school, she becomes one of the voices Ladybird connects with in a positive way.
"She is a wonderful character who's capable and willing of engaging young people who need some teaching and some encouragement," she said. "She's a wonderful person to play."
Lady Bird is one of the few films to have ever achieved a perfect 100% score on the Rotten Tomatoes website, just one sign of how well the film has been received by audiences. Smith said that in her many years of acting, she's never seen a response to a film quite like it.
"I don't know if I've ever experienced such an almost universal sense of pleasure from it and admiration," she observed. "I think there is a recognition of a genuine experience with people and relationships. It's a wonderful thing to be talked in true and genuine terms and entertained in those terms. I just think that's why it's so beloved."
She also has great praise the "wonderful" cast, which also includes Laurie Metcalf and Timothée Chalamet, as well as writer-director Greta Gerwig for being able to focus in on very intimate scenes, such as Sister Mary Joan and Lady Bird's meeting in the office, as well as larger scenes such as a high school dance.
When asked to reflect on her body of work, which spans seven decades, one of Smith's favorite memories was the filming of Five Easy Pieces, a 1970 film starring Jack Nicholson, Karen Black and Sally Struthers.
"We stayed in the same hotel and talked about the day's work and the script and the next day's work," she said. "That kind of easy collaboration was such a huge pleasure. Collaboration is always a part of this enterprise but that was a particularly intimate and relaxed kind of collaboration and I've always remembered that."
Lady Bird from A24 Pictures is currently in theaters and Marjorie Prime has recently released to home video and streaming outlets.