In the new basketball comedy Uncle Drew, starring Kyrie Irving and Lil Rel Howery, family isn't just about blood relatives, but it's a group of people who come together and care about each other. The new film, released by Summit Entertainment/Lionsgate, features an all-star collection of basketball players supporting Irving, who reprises his elderly Uncle Drew role from the Pepsi digital shorts.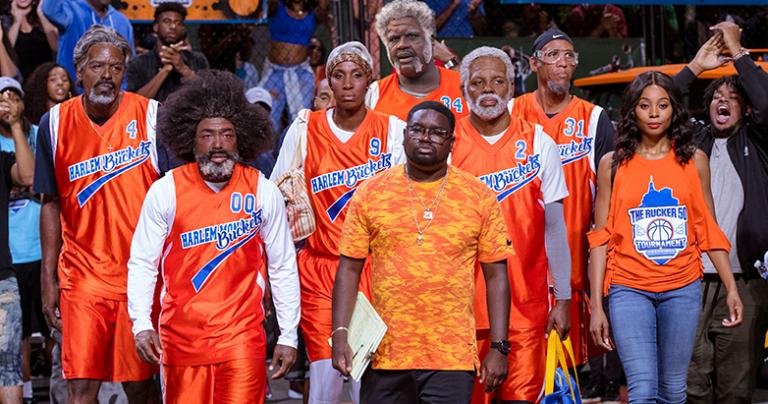 Howery stars as Dax, a street ball coach who's in a bind for a team to compete in the Rucker Classic tournament in Harlem. A chance meeting with the legendary Uncle Drew propels him on an adventure to assemble Drew's old crew, including Big Fella (Shaquille O'Neal), Preacher (Chris Webber), Lights (Reggie Miller), and Boots (Nate Robinson). WNBA star Lisa Leslie as joins the crew as Betty Lou, Preacher's wife.
Part road-trip laugh-fest, part basketball party, the film delivers on laughs and a few tender moments. Drew has to tackle unforgiveness from a teammate and within himself before the team can truly function as one unit. Dax faces his insecurity from a childhood embarrassment, at the urging of the wise advice, "You miss 100% of the shots you don't take."
Howery, who made a splash with
Get Out
last year, is frantic and hilarious to watch. He's a star on rise, carrying the film alongside the charismatic Irving, who plays a pretty good old man. The two are a great onscreen duo. O'Neal, as the grouchy Big Fella, also steals many laughs with one-liners, his greyed muttonchops, and Kung Fu getup. I also especially enjoyed the old school/new school dance off that happens one night in a club before the big game.
While the film features a few elements of the Christian faith, most notably a comical detour at a church baby baptism involving Preacher and Betty Lou, Uncle Drew doesn't dwell too long on any subjects other than basketball, friendship, and family. Apart from some lines coming mostly from Dax's ex-girlfriend (Tiffany Haddish) and his life-long rival Mookie Bass (Nick Kroll), the film could almost be a family-friendly release. It's a few scenes away from a PG rating, but also probably only a few scenes away from an R.
Uncle Drew was written by Jay Longino and directed by Charles Stone III.