Grammy Award-winning singer and actress Macy Gray appears in the new film Change In the Air, releasing in selected cities (see below) this Friday. In this special clip provided exclusively to Patheos.com from the filmmakers, Gray, known for her pop hit "I Try" sings the hymn, "His Eyes Is On the Sparrow," written by Civilla D. Martin and Charles H. Gabriel.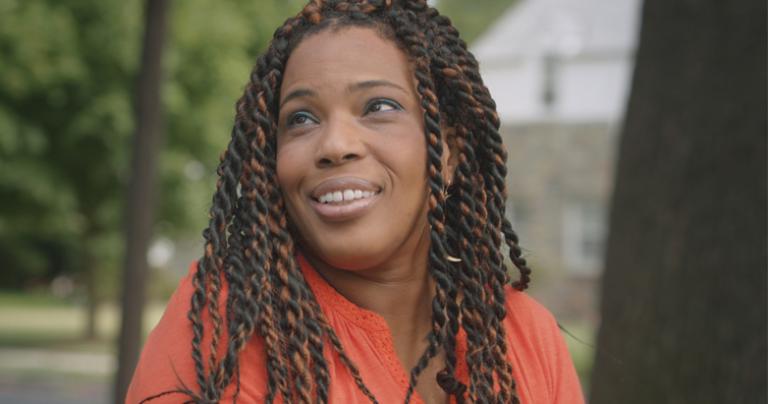 Change in the Air centers on a mysterious young woman (Rachel Brosnahan) who 'awakens' a quiet community. The film also stars Tony nominee Mary Beth Hurt (Interiors, The World According to Garp), Emmy nominee Aidan Quinn (Bury My Heart at Wounded Knee, Elementary), Peter Gerety (Sneaky Pete, The Wire), M. Emmet Walsh (Raising Arizona, Blade Runner) and Academy Award-winner Olympia Dukakis (Moonstruck, Steel Magnolias). The official synopsis follows:
It's an ordinary day on a quiet suburban street when an old man, Walter Lemke (Walsh) decides to deliberately step in front of an oncoming car. Reporting the accident is a woman named Wren Miller (Brosnahan), who has just moved into the neighborhood. But when police officer Moody Burkhart (Quinn) knocks on Wren's door to ask for her statement, she hides.

Wren's arrival proves most vexing to Jo Ann Bayberry (Hurt), who returns from a birdwatching expedition with her husband Arnie (Gerety) to find her neighbors quietly buzzing about Walter's accident and the new woman on the block. There's even more confusion when postal carrier Josh (Satya Bhabha) starts delivering large bags of letters to Wren, who mostly keeps to herself. Jo Ann takes it upon herself to be a good neighbor and investigate Wren, reporting her findings to anyone who will listen, including the local music teacher Donna (Gray) and Walter's patient wife, Margaret (Dukakis). Meanwhile, Arnie finds himself stunned to see a rare, exotic bird in his own yard, just one of many signs that something important in the world is changing.

Finally, Jo Ann does the unthinkable and starts reading Wren's mail. What she discovers surprises her, and leads her and those around her to some profound realizations about life as they know it. Change In the Air embraces the imperfections that make us human, offers a way to set ourselves free, and asks us all to take a good, long look at the wild birds in the sky.
View the exclusive clip of Gray singing "His Eye Is On the Sparrow" below:
Change In the Air opens Friday in the following cities and theaters:
Atlanta Morrow, GA AMC Southlake Pavilion
Chicago South Barrington. IL AMC South Barrington
Dallas-Fort Worth Grapevine, GA AMC Grapevine Mills 30 with Dine-in Theatres
Denver Westminster, CO AMC Westminster Promenade 24
Detroit Sterling Heights, MI AMC Forum 30
Los Angeles Santa Monica, CA Laemmle Monica Film Center
Minneapolis-St. Paul Eden Prairie, MN AMC Eden Prairie Mall 18
New York City New York, NY Independent Cinema Village
Phoenix Avondale, AZ Harkins Gateway Pavillions 18
Tampa-St. Petersburg Tampa, FL AMC Veterans Expressway 24