Adonis Creed returns for a second round with iconic boxing champion Rocky Balboa in Creed II, releasing Nov. 23 from MGM Studios/Warner Brothers. Michael B. Jordan and Sylvester Stallone appear in their respective roles alongside Tessa Thompson and Phylicia Rashad. The story also finds Adonis facing off against a new yet familiar foe, Viktor Drago (Florian "Big Nasty" Munteanu), the son of Rocky IV villain Ivan Drago (Dolph Lundgren).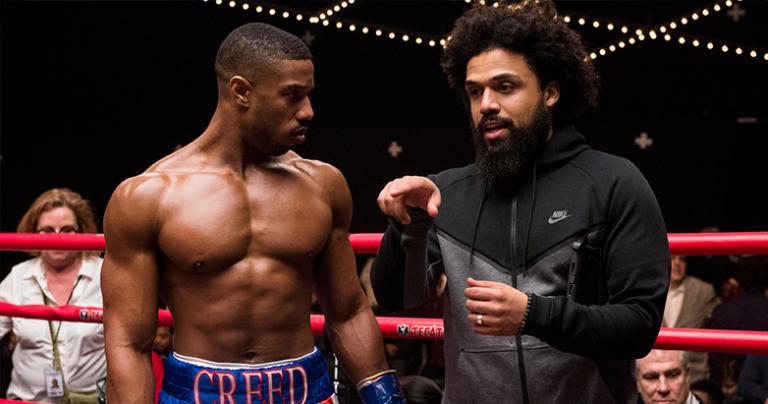 Steven Caple, Jr., who earned accolades for his feature film debut The Land as well as episodes of Grown-ish and the doc-series Rapture, directs the new installment, mixing flashes of old-school nostalgia framed with more modern realism. In this exclusive conversation with longtime Rocky fan DeWayne Hamby, Caple discusses what drew him to the project, the future of Rocky and Creed, the inspirational elements of the story, and what in his own life mirrors the Rocky/Adonis relationship. Spoiler alert: very specific plot elements from Creed II are discussed.  
Coming into this franchise, were you a fan of the original films?
Completely. Rocky is my favorite, but it's also one of my favorite movies of all time, just because what he did. It was different for that time, to show a hero that was a Rocky Balboa. He wasn't the suave, the super smart. He would say he's sexy (laughs), a hero. He was sloppy. He was beating people up for money. I just thought that was just interesting. And then obviously his love interest, Adrian, at the time wasn't a perfect glammed-out, Greta Garbo-kind of girl. And they had a little flaws or relationship. It wasn't love at first sight and they were happily together. Just things Stallone did in that film that were against the norm I would say.
There's a depth to the characters, even the villains. For instance, when the towel is thrown.
That's definitely one of the hard things. All the Rocky movies talked about it. As a Rocky fan and Creed fan, the question is constantly, 'Do we stop now?' And no one ever does. Everyone keeps going. If I remember in Rocky IV, he threw in the towel, but it's too late. I thought it was interesting when it finally came time for someone to throw in the towel and the person you least expect was Drago. I think with the format set up, you go to fight again, and he has to come back. I think a big part of it was how does he win, and to switch it up. He could have easily knocked him out. He still would have got the audience cheer, because it's a feel-good movie. But then now it's sort of a bittersweet ending because he lost. There was this little character arch going on the other side of the corner.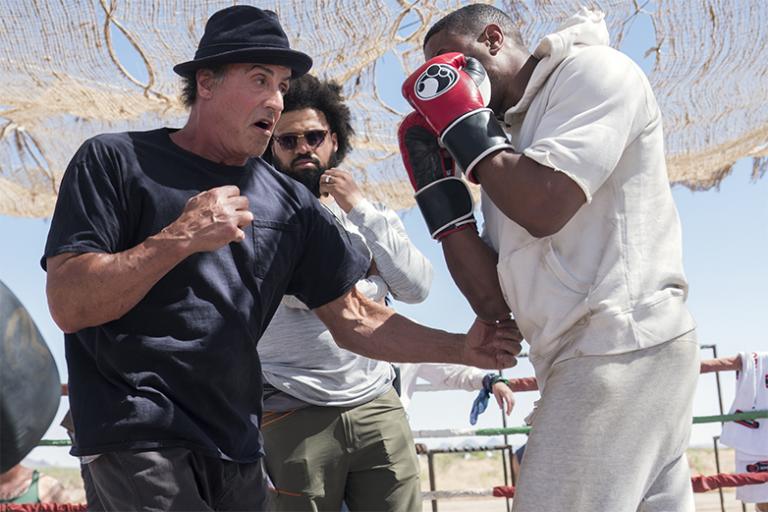 He cared enough about his son to stop it. You're thinking he is living through his son, he's using him, and he doesn't really care the toll it's taking. When he throws in the towel, it's a shift in their relationship.
I'm excited you caught those things. You are some of the first to see the film. This is great and to just have dialogue and seeing what stuck out and what spoke to people is good.
Rocky brings so much in this movie. There are going to be viewers that come to see Rocky, because of the nostalgia. But he's now he's like Yoda. He gives all the great lines. He gets so much wisdom. You could make a book out of his sayings.
We call them Rocky-isms on set. 'What can we add? What Rocky-ism can we add to the whole thing?' Only he can do that. He wrote his lines. That's the one thing that you let him touch, because you can try to write Rocky. You might fall close, and times when I definitely gave him ideas, but he knows how to make it his own. You also see him as an actor because he's not really Rocky in real life. He's Sly. He was so excited about coming out to Philly to start to breathe the character again. And you're just like, 'Wow, I didn't know you had to do that, you played it for so many years.' But he was just excited about coming out and breathing him again. When he's on set, he does improv, the whole nine yards, and you're trying to hold in your laugh, some of the stuff is hilarious, just small moments like when he's talking to Creed in the hallway before he goes inside to propose. That's a magical moment. So now it's really interesting to work with him because he's still passionate after all these years. You think after some point it will probably die down a bit, after the eighth one. It didn't.
In some film, they showed the future and it was Rocky 20. I remembered that joke watching this film and thought, 'You know what? I'd be okay with that.' Just keep doing this, this combination of Creed and Rocky. I'd be up for a TV show, however they wanted to continue. I can't get enough of it.
Oh, I'll tell him that, he'll get excited. He'll definitely start running with ideas! For sure. I think even with Sly and with Mike, I think they would like to continue to franchise as long as it doesn't mess anything up.
So it's not the end for Rocky? Because it seemed a little bit unclear.  
It may be a turning point in their relationship.
Well, he says, 'This is your story now.' I wondered if that meant the next one would be all Creed.  
It may be. Who knows where it goes? There may even be another Rocky, we don't know. As long as there's more story to tell, I think Rocky may come back out again. It might be a TV show. I don't know what Sly has in store. I think as long as there is a demand and they feel like it's organic, and it's natural and people want it, they'll jump into it. There's definitely room to play with, especially in the Creed world. I mean, it still feels like the beginning, you know.
Stallone has said Rocky was a spiritual allegory, even opening with a picture of Christ. Do you think that the new movies are continuing that spiritual element?
Yeah, definitely. It's more internal than putting it all on screen and saying it out loud. I think there's definitely an inspirational growth. I think with this film we wanted to show the maturity, we wanted to show a big thing. We talked about the 'I' versus 'we' within a relationship, right? How do you make a relationship work? It's a give and take sort of thing and all those elements play into the character. I think Rocky and the franchise ultimately relies on the character, so you can allow these internal monologues. These moments feel very faith-based, because you're just so into their journey and they are always these underdog stories, always triumphant. Can you get over that hill with a really huge obstacle in your way? In order to do that, you have to have home, you have to have faith, you have to have, self-confidence and you need the extra push, and rely on people around you. I think naturally its embedded within the entire franchise. I think certain points it gets really commercial, like Rocky IV. It's more Shakespearean than anything else, as Sly likes to call it. But as he went back into Rocky Balboa, he took a shift back. I remember talking to him and he said, 'I did Balboa because I wasn't happy with where we left off at Rocky V.' He went back to the roots and that's what he was concerned about with Creed, what he wanted to make sure we're still had. And I think it did.  And then this one, again when talking to him, I was afraid because we're bringing it back the Dragos. When asked if I wanted to take on the project, I had a meeting with Sly, I had a meeting with Mike, and one of my concerns was, 'Are you going to go really popcorn?' Because I didn't want that. I'm not at that point in my life right now.
It parallels that story, but there's so much more to it.
Exactly. And just, you know, the whole father aspect was a huge thing and family, which I feel are relatable, and all stuff that matters to me. I was able to pull from that. I wasn't gonna' be able to pull it just for a full-on revenge story. It's not me, not who I am. I feel like it wouldn't have been authentic. Yes, it was nice because the conversations really didn't land around revenge. I think it was more so redemption than anything else, you know? That's what you pull from the Drago side. The trailer is of course, 'It's a revenge story.'
That gets people in the theater, but viewers will get much more. It's real life. Like the drama with their newborn daughter, that's a real issue.
As a parent, you can relate to those moments. Because you want to do anything you can do to protect your kid? Especially when the kids just born, no one wants to feel like they failed. But they how do you get past that? That's an interesting point, because it wasn't in the original script. That's something I added. I remember talking to Tessa because we were still writing. I said I want to have this in the movie, but I don't want the audience to feel like she's broken. And we spent a lot of time on it and we were just talking on set. It wasn't till on set where they started to cry and get emotional to where Tessa was like, 'I think I need to smile and just take this in.' Even though Creed had his moment, like 'I'm gonna cry, and I'm gonna try to wipe it off.'  And then there's Rocky's line, 'Don't look at her like she's not feeling sorry for yourself, you shouldn't either.' We didn't want it to feel as if the girl is broken. It's just another obstacle, but there's that hope, a really strong hope element of it. But you have to get out of that slump. You have to get out a little darkness that you're in, which is him going the boxing ring and letting it all out and say, 'All right, I gotta' get through this.' So his family becomes his motivation.
I wanted to ask you about your work with mentoring young kids, which makes me think of the Rocky/Adonis relationship.
I had many mentors in my life growing up. There were programs and afterschool programs that wouldn't necessarily guide, but just show me another outlet. In my neighborhood, there just wasn't much. These programs, one in particular, would take you on a bus and take you somewhere else outside of Cleveland a bit or outside of the city just so you see certain things. That definitely helped, because in my school, my school was like a prison, and it wasn't pleasant.  When I had the opportunity to, as a college student, I went back to the inner city and mentored kids. As a college student, you were asked to teach certain things. I was teaching filmmaking, something I love. The program had little small cameras and I would teach the students how to film make or at that time tablets were in play are coming out. They weren't as they are now. As you could shoot a lot, but just using the art form as an outlet for these kids to express themselves. You saw a little bit of what they're going at home through all these small short films. And then after that I came to L.A.  I moved there and got caught up in L.A. I was at USC film school. I had just moved to an apartment close to south central, so it's in a rough neighborhood. I had moved across the street from USC and on the other side there was a Martin Luther King elementary and everybody knows a Martin Luther King Street in any city is like a bad neighborhood, but I wanted to mentor. So I grabbed a few students. We went over there, and we just started every other week just talking to kids. We didn't know what we're doing. We're just wanting to talk to the kids and the principal allowed us to work with third to fifth graders and then, throughout the years, we kind of expanded.
The next thing you know, we had around 40 students, but we have 30 mentors. They started becoming people from the industry because we got out of film school and started to know people. After my first film, it became an official nonprofit organization. Mentors are on the clock every Friday while school's in session for an hour and a half. They're only boys right now. We're trying to figure out how to get to the girls and bring more women get involved, but it's called Engage the Vision and it's literally about just engaging the kids' vision and showing them that there's something more. All the guys up there are professionals in some form, yet we come down to here to talk to the kids and, honestly, we talk about anything that young boys need to know. It can be about hygiene. It depends on even the teacher. Sometimes they'll tell us kids aren't brushing their teeth or whatever, because their moms aren't home in the morning. So it's really specific and altered towards whatever kids' needs are. But it means a lot just to do that kind of stuff. Now I'm excited it's growing. Actually, I'm going to have an anniversary coming up. I just kept seeing the growth.
Creed II releases Nov. 23 from MGM/Warner Brothers. For more information about Caple's mentoring program, visit www.engagethevision.org. For more coverage of Creed II, click here. View additional behind-the-scenes commentary from Caple, Jordan, Stallone, Thompson, and Lundgren below.