With this week's release of Breakthrough and The Curse of La Llorona, there's a classic battle of good and evil playing out in multiplexes across America. Although the two new movies are on opposite ends of the spiritual spectrum, one based on a true-story tale of miraculous healing and restoration, the other, a frightful fictional spinoff from James Wan's The Conjuring universe, there are some interesting parallels.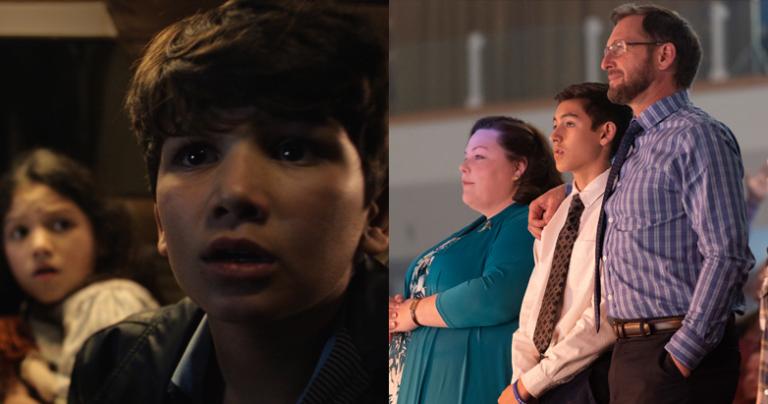 Both stories, releasing during the Holy Week leading into Easter, are supernatural accounts anchored by tragedies of drowned children and their desperate mothers. In Breakthrough, fourteen-year-old John Smith falls through the ice on a Missouri lake and is pronounced dead, provoking desperate cries and prayers from his mother, Joyce. In The Curse of La Llorona, it's the title character, driven mad by jealousy, inciting her to drown her sons and then cursed to roam the earth as an evil spirit. The young mother allows herself to be consumed by evil while Joyce, propelled by a strong faith, calls upon God, who in turn brings her son back to life, fully restored.
Chrissy Metz, the Emmy and Golden Globe Award-nominated actress that plays Joyce in Breakthrough, said the film, which was produced by DeVon Franklin and is releasing from 20th Century Fox, drew her in because of how it showcases the power of faith and hope.
"For me, it's always about the intention behind the project, to me I feel good about something that I want to do," she said. "I wanted to do something uplifting."
Josh Lucas, who was persuaded to accept his role as her husband Brian at the urging of his six-year-old son, also felt the draw to participate in a project he felt was positive and uplifting.
"I think that there are movies that bring people down in thoughtful ways and there are movies that bring people down in negative ways," he said." In this case, Breakthrough is exactly the opposite. This is movie that is wildly uplifting and inspiring but at the same time it also deals with every parent's nightmare. Had this story ended very differently, I would not have done this movie."
Raymond Cruz, a veteran actor most recently seen in Breaking Bad and The Closer, joins Linda Cardellini in La Llorona, playing Rafael Olvera, a defrocked priest specializing in combating evil. Like other James Wan-produced films such as The Conjuring and Annabelle, Cruz reported that a priest was called upon to bless the set while filming.
"You have to remember when you're dealing with that subject matter, it is very sensitive because dark entities exist," he said. "We have a history in film, certain projects like Poltergeist, The Omen, Rosemary's Baby, The Exorcist, where things have happened to people that worked on the movie. You're calling on dark energies and you have to be careful cause if you're calling them, they may answer. We try really hard to protect ourselves."
Box office prediction sites such as Box Office Report are predicting a La Llorona victory of $20 million vs. $16 million, based its theater count of 3,400 compared with Breakthrough's 2,700. Still, with church group presales which began April 5 through a special promotion from 20th Century Fox and Franklin Entertainment, there's a good possibility of a box office upset, especially in the faith-based crowd rallies as it did with PureFlix's Unplanned. The abortion-drama, plagued with social media censorship controversies, has earned more than $16 million, according to Box Office Mojo.
DeVon Franklin, who championed Breakthrough and is the man behind other inspirational films such as Miracles from Heaven and Heaven Is for Real, is excited about audiences embracing his film, which he believes will also bring them hope and light.
"A hit movie, a success at the box office is just an indicator of reach," he said. "So, my goal is to reach as many people possible with this film which is a powerful reminder of the power of prayer and what prayer can do. It also shows that God is still in the miracle-working business."
The Curse of La Llorona, directed by Michael Chaves, releases April 19 from New Line Cinemas/Warner Brothers and Breakthrough, directed by Roxann Dawson, released April 17 from Franklin Entertainment/20th Century Fox.
Franklin recently posted a video encouraging believers to support Breakthrough and push the film to the top spot.
Read more coverage of Breakthrough here.
Read more coverage of The Curse of La Llorona here.