The Curse of La Llorona, releasing today, is the latest film in James Wan's The Conjuring universe, a series of supernatural horror films that also includes The Nun and Annabelle. Directed by Michael Chaves, the film centers on a demonic spirit spawned from a young mother driven mad by jealousy. Raymond Cruz, who plays Rafeal Overa, a defrocked priest, stars alongside Linda Cardellini as the two defend young children from the curse.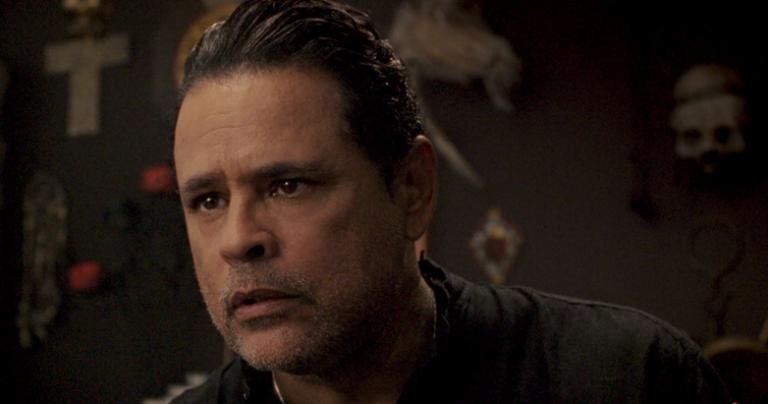 Although La Llorona, also known as the "weeping woman," is a Mexican folk tale, the producers took no chances with dealing with darkness, bringing in a priest to bless the set. Still, Cruz said two unusual occurrences on the set gave him reason to think other forces were at work.
Through the film, when the spirit arrives, it is sometimes signaled by a mirror or glass cracking, prompting screams from the audience. During one particular scene while fighting the evil spirit, Cruz was wearing a bracelet made of obsidian stone that "absorbs negative energy" while holding a Bible in his other. The bracelet suddenly fell off of his wrist in the middle of the take. When he examined it, he made an eerie discovery.
"We picked up the stones, these are really hard stones and three of them were split perfectly in half as if you cut them," he said. "I took one outside and I tried to break it on a concrete porch. I could not break it. I slammed it. I was stepping on it with my boots. Couldn't even scratch it. We can't explain that."
Later, while shooting during the Los Angeles summer, the actor remembers it was around 110 degrees and the cast and crew were working in an old house without air conditioning. Suddenly, the temperature changed.
"Right before we were going to shoot a take up cold chill last of air came through the house and permeated your body," he said. "There was no explanation for it. It was 110 degrees out and I felt like I stepped outside in Cleveland in the wintertime."
Raised as a Catholic and having attended evangelical churches with friends, Cruz appreciated the care taken in "protecting" the cast and crew from any negative forces that they might have encountered in telling the story.
"You have to remember when you're dealing with that subject matter, it is very sensitive because dark entities exist," he said. "We have a history in film, certain projects like Poltergeist, The Omen, Rosemary's Baby, The Exorcist, where things have happened to people that worked on the movie. You're calling on dark energies and you have to be careful cause if you're calling them, they may answer. We try really hard to protect ourselves."
The Curse of La Llorona releases today from New Line Cinema, An Atomic Monster/Emile Gladstone Productions and Warner Brothers Pictures.