The biblical story of Noah—the flood, ark, animals, rainbow, and all—is playing out once again on the big screen as a Fathom Events presentation. Sight and Sound theaters, with theaters located in Lancaster, Pennsylvania, and Springfield, Missouri, produced the epic biblical drama, which has played before more than 5 million audience members. The special event was recorded live and is playing April 11 and 13.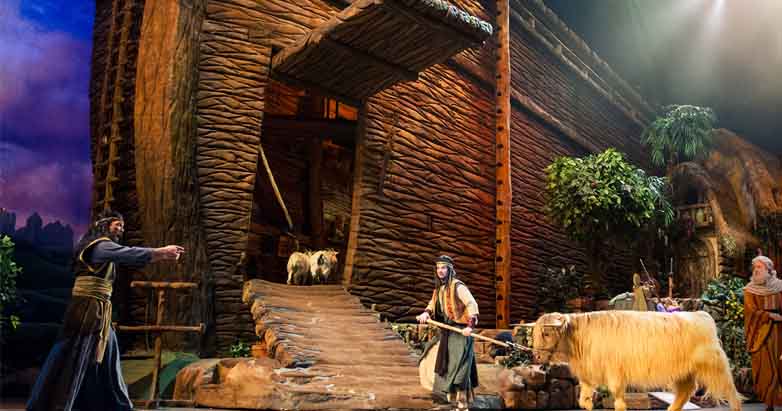 Katie Miller, corporate communications manager for Sight and Sound, recently spoke about the new presentation and the company's upcoming projects.
This is the third Fathom event presentation of a Sight and Sound show, so it must be a successful avenue for you.
Yeah. We are definitely in a season of exploring how we can continue to extend our ministry beyond our two locations. (Previous Fathom events) Jonah and Moses both exceeded our expectations. We actually experienced 80% growth for Moses over the Jonah numbers. It was such an encouragement that for us that there is an equal passion for these Bible stories that we have nationwide beyond just what our two locations are experiencing. We are very excited to continue to see how this effort can grow.
What do you do to make it more tailored for the movie theater?
We filmed the show in front of a live audience over two days and four shows. So, we capture the show four different times to be able to create our final edit because we are really dedicated to wanting the experience to be as close to being live as what it can be. For me, the thing that I think I really appreciate about the filmed version of these shows is that our theaters are massive. They are so big, and the shows are so big, but the cameras can get places and capture emotion and angles and the quirky little things that animals do on stage in a way that you can't always pick up on all those details when you're sitting amongst 2,000 of your closest friends. So ,there's something to be said for the experience being almost more of an intimate feel, if that makes sense, when it's on the movie screen because you are getting an up close personal view of exactly what happened on stage. We don't change the show for the movie experience. It is the same show, but the cameras can capture things that you may not always catch when you're sitting in the audience.
Do you play additional content?
If you get there early enough, there will be all sorts of behind the scenes looks and an interview with our show director and executive producer as well as the director of the actual film event. You also get a sneak peek behind the scenes of what the animals experience backstage. All of that will be in the pre-show before the actual show time.
What's unique about Noah?
Noah holds a very special place in our hearts because it really is the show that put us on the map. We affectionately refer to it as our landmark production or our flagship show, because it premiered in 1995. It was really the show that helped us realize that big epic Bible stories where the thing that we were most passionate about, that were drawing people to us. It was the first show we ever did in a big spectacular form. Since it premiered, it's been experienced live on stage by well over 5 million people. So it's our most attended show ever. It feels really special for us internally. We hope it feels that way to the audiences that are going to experience it.
What's ahead in your theaters?
Jesus is on stage in Lancaster this year. Samson is on stage in Branson. Both are back for one final season. We have our Christmas show, Miracle of Christmas, coming to both locations for the holiday season. In 2020, we're super excited because we will be premiering Queen Esther for the very first time. It's a brand-new show for us right here in Lancaster and then Branson will be taking the Jesus live stage show to the Branson theatre for the 2020 season in Branson. We have a lot going on all across, both in both locations and with the Fathom event. We're super excited about all that's happening.