Two decades after the release of The Other Side of Heaven, featuring the big screen debut of a young Anne Hathway, its sequel The Other Side of Heaven 2: Fire of Faith will release June 28. The film features the Grobergs, a Mormon missionary family, working in the Polynesian country of Tonga. Christopher Gorham (Ugly Betty, Covert Affairs) returns to the role of John Groberg alongside New Zealand actress Natalie Medlock.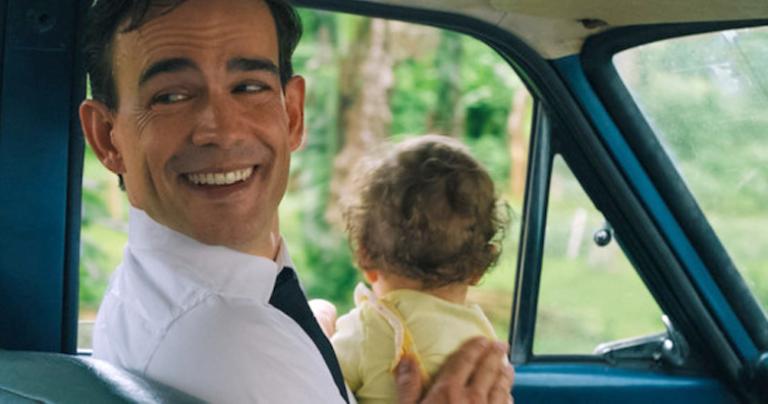 Mitch Davis, who directed the original, that was picked up for distribution by Disney and went on to sell more than 4 million DVDs, returns as a producer and director for the new film. Even though he had always envisioned a sequel, it was only recently that it made economic sense to do so because of foreign exchange rates and tax rebates from Fiji.
"The first film was successful enough that there were immediate calls for a sequel from fans and from other filmmakers and distributors," he said. "But I, I resisted because I was afraid we could not make the second film at a big enough level to feel like the original. We'd been able to produce the original with the favorable foreign exchange rates. It felt like a $25 to $30 million film. And I did not want to make a, a low, low budget sequel. A couple of years ago, we discovered fortuitously that Fiji has a 47% tax rebate for approved films. And we realized we could make this movie in Fiji with Fijiian dollars at a two-to-one exchange rate and then with a 47% rebate. And all of a sudden, every dollar we spent was $4 on the screen and that made it all possible."
Although Hathaway did not return to her role, Gorham, who has enjoyed a successful television career since the original, was excited to return to the set and reunite with many others in the cast. When Davis approached him, he remarked, "We're getting the band back together?"
"It was a really a joyous thing to see Chris reunite with a number of actors from New Zealand," Davis said. "There are five actors from the original film in addition to Chris and they all just sobbed when they saw each other again. It's just so interesting how you can make a movie and become a family and then you go your separate ways. When they were back on the set together, it was, it was like a high school reunion."
Missionaries have long come under fire for their evangelistic efforts, many under threats of violence and physical harm, but more recently with public scrutiny from critics at the process of breaching into native tribes. For Davis, a former missionary himself, mission work benefits the missionaries as much as it does the indigenous people.
"The Western missionaries end up being served by and taught by the people that they are sent to serve," Davis said. "In the first film, the family takes away more than they bring. They learn more than they teach. And that for me is the magic of missionary work is that if you do it right.  You end up edifying each other, learning from each other and more than anything, loving and understanding each other. If our world doesn't need more of that right now, I don't know what it does need."
Along with missionary work and learning to love each other, the topic of faith is something Davis sees as vitally important to a world searching for answers. He hopes the new film will inspire viewers as much as the original did.
"This movie is subtitled 'Fire of Faith,' and I can't think of anything our planet needs more now than a good dose of faith," he said. "Faith has five letters in it, but it's kind of become a four-letter word in today's world. It's just disparaged. People of faith are often depicted as narrow-minded and arrogant and culturally insensitive. This is a movie where a family from the U.S. goes to the South Pacific to ostensibly deliver faith, but they end up actually receiving it in a rich abundance. They learn more than they teach, and they're given more than they give because they find a people so loving and so faith infused that they get more than they give. It's no small thing that these are people of different colors and different cultures who learned to not just get along, but unconditionally love and trust each other."
The Other Side of Heaven 2: Fire of Faith releases in theaters nationwide on June 28 from Excel Entertainment.