An orphanage director from the slums in Calcutta is thrust into the lives of a New York socialites in the Sony Pictures Classic release "After the Wedding." Michelle Williams stars as Isabel, who's carved out a life among the poorest in India when she is called on to make a trip to meet a potential large donor, Theresa Young (Academy Award-winning actress Julianne Moore), the multimillionaire head of a media empire.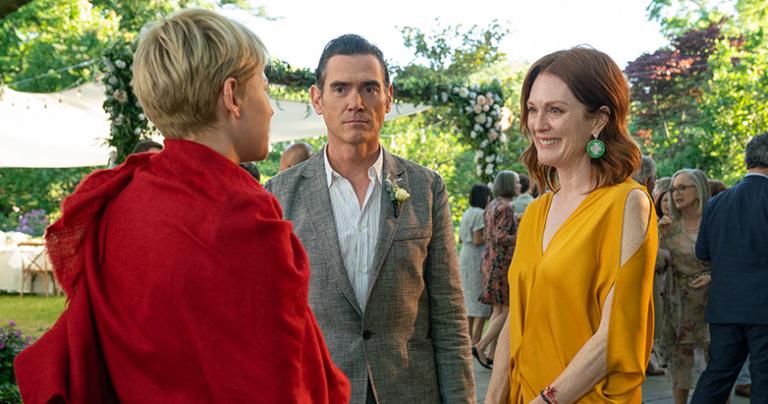 As if going from slums to a penthouse suite in Manhattan isn't cultural whiplash enough, Theresa insists Isabel attend her daughter's wedding while in town. Laser-focused on her mission, Isabel agrees, and is blindsided by an unresolved relationship at the reception. In a social event out of her element, she's suddenly the uncomfortable center of attention. But is it a coincidence, fate, or the orchestrations of a master manipulator? If so, what could be the purpose and what will be the consequences?
Based on the Academy Award nominated Danish film by Susanne Bier, "After the Wedding" slowly peels back relationship layers, leading the audience on a series of reveals and a rollercoaster of emotions. Williams and Moore are fitting counterparts, Williams meticulously portraying the cautious and understated Isabel while Moore assumes the role of as an outspoken businesswoman and matriarch. Billy Crudup and Abby Quinn also star as Theresa's husband and daughter who also form their own bonds with the visitor from the orphanage.
Though the film's trailer hints at it being a thriller, "After the Wedding" is very much a drama with some mysterious overtones, a showpiece for the accomplished acting talent. The story takes audiences on a journey that will endear them to the characters and reach a satisfying and provoking conclusion, all the while encountering themes of forgiveness, restitution, and reconciliation. As in reality, as the true heart of the characters are revealed, the reasoning behind their behaviors begin to make sense. Isabel in particular learns that she cannot outrun her past, but when it catches up to her, does it destroy or provide healing?
"After the Wedding," directed by Bart Freundlich, releases from Sony Pictures Classics on August 23.