Gospel singer Kirk Franklin is known, as his autobiography describes, a "Church Boy," but the GRAMMY-winner recently revealed his upcoming Sony biopic will not be sanitized. Earlier this summer, it was announced Franklin was working with producer DeVon Franklin ("Breakthrough," "Miracles from Heaven," "The Star") on the movie for his Franklin Entertainment company.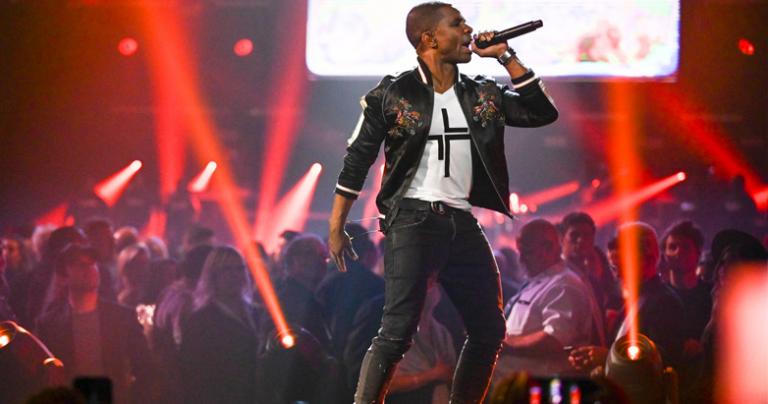 Kirk Franklin has appeared in and provided music for many Christian films, but in a press conference after the recent Gospel Music Association Dove Awards, he described the film as a very different type of faith-based film.
"It's going to be real," Franklin said. "It's going to be a gully film. It won't be choir robes and prayer hands. There is redemption, but my journey was ugly, and I made a lot of mistakes."
The multi-platinum singer, known for hit songs such as "Why We Sing," "Stomp," "Lean on Me" and "Looking for You," likened the film, which has been in process for 15 years and has moved from Lionsgate to Sony, to R-rated music biopics such as "Eight Mile" and "Purple Rain." For him, it is important to show the warts-and-all for "kids that look like me and how God's grace can be transformative." He added a parallel to the life of the biblical character David.
"If there was a real-life movie on David's life, it would be a mess," he said. "It wouldn't be a cute, pretty Christian movie. It would be a hot mess. So, my movie is going to have some hot mess moments."
In the same conversation, Franklin revealed that his sister, who had been released from prison, had been incarcerated again, bringing him back to his movie comments.
"That's why the movie's got to be ugly," he said. "It can't be a pretty movie, because that ain't my life."
Since his first release "Kirk Franklin & the Family" in 1993, Franklin has received 12 GRAMMY Awards, 13 Gospel Music Association Dove Awards, and 28 Stellar Awards. He's appeared in front of the camera in the films "Joyful Noise," "Something to Sing About" and the television show "Sister, Sister." He also contributed songs to film soundtracks such as "Breakthrough," "The Hate U Give," and "Hidden Figures." His latest music release is "Long Live Love."
DEWAYNE HAMBY is a communications specialist and longtime journalist covering faith-based music, entertainment, books, and the retail industry. He is the author of the book "Gratitude Adjustment." Connect with him on Facebook, Twitter, YouTube or InstaGram.