An all-star cast, including Ed Skrein, Patrick Wilson, Luke Evans, Aaron Eckhart, Nick Jonas, Dennis Quaid, Woody Harrelson and Mandy Moore, assembles to turn the tide of World War II in the new Lionsgate military action movie release, "Midway." Directed by Roland Emmerich, the film centers on a group of stories interwined with the Battle of Midway, six months after the bombing of Pearl Harbor.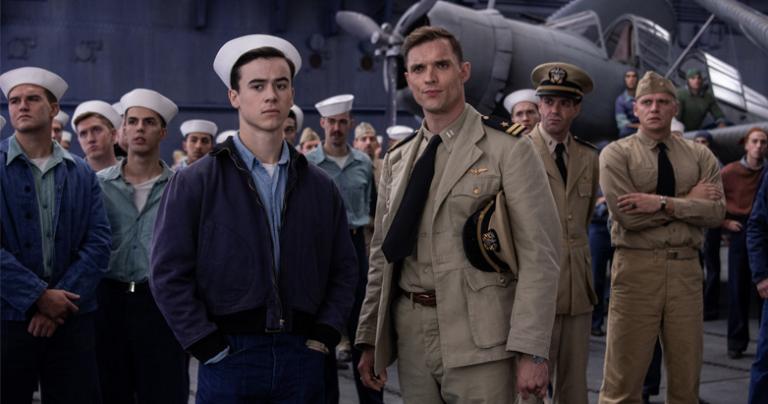 Emmerich, who's built a reputation for well-received big-budget war epics "The Patriot" and "Independence Day," brings some visual spectacle to the picture, frequently placing viewers right in the middle of the action, whether in plane cockpits or fighting fires on battleship decks. Attention is given to the personal toll of the war as soldiers leave wives and children, and also mourn the heroes they've lost. Moore, as Best's wife Ann, isn't given much screen time, but her presence represents the many families waiting for word of their loved one's return.
Because of marketing the film overseas or following a trend of humanizing previously-demonized enemies, the Japanese officers on the other side of Midway are also profiled. In various scenes, they remark on the courage of the US soldiers as well as the archaic aircrafts they worked with. Emmerich explained, "My film is an homage to all the sailors who lost their lives at Midway, both American and Japanese."
At the same time, the spiritual lives of the servicemen are seldom mentioned, outside of funeral rites and Ann asking Dick if he'll be attending church. In one scene prior to the tragedy at Pearl Harbor, one soon-to-be-unlucky sailor protests setting out chairs for a church service, proudly declaring his atheism. It may have rung a little more realistic, at least to me, to have more calling on divine help when facing impossible odds and impending death.
Regardless, the film succeeds in its mission of honoring the heroes who changed the course of history and preserved freedom. Whether directly mentioned or not, the familiar passage "Greater love has no one than this: to lay down one's life for one's friends" (John 15:13) is an important takeaway. In cineplexes frequently dominated by superpowered heroes, it's always good to be reminded of the selfless bravery of the Greatest Generation, the fighters of WWII.
"Midway" is rated PG-13 for sequences of war violence and related images, language (frequent use of taking God's name in vain) and smoking. It releases November 8, just in time for Veteran's Day.