Life is beautiful and terrible and wonderful, all at the same time. But it's worth the pain. In the gripping new film "Waves" from writer-director Trey Edward Shults, a modern American family gathers its strength to raise children and overcome life-shattering circumstances.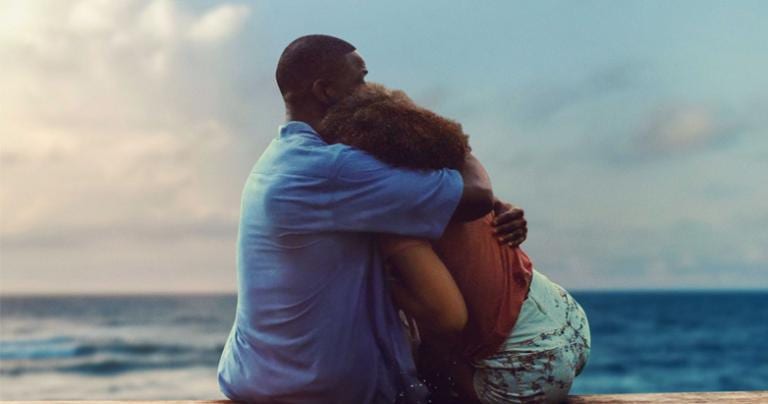 Kelvin Harrison, Jr. ("It Comes at Night") stars as Tyler Williams, a high school senior under pressure from all sides, including his domineering father, Ronald (Sterling K. Brown). As he pushes Tyler to the brink, he explains his reasoning for high expectations, especially as an affluent African American family: "We are not afforded the luxury of being average." Taylor Russell ("Escape Room") is his younger sister, Emily, a quiet wallflower until circumstances force her out of her social cocoon and into the arms of Tyler's wrestling colleague, Luke (Lucas Hedges).
As its title suggests, "Waves" begins on a more tranquil note, giving a realistic take on the Williams family's daily struggles. As they travel to and from church listening to Dinah Washington's "What a Difference a Day Makes," it's an ominous hint of a tsunami headed their way. Because of superb writing, direction, and the performances, which also includes Renée Elise Goldsberry ("Hamilton") as Catherine, these are characters the viewers care deeply about at every turn.
The family members that stand at the end of the film are not the same ones we're introduced to at the beginning. Their setbacks are heartbreaking, taking them the very edge of despair and sadness. While the incidents are extraordinary, the challenges they face—bitterness, anger, hatred—are familiar demons for many. In one scene, Ronald, who offers a few important insights, plants a seed of forgiveness for one of his children. He quotes Proverbs 10:12 "Love covers all offenses" and explains, "Holding on to that much hate will destroy a person and I'm not about to let that happen to you."
The film is mesmerizing, thanks in large part to Shults' expert writing and direction. Many scenes are beautifully and creatively framed, seeming to never take the easy way out. It enhances the emotion, placing the viewers steps behind the characters' experiences. A pitch-perfect soundtrack, including songs from Animal Collective, Kendrick Lamar, and Radiohead on a backdrop of an original score by Academy Award-winning duo Trent Reznor and Atticus Ross, are vital but memorable. Chance the Rapper's "How Great," incorporating the Chris Tomlin chorus "How Great is Our God" is also featured in a scene that prompts a discussion of Christianity and religion.
By charging headfirst into the darkness, the light of hope shines brighter than it would otherwise. It is raw and unflinching. Shults is unafraid to go there, and "Waves" achieves greatness because of it. The biggest misstep, which I believe is unfair or even lazy, is a split-second portrayal of a pro-life protester as a racist bigot. Otherwise, the director tackles the complex moral issue with great care.
Still, "Waves" is a visually stunning and emotionally gripping portrait of how this family is impacted by and suffers through a tragic situation. It is captivating from start to finish, diving deep into a parent's darkest fears before confronting them with hope and resilience. It will tear your heart out and yet somehow inspire you to persevere. It's probably the best film I've seen this year.
DEWAYNE HAMBY is a communications specialist and longtime journalist covering faith-based music, entertainment, books, and the retail industry. He is the author of the book "Gratitude Adjustment." Connect with him on Facebook, Twitter, YouTube or InstaGram.