Acting powerhouses Anthony Hopkins and Jonathan Pryce star as Pope Benedict XVI and Cardinal Bergoglio, the future Pope Francis, in the new Netflix drama "The Two Popes," releasing Dec. 20. Director Fernando Meirelles ("City of God") and Anthony McCarten craft the hypothetical encounter of the two leaders of the Catholic Church prior to the historic transition of leadership.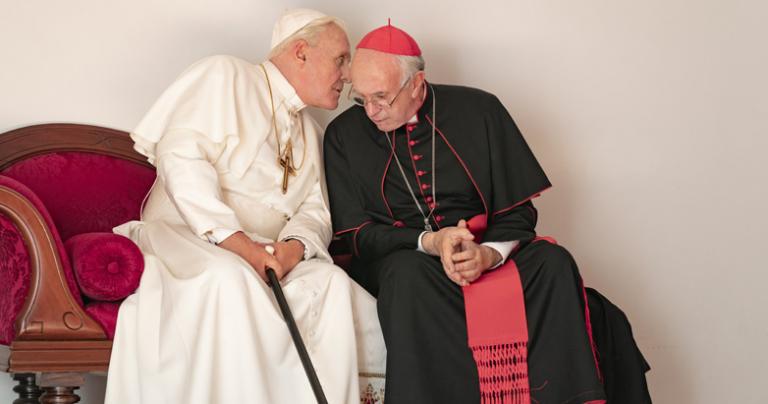 In the fictional story "based on true events," Bergoglio visits Benedict at his summer residence with intentions to resign. Instead, he finds the Pope considering his own retirement. Bergoglio seemingly has no interest in the papacy, which Benedict sees as a virtue. "The most important qualification to be leader is not wanting to be leader," he observes.
The official reasons given for Benedict's retirement were declining health, but in this story, the Pope seems lonely, detached from humanity and perhaps even God. Is it possible the man who more than a billion Catholics consider to be the closest to God felt all alone? In one scene, Hopkins acknowledges that God is always near, but "He doesn't laugh."
This is a poignant moment that resonates. Even the loftiest of religious figures can have their own doubts and struggle with hearing God's voice. Back in 2007, the book "Mother Theresa: Come Be My Light" revealed the beloved saint had her own dark moments.
When Bergoglio, his harshest critic from the opposite end of the spectrum, arrives, the two trade disagreements, such as who is worthy to receive communion and the belief in angels, before settling on a kinship that breathes new life into the pontiff. In a scene already derided by critics, Benedict confesses an apathy toward a priest accused of sexual abuse. Followers of both leaders and Church scholars can make their own minds up about how accurate this might have been.
Using beautiful cinematography from Rome and the holy sites of the Vatican, "The Two Popes" lets viewers peer into an otherwise unseen world of the papal selection as well as behind closed doors where leaders are able to relax around each other. One such closed-door leads into the Sistine Chapel and when Benedict emerges, the visitors are shocked and delighted. Their cell phone selfies and response to the Man of God give the film a moment of modern relevance. Hopkins and Pryce are both comfortable in their roles, offering some levity and gravity where needed. Regardless of religious affiliation, watching the two professionals is its own special blessing.
"The Two Popes" releases on Netflix Dec. 20.