An elaborate Broadway-style musical production of the life of Christ will debut on Trinity Broadcasting Network (TBN) this weekend in time for Easter celebrations. "Jesus," staged by the Sight and Sound Theaters in Lancaster, Pennsylvania, was viewed by more than one million attendees and recorded for the screen.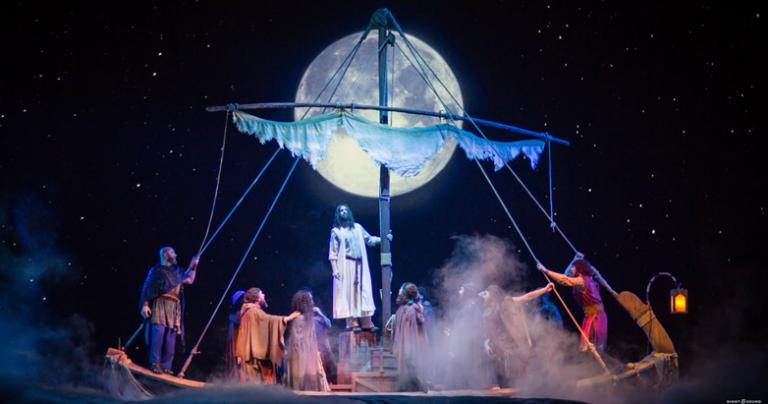 Before the Covid-19 nationwide crisis which shuttered theaters , the show was intended as a multi-night theatrical event, like previous successful Sight and Sound offerings such as "Noah," "Moses" and "Jonah." TBN, a leader in faith-based television, will now present the show anytime Easter weekend, April 10-12 on its website or app or on television Saturday, April 11 at 1 pm EST.
"With people not being able to gather together to celebrate Easter, our hope is that by making this show available, we might all feel a sense of community and connection as we watch the greatest rescue story of all time come to life in this unique way," said Sight & Sound Chief Creative Officer Josh Enck.
Two years ago, I attended the red-carpet premiere of the show in Lancaster and, like other Sight and Sound productions, it was simply phenomenal. "Jesus" was the first time the theater had introduced its state-of-the-art LED screen. To its credit, the production team used the screen to only enhance its stunning, intricate physical backdrop, creating an unforgettable experience. When Jesus and the disciples encounter the storm while on the boat, the sea is indeed very angry and realistic. The musical traces the life of Christ through the Passion week, which Christians around the world are celebrating this week. The official synopsis follows:
From the bustling streets of Jerusalem to the raging Sea of Galilee, JESUS is the musical stage adventure that has been seen by more than one million people.

Filmed in front of a live audience, Sight & Sound's spectacular original production is now coming to television and streaming devices everywhere. Witness some of the most awe-inspiring, miraculous events as Jesus sets sail with fishermen, challenges the Pharisees and heals the hurting.
For more information or to watch, click
here
.