Nashville's Grand Ole Opry radio show continues its broadcasts this week with Amy Grant, Vince Gill, and daughters Jenny Gill and Corinna Grant Gill. Amy Grant and Vince Gill's Christmas shows have become a yearly tradition in Nashville and around the country. In 2019, they headlined 12 shows at Nashville's Ryman Auditorium.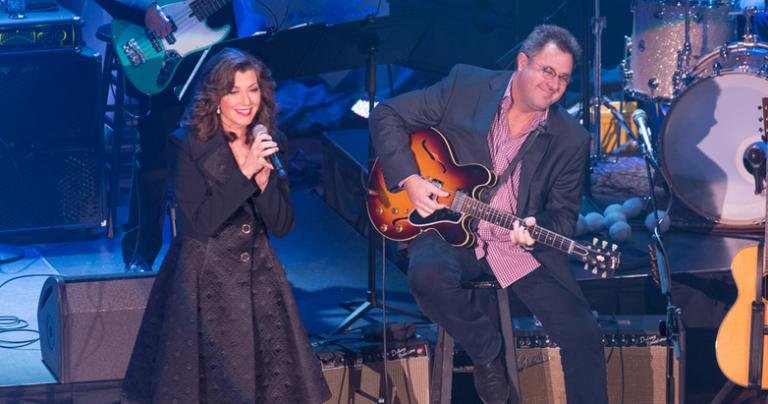 Since the outbreak of the coronavirus, the Opry shows have been taped without a live audience and under the strict supervision of the Nashville Director of Health. Saturday night will be the show's 4,917th consecutive Saturday night. Last week, Gill performed with Brad Paisley and Marty Stuart to an empty audience. The typical Opry audience is a full house of 4,400 at the Opry House.
"As our city takes necessary public health measures to ensure the safety and well-being of our residents, the Opry's Saturday broadcast will be an important reminder to Nashvillians and millions of people around the world that the music will always continue playing in Music City," said Nashville Mayor John Cooper. "With families safely watching and listening from their homes across our city, we are grateful to have some of our city's greatest ambassadors – Vince Gill, Amy Grant and members of their family stepping on to the stage Saturday night to lift our spirits."
"I can't count the number of times I have walked through our house on the way to the coffee pot, hearing Vince or one of the kids working on a song and wishing the whole world was surrounded by music the way I have been," said Amy Grant. "Music is healing and soul-filling and connects us to each other. I'm honored and thrilled that our family has been asked to take the Opry stage on Saturday night."
The Gill family will step on the stage together Saturday, March 28 at 8 PM ET / 7 PM CT. The show will be broadcast live on Circle, and on Gray TV stations and other TV affiliates in addition to a companion live stream on Circle's Facebook and YouTube. TV and radio personality Bobby Bones will host the Circle telecast, while Opry announcer Mike Terry will join the Opry's radio audience at the on-stage announcer podium. Embracing today's technology, the Opry will be broadcast and streamed with a very small production team and just four artists performing acoustically on the Opry stage.
Fans around the world can also tune-in to the broadcast on the Opry's flagship radio home, 650 AM-WSM and several other outlets. More than a million fans tuned in live last Saturday to video stream or listen to Opry members Vince Gill, Brad Paisley and Marty Stuart perform acoustically from the Opry Circle.