A World War II destroyer captain relies on God and guns to get him and his fleet to safety in the new Apple TV+ film "Greyhound" starring Tom Hanks. Based on the novel 'The Good Shepherd' and a screenplay by Hanks, the film centers on the Keeling ship (codename "Greyhound") leading a convoy of troops and guns during the war. The convoy quickly comes under fire from German U-boats, forcing the captain and crew to survive until they can reach British air cover.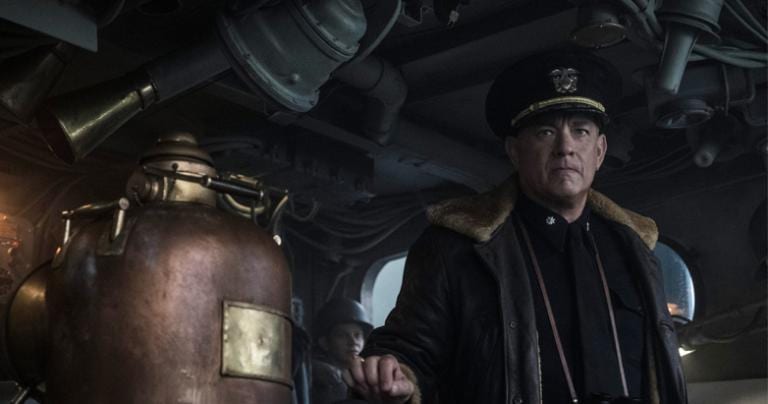 Like many of Hanks' characters, Krausse in an everyman. He shows kindness to his shipmen, even in the heat of battle, and a longing for a love interest back home, Evelyn (Elisabeth Shue). But Krausse is also a man of faith, starting his journey with a Bible in hand and a prayer to "let the evil foe have no power over me." A note taped to his mirror reminds him of Hebrews 13:11; "Jesus Christ, the same yesterday, today, and forever." And he also offers praise when prayers are answered. Still, he struggles with his own inadequacies. Will faith and hope be enough to guide him through the fight of his life? Will that coming adversity define him, or destroy him?
During the journey toward Britain, as the ships become the target of German U-boats, Krausse and his crew engage in a terrifying game of survival, relying on sonar and manual calculations. Trapped in close quarters, the action is claustrophobic and thrilling, putting viewers among the frantic crew who alternate between victories and losses during the encounter. In addition to the submarines lurking below the waters, Krausse faces a closer enemy, an internal struggle over his ability to lead the ships to safety. His men, however, are steadfast and devoted, displaying the best of the fighting American spirit.
"Greyhound" was of course destined for theaters before the pandemic landed, where the waves could be seen in all of their epic high-definition glory and the firing of guns would shake the seats. Premiering now on Apple TV+, it becomes the gold standard for home video releases and a home run for the new streaming service. It is an awe-inspiring visual spectacle, expertly captured by director Aaron Schneider ("Get Low"). Beyond the polished cinematography and visual effects, however, it is also a solid narrative full of living-breathing characters that leave a lasting impression. Regardless of when or how it released, "Greyhound" is destined to be on end-of-year Top Ten lists, including mine.
"Greyhound," a Playtone Production from Sony Pictures Entertainment/Stage 6 Films and directed by Aaron Schneider, releases to AppleTV+ streaming on Friday, July 11. It also stars Stephen Graham ("The Irishman," "Boardwalk Empire"), Rob Morgan ("Mudbound," "Godless"), Michael Benz (Joker, The Wife), Tom Brittney ("Outlander," "UnREAL") and Manuel Garcia-Rulfo ("Widows," "The Magnificent Seven"). It is rated PG-13 for wartime action and language.