GRAMMY Award-winning Christian artist Rebecca St. James, who arrived on the music scene in the early 90s, has returned to the airwaves as a podcaster, hosting "Rebecca St. James Friends and Family" from the AccessMore network from EMF. Now a wife and mother, St. James features different family members and friends on each faith-centered episode, diving into such topics as parenting, pain, and purpose.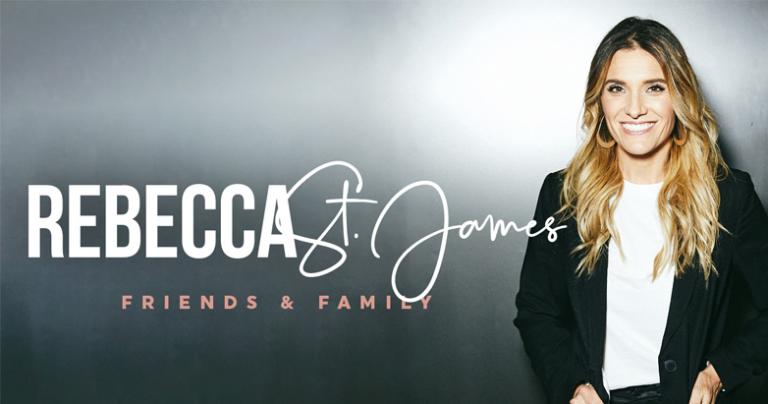 Twenty-four years since our first interview on the heels of her "God" album on Forefront Records, St. James and I recently chatted about the new podcast, what drew her to the format, and upcoming music she's working on.
So tell me about "Rebecca St. James Friends and Family."
It's a weekly podcast. The first episode talks about purpose and that was me with my husband, just kind of talking about kind of our life's journeys, stories, and then love story and just refreshing people on my journey as well. It's definitely topic centric. All the topics have to do with faith and family. The second one was on screen time and kind of helping our kids navigate that. How do we intentionally put boundaries on that so that it's not kind of hurting them emotionally and hurting their brains. I interviewed my mom for that. And then I had an episode with my brother Luke (of "for KING & COUNTRY") on the topic of pain. We have a lot of guests upcoming. It's been really great journey so far.
I know that you have you've come across a lot of people in your journey. You've had a lot of experiences, so it's cool to be able to plug those in and hear from so many different people.
Yeah, that's what we're seeking to do. I'm really seeking to primarily have podcast partners or guests that are actual family and actual friends. Now obviously at a certain point, we're going to probably need to expand that pool because I do have limited capacity when it comes to how many relationships and friendships I have. The tone of it is very kind of coffee conversation, living room chat, like the audience, becomes kind of a fly on the wall to these like real stories about our life's journey is me and my partner to do with a topic. It's just been very authentic and very life-giving for me to be a part. I'm really enjoying it.
What drew you into it? Did someone approach you or was this something that kind of percolating in your mind for a while
It was extremely organic, and I feel like it was really a God thing. Probably if you had asked me three years ago and I ever would want to do a podcast or had thought about doing a podcast, I would have said no. But just last year, I had this idea of providing like a little kind of "mommy minute" for like radio or streaming, where it was just literally a minute of a story from my life because I'm a mom of a six-year-old and a two-year-old. And I'm 29 weeks pregnant with our son right now. It's really, really beautiful. So now I'm in the middle of "momming" and it's absolutely delightful. Such a dream for me something I've always wanted to do. And then there's also along with that a lot of moments that I go, 'Well, how do we handle that? How do my husband and I navigate that?" There are so many elements that I feel like I'm just needing wisdom or encouragement in. So I thought, "What about like a little 'mommy minute' that has a story from my life of like, just being in the middle of it and then like some kind of Scripture or truths that can be helpful for moms that are like me?" We happened to mention it to a friend of ours, too, who works with K-Love. He said, "Well, I can go one bigger than that, I think you should do a podcast, I think you should do kind of a longer idea, where you can really dive in on some of these topics. And K-Love happened to be launching this whole new AcceessMore podcast platform. And you should do that." So that started everything. And this was last year. So again, it's just been very organic. I'm really honored to be able to partner with AccessMore and this amazing ministry and be able to encourage people.
What kind of response Have you had from the podcast so far?
A really good response. I mean, it's, it's still early, but I think for the Access More team and for our ministry team, we've been really surprised at the very early positive responses. Not that we weren't hoping for really good traction, but I think it's just a more than what we had hoped for even and more people tuning in right away. I honestly think it's really timely launching a podcast and AccessMore. Who could have thought that we would be in a time right now where so many people are feeling isolated and are not in a community like they're used to? They're looking for other tools and avenues to find encouragement and wisdom and support and just to have that sense of not being alone.
And you're also releasing new music!
Yes. So simultaneously to being very pregnant and having a weekly podcast, I'm actually finishing up a new album, The EP, the six songs, comes out next month, so mid-July, and then we're going to finish out the album by the end of this year or early next. The single comes out on the 12th and it's called "Battle is the Lord's" and that goes to radio and also iTunes, Spotify, and everywhere else. It's a very exciting, adventurous time in my family's life. We're homeschooling our daughter, so we're gonna go on the road as a family and do kind of what I used to do with my family, which is travel on the road together. So, it's really special to get to do that.
For more information about "Rebecca St. James Friends and Family," click here. Listen to St. James' new single below.