In "Everyday Miracles," releasing Sept. 1 from Cotton Film/Cinedigm, Erik Smith stars as a man on the run from his past who is befriended by a horse rancher (Gary Cole) and his daughter, who are still reeling from their own personal tragedy. For Smith, a rising young star who has appeared in the films "A Walk to Remember" and "Cold Mountain" as well as television shows like "Dish Nation," the opportunity to portray his character's journey from troubled loner was a welcome challenge.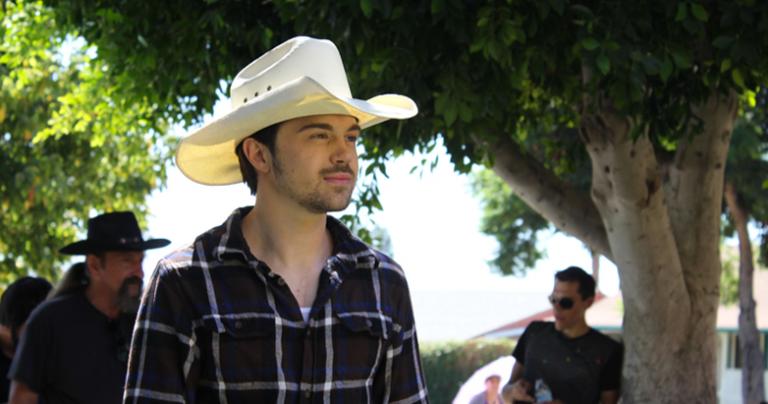 "It was so fun to play Cotton because he doesn't talk much . . . and I do," he said. "The first half of the movie, if you didn't know what I was doing, you would think that I'm just a very dry actor. But as the movie progresses, you see the character come out of the shell. It was a really beautiful transformation that (director) Marty (Madden) came up with."
Working with Cole, a veteran actor known for "Talladega Nights: The Ballad of Ricky Bobby" and "Office Space," was a highlight for Smith, who called him "an angel on earth."
"I would just strum on the guitar from the movie in our trailer, and we would just talk about life," he said. "And he talked about his kids and theater. We just had so many conversations and he was so generous with his time."
Like his character, the story also inspired a personal transformation in the life of the actor. After years of chasing jobs and living in a fast-paced urban environment, Smith placed a priority on settling down and pouring his energies into his family.
"After I shot 'Everyday Miracles,' it was I had sort of a moral dilemma and had to decide what I wanted to do because the themes in the movie are so family-centered," he said. "I knew that if I was going to hop around from acting gig that I wasn't going to be able to have one of my lifelong dreams, which was to have a family. When I was a kid, the two things that I wanted was to be an actor and to have a family. But when you get older, you realize that those two worlds aren't always cohesive."
Smith, impressed with the beautiful surroundings of the ranch where they filmed, moved from his city environment, took a full-time gig as a morning radio show producer, and started a family. During the pandemic, his wife, a personal trainer, has taken the reigns as a virtual learning teacher for the couple's two children, and Smith is the Bible teacher.
"Yes, I am the Sunday school teacher in my family," he said. "We're big on limiting screen time. So, if I can teach a Bible story, I'd rather do that."
"Everyday Miracles," written and directed by Marty Madden, releases Sept. 1 on-demand at digital outlets, and DVD.