Robert DeNiro finds himself the target of a clever and conniving sixth-grader in the new 101 Studios family comedy "The War with Grandpa," releasing today. When Grandpa (DeNiro) becomes too dependent to live on his own, he moves in with his daughter (Uma Thurman) and son-in-law (Rob Riggle). He then becomes the target of his grandson Peter (Oakes Fegley) when Peter is ejected from his room to a creepy attic. Unable to get along, the two draft a declaration of war and take turns with pranks and playful attacks.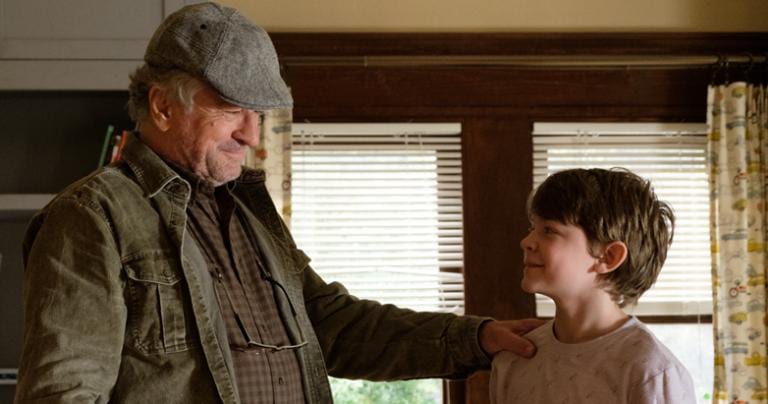 After Peter drafts middle school friends as foot soldiers, Grandpa Ed also enlists the help of his own senior squad, including familiar faces Jerry (Christopher Walken), Danny (Cheech Marin), and Diane (Jane Seymour). This is a stellar and fun group to aid DeNiro in his mission, also a team worth reuniting in a sequel or spinoff.
Even though Peter and Ed take turns humiliating and making each other's lives difficult, there's still a strong undercurrent of love and friendship, one that continues through the end of the film. The battle is carried out for laughs and never becomes intentionally mean-spirited. Viewers of all ages will appreciate the way both are able to set aside differences for moments of love and respect. Neither are villainized and both parties are portrayed sympathetically.
"The War with Grandpa," rated PG for rude humor, mild language, and thematic elements provides entertainment and laughs for a wide variety of viewers. Adults will enjoy seeing cinematic icons such as DeNiro and Walken mixing it up with kids, and children will be drawn to the physical stunts and pranks.
Directed by Tom Hill ("Hop," "Alvin and the Chipmunks") and based on the best-selling novel by Robert Kimmel Smith, "The War with Grandpa" is available now on-demand, digital, and DVD from 101 Studios.