In the new inspirational drama "2 Hearts" releasing Friday from Freestyle Releasing, Radha Mitchell plays Leslie, a flight attendant wooed by Cuban exile Jorge (Adam Canto) whose lives are intertwined with a young American couple, Chris (Jacob Elordi) and Sam (Tiera Skovbye).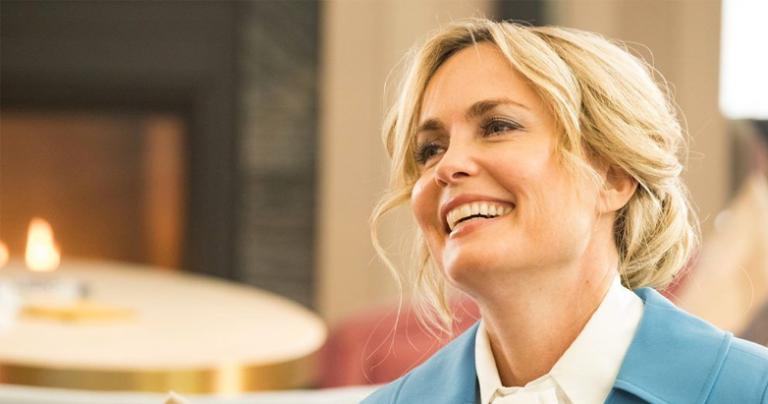 Mitchell, an Australian actress, has made a mark in American cinema, thanks to popular films such as "Pitch Black," "Man on Fire," and "Finding Neverland." She recently starred with Sam Worthington in the motion picture adaptation of William P. Young's "The Shack."
In this exclusive interview, Mitchell explains what drew her to the film and what she believes it will offer audiences.
You've been on a lot of sets, you've read a lot of scripts. What was it that really appealed to you about "2 Hearts"?
There was just a real sweetness and lightness to this story. And although it encompasses some sort of dark terrain, this remains the kind of innocence and I like that about it. It's almost like an old school movie, you know, there's a real sense of morality, and community, it feels like a good story. So I was drawn to that. And personally, from an acting perspective, I was really excited to play a character that got to go on her life journey from her mid 20s/30s, to her late 60s. So that was just exciting, personally. But ultimately, the story I think, makes lemonade out of lemons. That's one way of talking about it. It turns the perspective on something into something quite profound. And I was attracted to being part of a story like that.
One of your other recent movies was "The Shack," which we covered here. It was an inspirational movie, and this is, also. Is that coincidence or are these the type of roles you find yourself drawn to?
You know what, I am drawn to them. We're looking at ourselves culturally through the stories that we tell. And I think it's important to tell stories that elevate people's consciousness on some level, that contextualize things in a positive light. And a story that has some kind of meaning, or some intention, they're very rare, to be honest, which is surprising. You would think that'd be you know, more desire to make them collectively. But when you come across a script that's special like this, it's rare. So, I was very excited and grabbed it.
Was there anything special about the filming? The locations are beautiful. Was that movie magic or were you on location?
We really were, that was what the real magic was. We were actually in Hawaii. And then we were actually in Vancouver in summertime, two beautiful locations, to spend time, let alone make a movie. So, there was that. And then the other good thing was the actors and all the team of people was just really lovely folk. Sometimes you encounter some crazy egos on movie sets and like strange characters, but in this case, really lovely people and the people whose life we were describing, were with us. So, it felt very, very intimate, very, like a family kind of feeling. And that it was very personal, as well.
Yeah, I was going to ask you if it was something different filming a movie that was actually true. Was that any special significance for you?
Well, it's one thing to conceptually know a story is true. And it's another thing to be talking to the person whose life you're describing. It really brings it home, what the emotional gravity would be for somebody's experiences that they go through, especially the family who lost their son, they were with us. It's sort of hard to kind of explain that. But the first time I saw the movie was with them at the hospital, where Jorge's family had created a space for people to stay when they're getting transplants. So, there were so many people involved in the actual story who were seeing the movie with us. I don't think I've ever had an experience like that where it's that personal and you see the legacy of somebody's life in such a profound way.
"2 Hearts," directed and produced by Lance Hool, releases Friday through Freestyle Releasing in theaters nationwide.