Kurt Russell returns as a hip Santa Claus in the new Netflix sequel "The Christmas Chronicles 2." Moving from a surprise cameo in the original to a featured role, Goldie Hawn portrays an equally hip and youthful Mrs. Claus, alongside Darby Camp, returning as Kate.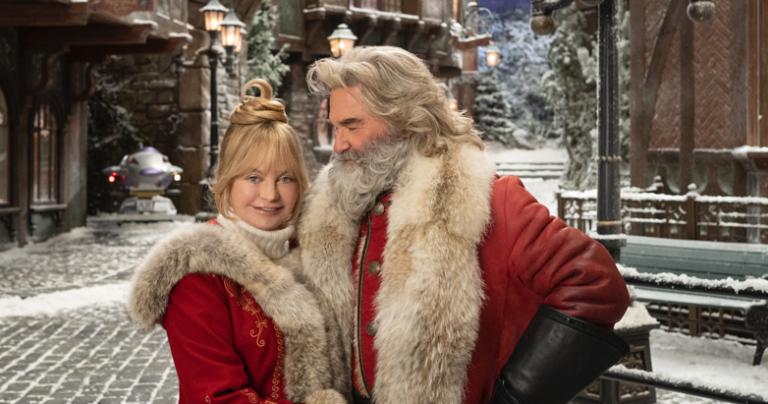 Two years since the events of the surprise hit original, Kate is on vacation with her mom's boyfriend and his son, Jack (Jazir Bruno) before being sabotaged by his dejected protégé Belsnickel (Julien Dennison), who sends them to the North Pole. While there, the two are introduced to the magic of Santa's Village, with comparisons to Amazon, Apple, and the like. The CGI-created Elves are even shown inventing video games and electronics. It's a neat way to ground the traditional ideas of Santa's creations to modern inventions.
Columbus, who directed "Home Alone" and "Harry Potter and the Sorcerer's Stone" brings his unique style to the season, featuring sleigh chases that might remind viewers of Quidditch matches and toy-fueled battles in the vein of the war Kevin wages on his foes. In fact, during one time-travel scene taking place in an airport, I half expected to see the McAllister clan hurrying through. Sharp-eyed (or eared) viewers, however, will catch a classic holiday tie-in in the form of a soulful gate agent.
"The Christmas Chronicles 2" is a fun holiday adventure with plenty of excitement and tender moments, including a surprise meeting between Kate and someone special. Like various other holiday offerings, belief powers the magic, and at one point, Santa himself has to belt out "The Spirit of Christmas." It's also nice that the film has a connection to the Bethlehem Star from the Nativity story, with the entire plot centering on the power and protection it provides to the North Pole.
Netflix has a winning Christmas franchise on its hands with "The Christmas Chronicles." Russell's kind, cool, fun Santa should be the go-to Saint Nick for a new generation of viewers, much like Tim Allen's from "The Santa Claus" or Rankin Bass' Santa from "Rudolf the Red-Nosed Reindeer" and "The Year Without a Santa Claus."
"The Christmas Chronicles 2," directed by Chris Columbus and starring Kurt Russell and Goldie Hawn, will stream on Netflix beginning Nov. 25.