In the new thriller 'Songbird,' releasing tomorrow on VOD from STX Films, interconnected Californians find themselves struggling to survive in an apocalyptic Covid-covered world. KJ Apa, last seen on the big screen in the faith-based release, "I Still Believe," leads an ensemble cast that includes Sofia Carson, Craig Robinson, Bradley Whitford, Peter Stormare, Alexandra Daddario, Paul Walter Houser, and Demi Moore.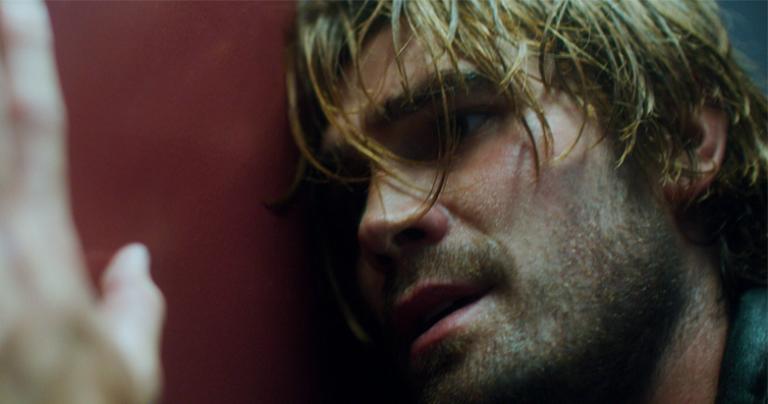 Nico (Apa) is a 'munie,' a term for those with virus immunity that allows him to travel freely in a locked-down world as a courier. His professional career, as with many others, is a relic of a pre-virus world. When his girlfriend Sara is exposed, Emmett Harland (Stormare), head of the 'Sanitation' department, pursues her to place her in an infected settlement.
"Songbird"'s first half focuses on how the characters have survived and adapted in the new world. Drones, video chats, UV decontamination boxes, and health scans are a way of life as most are bound to their homes. Given the current world environment, this sequence is the film's strongest connection to the viewers who are themselves experiencing the same isolation and anxiety of the characters. In this sterilized world, with transmission fears at the highest, the sights of two strangers removing their masks to kiss could be the new normal's scariest scenario.
When the film revs into action, driven in large part by the corrupt and violent Harland, it loses some of its footing and devolves into popcorn flick redundancy. Truthfully, the picture painted of the mutated Covid virus and caring for those who may be infected is scary enough without the conspiratorial health Gestapo.
As the first production that began after Hollywood reopened, "Songbird" is the first of what may be many shutdown-inspired flicks and will generate attention for the speed of its release. Here's hoping the stories taking a little longer to tell will find more creative explorations and dig a little deeper into the emotions stirred by the virus.
"Songbird," directed by Adam Mason, releases Friday, December 11. It is rated PG-13 for violence including some bloody images, sexual material, partial nudity, and some strong language.