The late Chadwick Boseman's final starring role, "Ma Rainey's Black Bottom," also starring Viola Davis, Colman Domingo, Glynn Turman, and Michael Potts, is being recognized as one of the top films of 2020. The recently-announced Film Independent Spirit Award nominations recognized the ensemble Netflix drama with five nominations, including Best Feature, Best Female Lead for Davis, Best Male Lead for Boseman, and Best Supporting Male for Domingo and Turman.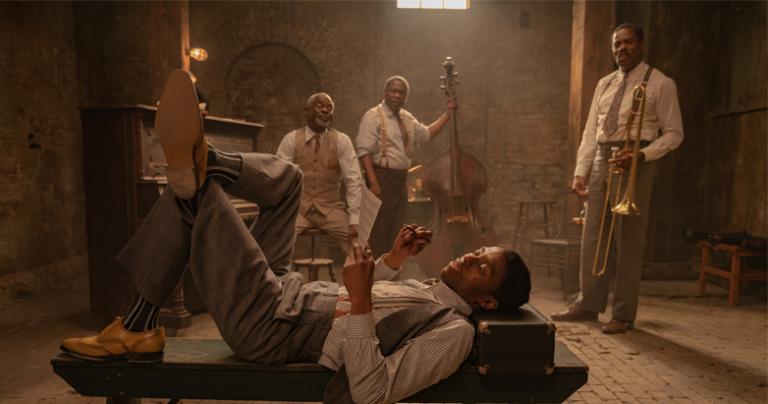 Directed by George C. Wolfe and produced by Denzel Washington, Todd Black, and Dany Wolf, the film centers on a fictional day in the studio with real-life blues singer Ma Rainey, her band, producers, and label executives. Cutler (Domingo), (Toledo) Turman, and Slow Drag (Michael Potts), who comprised Rainey's (Davis) band, recently spoke to DeWayne Hamby about the combustible dynamics of the group, how faith grounded the bandleader and the legacy of their late co-star Boseman.
I wanted to ask you about your character Cutler, who seems to be very much a calming force in the movie. And one of the other characteristics we saw is that he does have some faith when they have this argument that breaks out. Why do you think he's a calming force? Is it because of his faith?
Colman Domingo: I think that's exactly it because that's all he has. I think about a man being in being an artist and moving through the world the way he was, and with his band and being attached to Ma and her mission as well with her music. I think he's attached himself to that. I think where he lives is a very spiritual place. I think that that's the way he moves to the world. He knows that that's all he has. He's making decent enough money. But I feel like it's like where he puts his we have value is in his faith, in the way he makes an impression in the world and just trying to do good and make a good impression. And that's it. I think that's enough for him. So yeah.
Glen, your character, Toledo, has this altercation. Do you think the movie has something to say about maybe recognizing the pain that people carry around? Do you think that's one of the lessons that the movie carries with it?
Glynn Turman: Yes, absolutely. I do. I think that what it says is you never know what ignites the fuse. It's a slow fuse that burns through this whole place starting at Levee's entrance. And you never see it coming. But it makes its way through and over and under all of the underlying pains and all the underlying difficulties that one goes through in life and you carry with you. And then all of a sudden, is at it's wit's end or wick's end. And there it explodes.
Michael, Slow Drag is not really involved in that, but you watch it all unfold. What do you think? How would somebody overcome their personal pain to where it doesn't get to that point?
Michael Potts: I think Slow Drag recognizes that throughout the movie and tries to use humor and things like that to help defuse it. I think he recognizes that Levee is a powder keg. We all carry, all the men and all the people in the movie, and black folks carry a particular trauma that we have to deal with I mean, Slow Drag's ways is to stay a little bit tipsy. He self-medicates to deal with his trauma. And he tries to use humor to help other people deal with the trauma, but he knows the danger is always there, no matter where he is.
What was it like working with Chadwick on this film? I know that this film is remarkable for his last role. Any memory that you want to quickly share?
Colman Domingo: He was a kind gentleman, and he was a generous team player. He truly was a king among kings.
Michael Potts: He was really was. Consummate.
Glynn Turman: Had a great sense of humor.
"Ma Rainey's Black Bottom," rated R for language, some sexual content and brief violence, is now playing on Netflix.