EMI CMG has released the digital version of the "A Week Away" film soundtrack and is gearing up for the physical release next month. Starring former Disney Channel and current Hallmark Channel stars Bailee Madison and Kevin Quinn, A Week Away is Netflix's newest faith-based film, directed by Roman White; produced by Gabriel Vasquez, Steve Barnet, Alan Powell, Vicky Patel, Corby Pons, Bailee Madison and Roman White; and written by Kali Bailey and Alan Powell. The Netflix film will release March 26, boasting the voices of Quinn and Madison (in her singing debut) along with cast members Jahbril Cook, Kat Conner Sterling, Iain Tucker and Sherri Shepherd (formerly of "The View"), as well as a cover of an original song from the film sung by the ever-popular Folk-Rock duo Johnnyswim.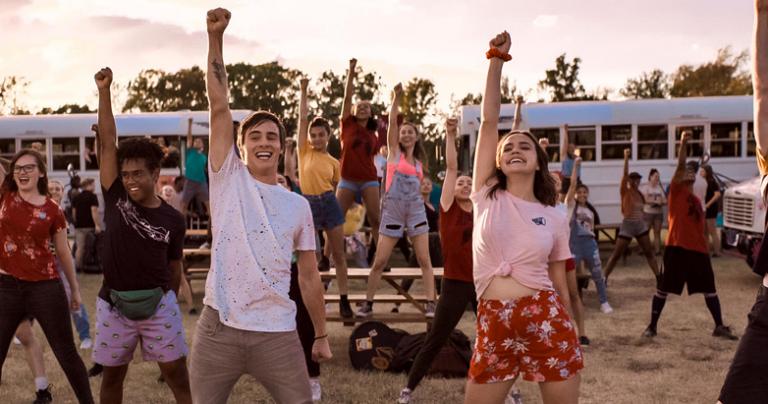 The musical follows troubled teen Will Hawkins (Quinn), whose run-in with the law puts him at an important crossroads: go to juvenile detention or attend a Christian summer camp. At first a fish out of water, Will opens his heart and discovers love with a camp regular (Madison) and a sense of belonging in the last place he expected to find it.
Instantly familiar yet completely new, the film's soundtrack features vintage CCM hits such as Amy Grant's "Baby, Baby" (1991), Steven Curtis Chapman's "The Great Adventure" (1992) and "Dive" (1999), Michael W. Smith's "Place in This World" (1990), and Audio Adrenaline's "Big House" (1993), all reimagined and revamped to engage today's listeners. The soundtrack also features a mashup of Rich Mullins' "Awesome God" (1988) and For KING & COUNTRY's "God Only Knows" (2018). Amy Grant and Steven Curtis Chapman even make cameos in the film (as the camp counselor and lifeguard respectively).
Michael W. Smith shared his excitement for the soundtrack, stating, "Thankful that 'Place in This World' found its way into the movie A Week Away. It was my first top ten pop single. And to see it getting a second life this many years later is a thrill for me. This song has been life-changing for many, and I am grateful for that. And by the way, I LOVE this movie!"
Amy Grant was equally thrilled and commented on the experience, "It was incredible. How those songs were placed felt like they were written for the script and the story." She also shared that the film hit close to home, reminding her of her own camp experiences. She said, "I was one of those kids that went to church camp for one week every summer from middle school through my high school years. In addition to all of the preteen/teenage angst and drama that we dragged with us on the bus to camp, we were surrounded by adventure, spiritual encouragement and music…lots of music. What a thrill it was for me to hear my song 'Baby Baby' reinvented for a camp setting and feel like it fit the story of the film so perfectly. Also to hear it sung by a fantastic male voice is something I had never imagined. They knocked it out of the park!"
In addition to these reinvented tracks, the film's music producer, Adam Watts (High School Musical 3, Jonas Brothers: The 3D Concert), has penned four original songs for the film: "Best Thing Ever," "Let's Go Make a Memory," "Where I Belong" and "Good Enough." As a songwriter and producer, Watts has contributed to albums that have sold more than 50 million units worldwide across mainstream and CCM channels. He has also won three Dove Awards and an ASCAP Pop Award. Alan Powell and Cory Clark also worked closely with Watts in writing and producing the music. And duo Johnnyswim covers one of the film's original songs, "Best Thing Ever," written exclusively for the soundtrack.
The film's director, Roman White said, "Adam Watts and the entire songwriting team really knocked it out of the park on the four original songs in the film. We knew that these musical moments had to compete with some of the biggest songs in Christian music history and I believe the audience will love them just as much! I was blown away by Adam and what he brought to the table is simply magical. He was able to not only reinvent some untouchable songs but I also think create new timeless hits that fit perfectly into the film."
Producer Gabriel Vasquez (who developed the story of the film along with Alan Powell and Kali Bailey) expressed, "I could not be more excited that iconic artists like Amy Grant, Steven Curtis Chapman, Rich Mullins, Audio Adrenaline, and Michael W. Smith are being celebrated in our film. The memories that are attached to their songs are endless, and I am thrilled we get to be a part of introducing their music to a new generation. Nothing makes me more excited than hearing my own kids singing 'Baby Baby,' 'Place In This World,' 'Dive,' 'Big House' and 'Awesome God' at the top of their lungs and now millions of kids and families around the world will get the chance to enjoy these songs again is pretty exciting. We were also thrilled that Chapman and Amy were able to join us for cameos in the film and to see their responses to our new versions has been just as rewarding as seeing this film come to life."
In February, star Bailee Madison shared on Twitter, "We are so excited to welcome you to our camp! Oh so grateful to have co-produced this, to be a part of this story and to finally get to share my love for singing and dancing with all of you."
The full album tracklist includes:
Let's Go Make a Memory—Kevin Quinn, Bailee Madison, Jahbril Cook, Kat Conner Sterling, Iain Tucker
The Great Adventure—Kevin Quinn, Bailee Madison, Jahbril Cook, Kat Conner Sterling, Iain Tucker, Sherri Shepherd
Good Enough—Kevin Quinn, Bailee Madison, Jahbril Cook, Kat Conner Sterling
Dive—Kevin Quinn, Bailee Madison, Jahbril Cook, Kat Conner Sterling, Iain Tucker
Baby, Baby—Jahbril Cook, Kevin Quinn
Place in This World—Kevin Quinn, Bailee Madison
Big House—Kevin Quinn, Bailee Madison, Jahbril Cook, Kat Conner Sterling, Iain Tucker
Awesome God / God Only Knows—Kevin Quinn, Bailee Madison, Jahbril Cook, Kat Conner Sterling, Iain Tucker
Where I Belong—Kevin Quinn
Best Thing Ever (Stage Version)—Kevin Quinn
Best Thing Ever (Reprise)—Kevin Quinn, Bailee Madison, Jahbril Cook, Kat Conner Sterling, Iain Tucker
Best Thing Ever—Cover Version by Johnnyswim
"The main thing I hope viewers get out of this movie is the inspiring, uplifting part," shared Quinn. "There's a reason why this movie is the first of its kind, being a faith-based musical. I want it to inspire audiences and remind them that they have a connection to God, because we all do. He's always there. And being able to honor Him through this movie was really cool to me."
Madison said, "I think now more than ever we're all so desperately wanting to hold on to moments of hope and moments of love. We live in a time where we just want to be seen for our hearts, ourselves, our passions, what we like in the world and what we believe in. . . .This feels like a very inclusive space. All are welcomed; all are encouraged to come and sing and dance with us and fall in love with these characters. I love that there's so much diversity in this film––so many different walks of life coming in and out. And I hope there's someone in the film that you can see yourself in and relate to. That's really the message of this film: you're made uniquely and wonderfully you, and that should be celebrated, encouraged and loved. So I hope after the film you walk away loving yourself a little more."
The digital album will be available across streaming platforms on March 19 – listen here. The physical album will be available April 23.
Stay tuned for more coverage and interviews from "A Week Away," which will premiere on Netflix Friday. Watch a performance of Michael W. Smith's "Place in This World" featuring Madison and Quinn below.