In the newly-released faith-based drama, "My Brother's Keeper," Keshia Knight Pulliam ("Tyler Perry's House of Payne," "Madea Goes to Jail") appears alongside TC Stallings ("War Room" "A Question of Faith"), Joey Lawrence ("Melissa & Joey"), and Robert Ri'chard ("Coach Carter) in a story about loss, PTSD and mental health.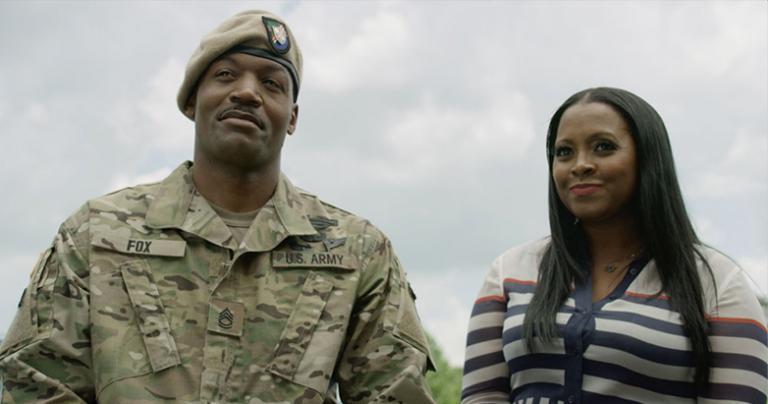 Returning war veteran SFC Travis Fox (Stallings) faces the loss of his best friend "Preach" (Lawrence) and then returns to his hometown to settle the affairs of his late parents. As he struggles with PTSD, he is befriended by Tiffany Robinson (Knight Pulliam), who helps him rediscover his faith in God.
Knight Pulliam, who became a household name at just five-years-old appearing as Rudy, the youngest Huxtable daughter on "The Cosby Show," said the new film carries an important message about taking care of one's mental state, an even more relevant topic now.
"I think that conversation of mental health and wellness, whether it's PTSD because he's been to war, or just in dealing with every day now, and our new norm, I think is a great conversation to have," she said.
She hopes the new film will help remove the stigma often associated with mental illness, giving those who suffer extra comfort in getting the help they need.
"We don't like to address it," she said. "But there's nothing wrong with getting the counseling and help that you need. And sometimes, the best thing that the church can do, the old school way is, 'You pray about it,' but God also works through people. So, there's also nothing wrong with seeking professional counseling or help, or whatever it is you need to make it through."
In the film, Knight Pulliam plays a church counselor who encourages Travis to seek help from God. Knight Pulliam drew from her own faith for the role. Noting that she's more "spiritual than religious," the Christian actress says she lives by a moral code found in the Bible.
"(For me), it's about the core tenants of what religion teaches you about, treating people the way you desire to be treated, leading with love, leading with empathy, all of those different pieces definitely resonate with me," she said. "And it's, it's how I live my life."
It's likely that that code was one of the things that kept her grounded through the years she first appeared as the tiny Rudy Huxtable. While some of her peers encountered life challenges that took them off course, Knight Pulliam deliberately worked to diversify her interests and keep herself rooted in the real world.
"I took time off to 'The Cosby Show' for college, I think that's really important," she said. "It's just about making sure that you are a whole, well-rounded individual. And I'm grateful that I've had an amazing career doing something that I love.
After a decade as an actress, the young mother poured herself into studies and philanthropy before returning to acting. She established the Kamp Kizzy foundation in her hometown of Atlanta as a mentorship program for girls 11-18. She, along with Arian Simone, also established the Fearless Fund, a $5 million Venture Capital Fund investing in businesses founded by women of color. have just launched The Fearless Fund. The Fearless Fund is a $5 million Venture Capital Fund investing in businesses founded by women of color.
"It's all about empowerment, self-esteem for us, ultimately just continuing to move through this life with honesty, with integrity, and just fulfilling the various passions that I have," she said.
For "My Brother's Keeper," she hopes that audiences will come to support a piece of filmmaking with an important message.
"More than anything, I pray and hope that people really get out and support it," she said. "Our theaters have been closed with the pandemic, and now getting back up, doing it safely. Everyone's been in for a really long time, and I hope that people come out and just enjoy a good movie."
"My Brother's Keeper," directed by Kevan Otto and written by US Army Veteran Ty Manns, is now in theaters. For more information, click here.