As someone who grew up counting down the days for summer church camp, I admit that I'm the perfect audience for the new Netflix musical "A Week Away." Starring Bailee Madison and Kevin Quinn, the film is a roaring, high-energy combination of singing, dancing, and emotions on a background of singalongs, paintball, and lakeside competitions.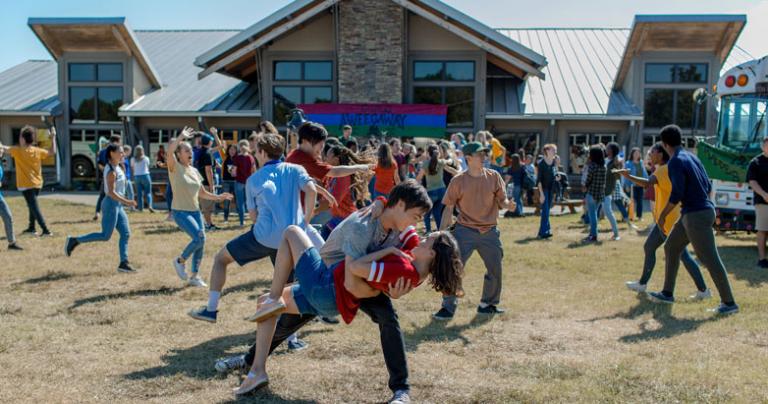 Will (Quinn) is given a choice between church camp and juvenile hall and reluctantly chooses the former, putting him on a collision course with his love interest Avery (Madison), an army of new friends, and his own trust issues. Sherrie Shepherd and Dave Koechner help guide the way as a camp counselor and camp director, but the spotlight remains firmly on the teens and their world.
Within the first few moments, it's evident this is a musical, as in the 'breaking out in singing' kind. Think "Christian Camp Rock." It works gloriously, too, thanks to a team that also gave the world "High School Musical" and Roman White, director of hundreds of music videos (including the Taylor Swift one that bested Beyonce and irked Kanye West at the MTV Video Music Awards). The soundtrack, like a love letter to Christian music, is comprised of updated versions of classic contemporary Christian songs such as Amy Grant's "Baby, Baby" and Steven Curtis Chapman's "The Great Adventure," as well as several original tracks that capably fit alongside them.
Even though the camp directive is "fun," the mood slows down enough for Will to start peeling back layers of defense and learning to put faith in God and others. A campfire scene with an inventive mashup of "Awesome God" and "God Only Knows" is one of the film's emotional highlights, along with Will's musical proclamation of "Where I Belong." Also, Avery deals with her own feelings of inadequacy and insecurity.
"A Week Away" is a milestone film for musicals and the faith-based genre and one that will appeal to all members of the family. Like youth camp, it warms viewers' hearts with fun and laughter and then brings them in for an emotional punch right before it's time to pack up. When it's all said and done, viewers and campers will find themselves sad that it's over and wishing the days away until we return.
Also starring Jahbril Cook, Kat Conner Sterling, and Iain Tucker, and produced by Steve Barnett, Alan Powell, and Gabriel Vasquez, "A Week Away" begins streaming exclusively on Netflix March 25. Click here for continued coverage of the film, including interviews with the cast and filmmakers.
DEWAYNE HAMBY is a communications specialist and longtime journalist covering faith-based music, entertainment, books, and the retail industry. He is the author of the book "Gratitude Adjustment." Connect with him on Facebook, Twitter, YouTube or InstaGram.