Author and speaker Candace Owens recently launched a brand-new talk show "Candace," taped in front of a studio audience at The Daily Wire in Nashville. As one of the leading conservative voices in media, Owens is a highly-sought-after panelist on various news programs. "Candace" features her cultural commentary, but also features humor and more light-hearted moments, giving the audience a more well-rounded view of her personality.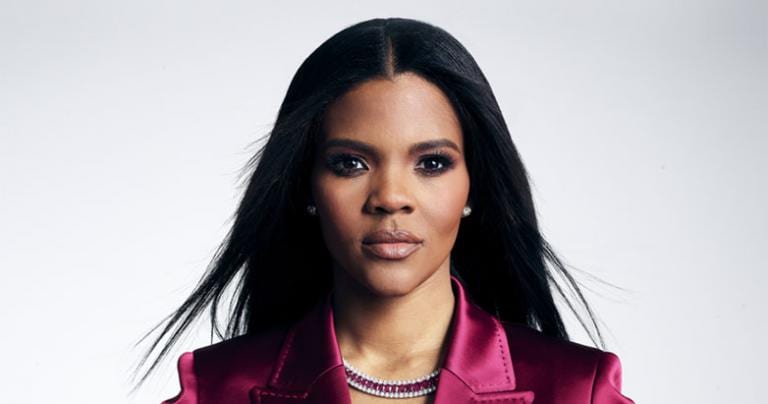 In this exclusive interview, Owens spoke candidly with DeWayne Hamby about "Candace," her new baby boy, the culture wars, and her recent public feud with rapper Cardi B.
How does it feel to have the new show premiering?
It is very exciting. Obviously, we took a lot of risks with this show, particularly, just trying to really firmly insert conservatives into the cultural realm, into a space that we have been so routinely rejected in. And I felt that it was the perfect opportunity to do that, especially amidst this sort of 'cancel culture,' which has become a cancer to society. Especially when it feels that a lot of the cultural elements which used to be enjoyed by both sides, (such as) late-night TV, which has really just become toxic and divisive. We really wanted to occupy this space for the live studio audience. And we're just absolutely thrilled that we get to bring it to the public.
What is the format?
First, we have a panel, I do a monologue, which will be written into the DNA of every episode, a monologue, a panel with rotating guests to talk about topics of the day, followed by an interview. And also, a video message, if you would, of me just speaking to the world about various issues, political issues, and sort of the larger implications in society.
In your promo, you say that most people just reduce you to sound bites, but you have a bigger personality and a good sense of humor. Will you use humor in the show?
I think that's sort of driven by the topics and the guests and whatever it is that we're talking about. But I do think that people have an opportunity to see different layers of me. The media has definitely created a caricature because I always have to be on the defense. They're so intent on making Black conservatism a crime. But it's definitely not who I am behind closed doors. So, this sort of gives me an opportunity to show people (another) side, especially because I'm writing the show and producing the show. I do have a team around me, but this is really coming from me. It's hours spent by me shaping the show, so it feels like a piece of me.
Tell me about your upcoming episodes. Who do you have lined up to come?
For the first episode, we have Brandon Tatum, who's the former police officer I've been very close with throughout my entire career. We have Ben Shapiro on. We have Jocko Willink, who is a former retired Navy SEAL officer who now writes children's books. And we have Nicole Arbour, who is a YouTube personality. It really is a mash of politics and culture, which is really fun. I'm really, very seriously trying to get a sit-down interview with Vladimir Putin right now. I think that would be one of the most fascinating conversations. Going forward, we do want to teeter between cultures. Sometimes the show will be very fun and sometimes it will be very serious. I think that is how I am perceived on the world stage as people know that I am teetering between culture and politics and because I see how connected they are.
How's the new baby?
He is great. He is growing faster every single day. I'm just amazed at the way that he's growing. It's been, for me, a very fortunate experience and a very simple pregnancy, a very easy birth. And it's been very grounding, and humbling, and amazing, just the biggest blessing in my life.
When you have a new child that enters the world, does it strengthen your resolve to address topics that you think will affect your child? Does that add a new dimension when as you when you speak as a parent to cultural issues?
Yes, because you realize that culture plays such a big part in raising your children. People foolishly say, "Oh, you can just decide what your kids watch, and you need to be good parents." But culture is everywhere. It's when you send your kids to school, or on a play date. There's no parent that has that much control over what their kids see and what they take in. It can be as simple as them looking at their friends' phones while they're at school. It's so important for us to stand up and say, "You know what, this is wrong, this is dangerous is poisonous." And I think for too long, we've sort of allowed the left to become more and more drastic and severe in the propaganda, the shameless propaganda, that they're placing on our children, to really devalue themselves, to destroy American institutions, the American way of life that has worked and has situated us as a world power. All of that is being corroded by cultural values that are really poisoned. It definitely has awoken me and has made me fight, I guess, more ferociously than ever before. I noticed other parents saying that being a parent will soften you. And I'm like, no, it's kind of hardened me on a lot of these positions.
I've followed the back and forth with you and Cardi B and the last thing I heard was that you were going to sue her. Are you still proceeding with that?
One-hundred percent. That was not for me looking to get Twitter attention. It wasn't for likes. It was 100%, on the phone, with the lawyer, as I was tweeting. Cardi B is going to be sued by Candace Owens and two members of my family, in a rare display. Usually, it's very hard, definitely as a public figure, to pursue someone for defamation because of that actual malice standard. But I don't think that she could have been more actually malicious than being told that (that tweet) was photoshopped, and still pretending that she saw it live-tweeted, and saying that it was real to her millions and millions of followers. So, all three of us will be suing Cardi B—my brother, my husband, and I will all be suing Cardi B and I will publicize this so people understand. I just do not play in that regard. I'm fiercely protective over my family, as every person should be. I have always limited myself in terms of if you're in the public sphere, it's fair game. But the idea of doctoring a Photoshop tweet to score a point and to make something up, it's high school in one element, it's actually middle school in many regards. An adult woman needs to learn a very tough lesson about middle school behavior. When you have millions of followers, you should (learn), so she is going to learn that lesson from me and my family.
Has Cardi B or her team had any back-channel communication with you, anything like, "We apologize" or "Leave us alone"?
No, she has deleted the tweets, obviously, and is pretending she just decided to delete them 48 hours later. But that obviously is not sufficient. Because while the story was trending, she and I were trending, she was doubling, tripling and quadrupling down, saying that these tweets were real. And I had seen obviously by Snopes that the tweets were doctored on the public by an 11-year-old who was upset about (my) Harry Styles commentary. They were never even on Twitter. And Cardi brought that to the forefront and made it a thing. So, she's going to pay for that, literally and figuratively. Cardi B is going to pay for that. Our legal team, I believe they've been in communication with her legal team, but there's no "Hey, sorry about the mix-up type thing" that's going to happen. She's going to be sued.
Can you share a brief history of how the doors opened up for you?
In terms of the political doors that were opened for me, I was just a person that was making videos on YouTube. Once I had sort of understood what the media was doing and how they were programming Black Americans with the race narrative. I just started making actually really just funny two-minute skits to talk about the absurdity of media narrative. By my third or fourth video, it went trending and got 26 million views on Facebook. So, it happened very quickly for me. I really feel like I haven't stopped and taken a breath since. It was trending worldwide, this video, and then it was sort of a call from Fox News, Turning Point USA wanted to get involved. It really has felt a lot like a rocket ship in many ways. And I've been blessed with that. And it's definitely been challenging at times because I had to pivot and understand the environment that I wasn't used to. I really did not have any political aspirations, per se. I was just calling things as I saw them. I was really, in the beginning, just commentating. And then once I realized the position I was in, I really wanted to sort of buckle down and study and really understand a lot of these issues more severely. So, I have had to pivot and play catch up and do it all at the same time, studying while still building my career, building movements, and showing people that you don't have to back down to the mob. I think I've leveled the left at every moment that they've tried to attack me.
You have been supportive of Kanye West and his outspoken conservatism. Have you met with him? Do you know him personally?
Yes, I do. I know, him personally, I've met with him in the past. The last time I saw him was at the end of last year. So, we are friendly. We think similarly, which is just that that to be pigeonholed based on the color of your skin is wrong. It's ridiculous that that is a controversial thought process. And that we can't just choose to be and think freely, because there is sort of this onus that's placed on Black Americans who see themselves as victims. I know, he doesn't see himself as a victim. I don't see myself as a victim. And I think we both accept that. Once you believe that, you are a victim. You become your own oppressor.
"Candace" is currently airing exclusively on The Daily Wire website every Friday. For more information or to subscribe, click here. Watch a preview of the new show below.
DEWAYNE HAMBY is a communications specialist and longtime journalist covering faith-based music, entertainment, books, and the retail industry. He is the author of the book "Gratitude Adjustment." Connect with him on Facebook, Twitter, YouTube or InstaGram.