Leonardo Da Vinci's "The Last Supper" is brought to life in a stunning new production with the upcoming short film "The Living Tableau" from Producer/Director Armondo Linus Acosta and a trio of Academy Award winners. Cinematographer Vittorio Storaro, Production Designer Dante Ferretti, and Set Decorator Francesca Lo Schiavo all team up for this incredible piece of moving modern art.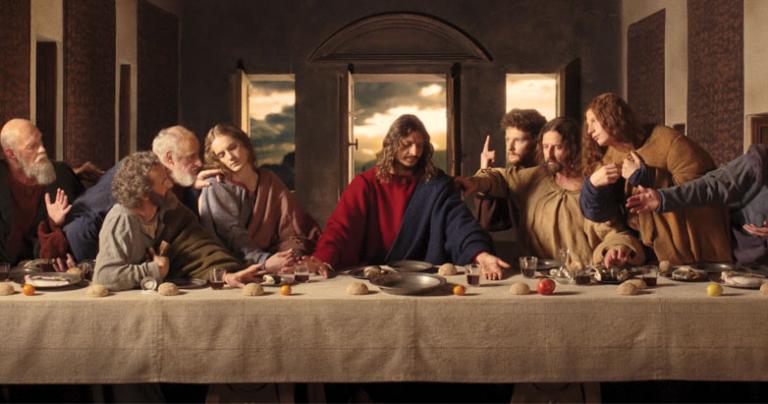 In "The Living Tableau" these Italian Cinema icons under the masterful direction of Acosta have created a unique cinematic experience that he describes as a 21st-century digital painting. "The Living Tableau" was created in the style of a tableau vivant, French for "living picture", which traditionally is a theatrically lit static scene containing actors in costume, carefully posed with props and scenery.
Storaro is an award-winning cinematographer having received three Academy Awards™ for Best Cinematography for Apocalypse Now, Reds, and The Last Emperor, and is one of three living persons who has won the award three times. Dante Ferretti is an award-winning production designer having won three Academy Awards™ in Best Art Direction for The Aviator, Sweeney Todd: The Demon Barber of Fleet Street, and Hugo
along with seven previous Oscar nominations and three BAFTA Awards. Francesca Lo Schiavo is an award-winning set decorator having won three Academy Awards™ in Best Art Direction for Aviator, Sweeney Todd: The Demon Barber of Fleet Street, and Hugo along with five previous Oscar nominations.
Acosta, who served as director, producer, and executive producer, is an award-winning director, screenwriter, cinematographer, producer, and designer best known for his work on Romeo. Juliet, and his work on interpretations of the Psalms for The Vatican, including The Soldier with William Shatner.
When these masters of Italian cinema assembled to re-create Leonardo Da Vinci Last Supper masterpiece in a living cinema tableau, they never imagined the pandemic that would ravage Italy. With the unprecedented outdoor Easter projections in Rome canceled, the nine-minute video tableau vivant will be released worldwide timed to Palm Sunday and the week leading up to Easter Sunday on streaming platforms worldwide. The film will be projected without live audiences but captured virtually for people around the world:
In Jerusalem on a spot where Jesus walked, historically considered by some the childhood home of the Virgin Mary at the 'Church of St Anne' uniting many faiths and cultures, invited by a Rabbi in the Muslim Quarter in The Old City of Jerusalem, and organized by Women of Faith for Peace.
In Milan at an UNESCO World Heritage Site, Santa Maria delle Grazie, where Leonardo's original mural stands.
In Rome at the 'Church of the Artist' with appreciation and support of The Vatican's Dicastery for Communication, The Office of Social Communications of the Diocese of Rome, The Ministry of Culture of the Italian Government, and the Italian Film Commission.
"I have loved and studied Leonardo since I was a small boy and always associated his mind, his genius with the mechanism of a clock, because Leonardo is not in one time, he is for all time," said Dante Ferretti. "This project was an honor for me, and the first time Francesca and I had the pleasure to work on a film with Vittorio. The result is the most life-like recreation on film I have ever been a part of."
"The Living Tableau" is supported by the City of Rome, the Vatican, and other major Italian institutions. In a private screening, the film was shown before the "Last Supper" mass of Pope Francis and was received with an overwhelming response of hope and healing. Armondo also plans to use the film's platform to help honor Healthcare Workers' vital role this Easter.
The score to the film is Decca's 1971 recording of Rossini's Stabat Mater Dolorosa, performed by the London Symphony Orchestra & Chorus, with conductor István Kertész and soloists Luciano Pavarotti, Pilar Lorengar, Hans Sotin, and Yvonne Minton.