In the new sports drama '12 Mighty Orphans,' Luke Wilson steps into the shoes of high school football legend Rusty Russell, coaching an underdog team from a Fort Worth orphanage to victory. The true inspirational story, directed by Ty Roberts, also stars Vinessa Shaw, Martin Sheen, Wayne Knight, and Robert Duvall.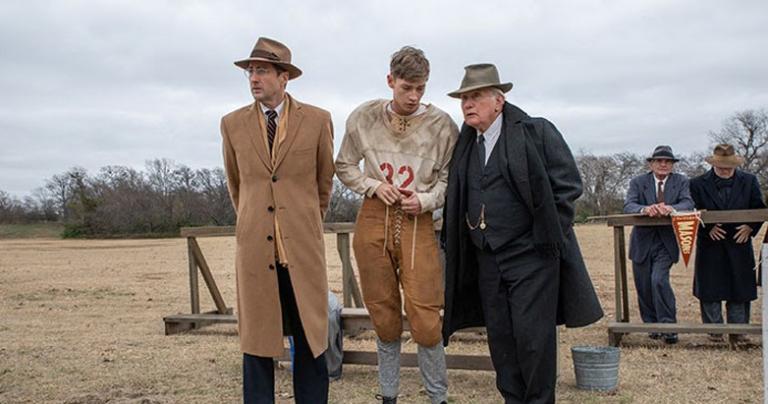 Roberts ("The Iron Orchard"), who wrote the screenplay with Lane Garrison and Kevin Myer, recently spoke to Reel Faith's DeWayne Hamby on how the project came to be, the all-star cast, and how its message of resilience and faith can inspire modern audiences.
Can you talk about your journey with this story?
My partner, Houston Hill, approached me about three years ago and asked if I would be interested in adapting the book, and honestly, I was a little reticent at first. Sometimes you see one sports movie and you feel like you've seen them all. They're very challenging. To tell a different perspective of the sports genre is, is really tough to do. The tropes are just so ingrained—underdogs, the great coach comes in, and the players, the outcast, the star player. I read the book, and I just realized that there was something so unique and fresh here, with Rusty being a real character and a selfless human that gave his life for the orphanage at a pinnacle point. I just thought that was so valid, and so real that we just had to tell it. To me, it just made all the sense in the world to get out there and dedicate our lives to it and make as good as stories we could, that honored and show the spirit of not only Rusty and his wife, Juanita, but of the Masonic home. It really had such a profound impact on so many kids. I watched a little documentary about it, and just realized how much it changed these kids and save these kids' lives. If you look at what they went on to do in their lives, it was truly amazing, for kids who would have been street orphans during the Great Depression.
And it not only impacted the orphanage, but it was a time in history where the nation was kind of looking for something to rally around or be inspired by.
Amon Carter was an important man in Fort Worth and did a lot for that city at that time. He owned the Fort Worth Star-Telegram. He had ties to Franklin Delano Roosevelt in Washington, and there are true stories of them talking about the Mighty Mites and apparently, FDR hung up signs at the Capitol. It was one of those things that he kind of used as a reference point to help inspire a very broken nation at that time. Lo and behold, we had no idea we'd be in the place where we are today after a pandemic, but you know, feel a very parallel sort of place and story. I feel like it's a really wonderful time to present a film that that shows that part of our history and what resilience and faith, having hope will do and how just really you can pull yourself out of the depths of despair. These kids would really have had nothing if they didn't have football and home to have a base of safety net for them to believe in something in their lives and believing in themselves, to pursue their dreams. I just think it's a very timely moment for the story. It's just an honor to be able to tell it and share it with the world right now. Rusty is such a tremendous figure and selfless guy, I think we can all reflect on that a little bit, realize that you know, there's more to life than, you know, just the championship in some way, sometimes we have to start anew and give ourselves to a greater cause and go out there and lift the spirits of those who need it most.
Doc (Martin Sheen) is doc is quite an inspirational figure too, considering that he never took a salary from the home. It's hard to wrap your head around that, Why do you think he did that?
I think Doc was a successful doctor in the Fort Worth area, and he didn't need it. And I think he realized that you know, in his life, he had had a lot of holes to fill, and I think what he gained from doing what he did had no value, monetary value. It could never have been equated to that it was all about his self-worth, and his ability to give back to these boys and girls. And it was just another selfless act that sometimes we don't see enough up today. We don't, a lot of us aren't exposed to that. I just think it's really powerful that we have these folks who in our story just dedicated their lives and had the ability to do that. Success has a way of trickling down to so many others. And, you know, if we're able to give back, I think it's the ultimate gift.
I was telling somebody the other day, there's a blessing in not monetizing every effort that you have, you know, basically, running everything through that lens of how am I going to be able to get resources back for my participation.
As a filmmaker and artist, for me, it's never been about the monetary side of things. It's been about the art, and at the source of the art is inspiration and motivation. Every artist wants to show their work, obviously, otherwise, you wouldn't do it. And you know, it all great art inspires, or exposes, or shows something that's creative, and meaningful, and, or difficult. And it really is important, for me, as a filmmaker to get these type of stories out there, and you know, my heart of hearts. And so I'm really connected with both Rusty and Doc on that level. I hope we can continue to do it. We all have to make a living and all that's great but I just think that really we have to tell and share meaningful stories in our lives.
Talk a little bit about the cast, you had some awesome performances, these are people that were familiar with. So putting them in the story, there's already a layer of familiarity, and they're telling this story that we haven't seen before.
The cast was just absolutely star-studded. We just got really lucky. The levee broke when once Luke Wilson attached himself to the movie. I had worked with Luke in the past and knew what a great guy he was. He played high school football through his senior year. He's smart, quirky, stoic, super athletic. And it was like Rusty Russell. Once Martin came on board, it came to life because I knew with their sort of background and humor and being both just really dedicated guys, I knew we were onto something special. And then you know Wayne Knight, Vinessa Shaw, and Robert Duvall and so many others that that joined the team. I couldn't have asked for a better cast. Treat Williams, what a wonderful guy who embraced the Aman Carter spirit more than anybody. He was just a delight to work with. Ron White, what a character. I got funny, kind of comedic type characters to come in and play these dramatic roles. And I think we got some magic in a bottle.
"12 Mighty Orphans," from Sony Pictures Classics, is currently in theaters.