When the production of the Aretha Franklin biopic "Respect" was first announced, as someone who covers topics of faith in the entertainment world, I wondered if the film would embrace the spiritual side of the legendary singer. Even though known as "The Queen of Soul" with an astounding collection of classic hits like "Chain of Fools" and "You Make Me Feel Like) A Natural Woman," Franklin's church roots always seemed to shine through her career. The fact that Academy Award, Grammy, and Golden Globe award-winner Jennifer Hudson, also a Christian with a similar church background, was handpicked by Franklin for the role seemed not only a natural but also a supernatural fit.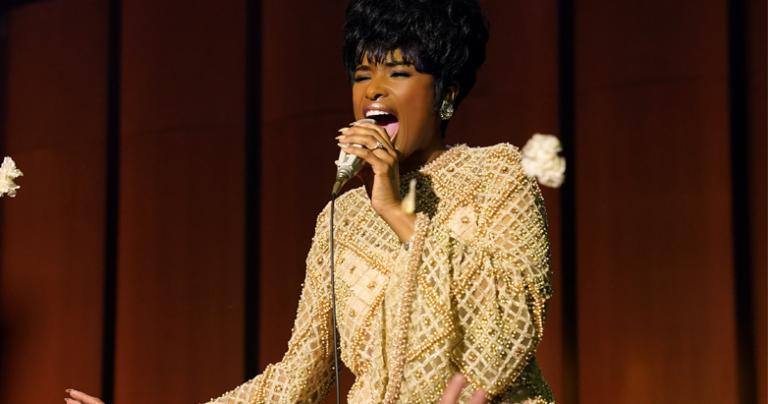 Hudson skyrocketed to fame after her breakout role in "Dreamgirls" and is also one to break out a gospel song or two. Her version of Glenn Edward Burleigh's "Order My Steps" is one that I find myself putting on repeat, crossing my fingers for her to release a full-fledged gospel album. When the Chicago-born singer was nominated for the Oscar for Best Supporting Actress, she skipped the Oscar parties to attend a worship service, saying "I'm having a praise party. The purpose of this is to praise God because he did it; I didn't."
All things considered, it was fitting to finally meet Hudson at a church of all places during the filming of the long-anticipated film. Director Liesl Tommy, Forest Whitaker (portraying her father, Rev. C.L. Franklin), and Skye Dakota Turner (portraying young Aretha) and a crew of a couple of hundred extras were on hand. Whitaker, as Rev. Franklin, introduced his young daughter singing "There is a Fountain Filled with Blood" to the congregation, all dressed in period-perfect 50's attire. Turner, a powerful singer in her own right, was also appearing on Broadway as young Tina Turner in "Tina: The Tina Turner Musical."
Tommy was extremely kind and cordial. She spent some time with us, during a pause in the schedule, explaining that even sometimes she had to remind herself of the magnitude of the door God opened.
"There are moments when I'm just watching (the filming), or I'm watching that giant cranes and millions of dollars worth of equipment coming to into position, and I think, Oh my God, this is all happening because I asked for it," she said. "Holy, cannoli, that is definitely overwhelming. When you think about a vision that I sat alone in my room listening to records, and I imagine what it could be, and then you see it happening, and you see how much you know, the resources that it takes to make the vision happen."
Tommy added that the project had inspired prayer more than any other project she had done, mostly in what she said was a battle to preserve the authenticity of the church culture and the black culture of the time; "It just felt like those battles were so important."
After filming with Turner as Young Aretha completed, Jennifer Hudson arrived and greeted those of us gathered for the filming. In her Sunday best, a green dress with a yellow jacket and hat, she walked down the row of the pew of journalists I sat with, shaking everyone's hand one by one and thanking us for being there. She was, after all, playing the pastor's daughter and that's what's pastor's daughters do, they give the "right hand of fellowship." She told us that we all were about to have church. And she was right.
With Hudson now at the pulpit, they continued several takes of the gospel hymn, with her giving a new fresh spin and ad-libs along with the recording. During one shot, she wouldn't finish it. Something clicked, something supernatural happened, and Hudson just fanned the flame.
The crowd stirred as she repeatedly proclaimed, " . . . . lose all their guilty stains . . . lose all their guilty stains!" To put it in traditional church terms, the Spirit took over, and no one was in a rush to calm things down. Hudson lingered and so did the congregation, soaking in the atmosphere and leaning into the experience. There was some shouting. There were "Amens" and "Hallelujahs" thrown around, some for the atmosphere and some in full sincerity. In the middle of a busy production schedule on a major motion picture, hundreds of extras, crew members, and a handful of journalists, were treated to a truly special moment. They had church. And I have to believe that if Aretha were still alive, she would have been right there in the middle of it.
"Respect," directed by Liesl Tommy, written by Tracey Scott Wilson and starring Jennifer Hudson, Forest Whitaker and Marlon Wayans, releases Aug. 13, 2021, from MGM/Bron Creative/One Community.
Watch below for a behind-the-scenes featurette.
DEWAYNE HAMBY is a communications specialist and longtime journalist covering faith-based music, entertainment, books, and the retail industry. He is the author of the book "Gratitude Adjustment." Connect with him on Facebook, Twitter, YouTube or InstaGram.