This Friday, Sundance Film Festival Award-winner "CODA," written and directed by Siân Heder, releases on AppleTV+. The film follows the main character Ruby (Emilia Jones), a "child of deaf adults," attempting to break away from her parents (Marlee Matlin, Troy Kotsur) to pursue her own love of music. Academy Award-winner Matlin, Kotsur and Daniel Durant, all Deaf actors, play her family members.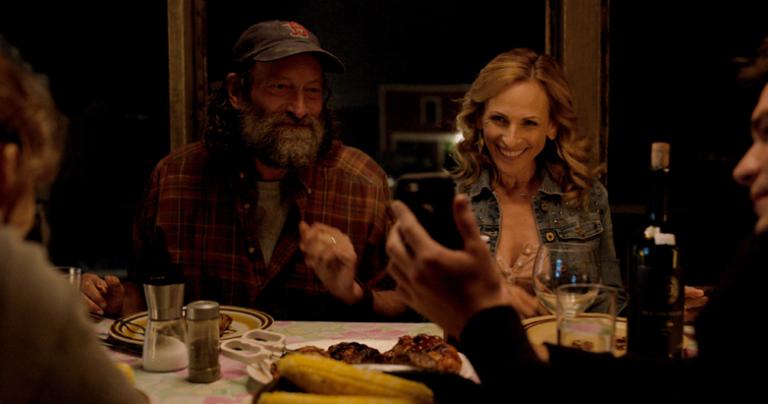 In a recent roundtable interview, Matlin spoke about the attention the new film has received, her own journey breaking away from her parents, the role Henry Winkler played in her journey, and her ongoing push for authentic Deaf representation in the entertainment industry.
What strides are needed to continue to be made in terms of representation of the deaf community on screen, whether it's through film, television, or streaming media?
Someone asked me just recently about "Children of a Lesser God," saying that "Oh, 'Children of a Lesser God' is inappropriate because it's a representation of a deaf character through the voice of a hearing character. And I said, "You know what, 'Children of a Lesser God' was a product of its time. "We are now looking at film and television and streaming media in a completely different way. The stories are being told in a different way. And I wouldn't touch "Children of a Lesser God" from the current lens or from the contemporary perspective. But as far as what needs to be done in terms of representation, we need to make sure that hearing actors don't play deaf actors as if they're a costume to take on and take off at the end of the day, I think we're done with that. We're done with that. We get it. And everyone here seems to agree. Secondly, to make sure that the stories that you're telling are authentic as possible. I know that stories and where they were talking about whatever media it is, can approach. It can be approached in different ways. But as long as they are the best way to be told using deaf actors in a role, or actors with a disability, for example. And when there is a deaf actor, for example, on a set, make sure that the set is 100% accessible, whether we're talking about interpreters, whatever it is, that creates an equal playing ground for Deaf actors. Each one of us has different needs, but we all pretty much have the same need. And that's in terms of communication access. So, it's as simple as that. I think. We just need further representation in film and television and in streaming media, more Deaf writers, more Deaf costumers, designers, whatever it may be in front of and behind the camera.
What does it mean to you to have this film open in such a prominent position at Sundance? Do you think it'll press open doors for more films about this part of the community?
Sundance is probably the best form of validation of a film at that film festival. I mean, it's clear that a film like this featuring Deaf actors can be well received by people. Because these are, these are avid filmgoers. And of all the film festivals that are out there, these people know what a good movie is all about. And to be able to see and hear us being applauded as we were, for our work was probably, I mean, it was a great feeling. And I there were so many feelings going on at once. It was a feeling of relief, the fact that I mean, it wasn't, we weren't nervous, but at the same time we were, we were excited to show our film on the big screen about, you know, our film and tell our story. And I hope that when the film comes out, and the general public has a chance to see the film, they approach it with an open mind. They have an opportunity to listen and enjoy the ride with us as as much as we enjoyed making the film. And I think it'll open a lot of doors as it should. If not, then I'll just continue to make noise.
I was wondering if you had similar friction or anxiety as the characters in this film when you know, went off on your own and pursued your dream of acting? Was that something that you drew from personal experience when you were representing the character?
My parents had always been very supportive growing up. The only thing we couldn't handle was that I didn't listen to them. When it was time to come home for dinner, "What's a curfew?" I would say. But in any case, they gave me a lot of independence, which was their intent. Because when they found out I was Deaf at 18 months old, they were initially shocked. It was unexpected. They had never even seen a Deaf child before and never experienced that culture. They didn't know what to do. So, they did their homework. They researched schools, they decided how and where to raise me which was to be at home because they wanted to be my parents rather than send me to a school for the deaf which Most Deaf people did go to and they're all great schools. They're all great schools. However, they wanted to keep me at home. And then my parents, I said to them, "You know what, I want to be an actor one day" and they said, "Okay, fine." And they put me in a theater for the Deaf, which was very close to us. And from eight to 15, I acted. And then at 15, I got very rebellious Of course, you know, teenagers being rebellious as they are, I want to play around. But I didn't really have a concrete plan about what I want to do in my life. All I knew is that it was all about acting. And when Henry Winkler came to visit us at the center of deafness, and I said, "Hi, Mr. Winkler, I will be an actor just like you in Hollywood." My mom, being a mom, who wanted to protect me, said to Henry, "Don't encourage her too much, because the scenario of a Deaf actor in Hollywood won't happen. People will dismiss Marlee." And Henry looked at her turn around, said to me, "Marlee, you can be whatever you want to be as long as you believe in yourself, and follow your heart and your dreams will come true." And eight and a half years later, I was standing on a stage with an Oscar in my hand. So, my parents were initially shocked. And they were surprised how far I was able to go in Hollywood. But they were not surprised about my determination. Because I had it within me. I was very determined, and I made it happen. And there you go. There they were very, very proud of me.
In this film, everyone is hilarious. was what was the was there a lot of laughter on set where you were making each other laugh?
There was a lot of things that transpired during shooting that made me laugh out loud because it was real life. I mean, in particular, what was the story in the film. I think the laughter was as a result because the film was so true to life. It was so authentic in that fashion. All of the little facial expressions or the comments, the body language, everything that the Rossi's encompass and I was glad that you were able to catch that. That is what excited me to be able to represent the audience, who we are, who we are. And humor and humor is a very important part of my life. And I can't imagine not having the opportunity to laugh or make fun, or I mean, I got I get my humor from my dad. And I also draw from my Deaf community as well. It comes naturally to us and Siân Heder, bless her heart. Thank you, God for Siân Heder, who let us engage in this humor. And it just felt so liberating to me. It just felt so liberating. I, whatever made sense for the scene is what we did.
Before "Children of a Lesser God," the other films that dealt with deaf people were "Johnny Belinda," and "The Miracle Worker." Did those films have any impact on you? Or were you thinking of them?
Yes, I knew and was familiar with "Johnny Belinda," played by the wonderful Jane Wyman and "The Miracle Worker," the amazing work of the actress in that film. Again, we have to understand that those parts weren't played authentically. They were hearing actors playing deaf actors, and not to denigrate their work of those brilliant actors. I applaud their work. However, that was then this is now and I don't think we can do the same thing today because this is not a costume that a hearing actor can put on and take off at the end of the day. There are wonderful actors out there who happened to be deaf, who could play those roles very well. If we're talking about Johnny Belinda, and "The Miracle Worker," if you're going to "Children of a Lesser God," people were stunned to see a real deaf actor playing a deaf role. And in other films to, for example, in the students in that film are also played by deaf actors. The casting was authentic in this film, in "Children of a Lesser God." But again, that film was for me hearing perspective, the William Hart character, again, not to denigrate that it's just a movie of its time. So now, we're talking today, where we are creating roles, whether television, film or streaming media. And I trust that they'll tell it from our perspective if they listen to us. And so it's up to you as writers to spread that message.
"CODA," written and directed by Siân Heder and starring Emilia Jones, Marlee Matlin, Eugenio Derbez, Troy Kotsur, Ferdia Walsh-Peelo, Daniel Durant, Amy Forsyth, and Kevin Chapman will release Friday on AppleTV+.