Aretha Franklin receives a biopic worthy of a Queen in the new film "Respect," releasing this week from MGM. Directed by Liesl Tommy and written by Tracy Scott Wilson, the movie traces Franklin's rise to fame from a young girl growing singing in her father's church to becoming a legendary music icon. The film stars Jennifer Hudson ("Dreamgirls") as Franklin, Forest Whitaker as her father, Rev. C.L. Franklin, Marlon Wayans as Franklin's first husband Ted White, Audra Macdonald as Franklin's mother Barbara Siggers Franklin, and Marc Maron as Jerry Wexler.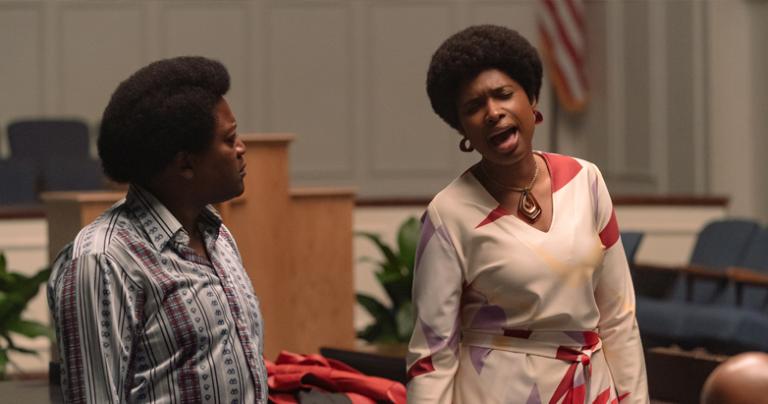 As the film opens, young Aretha (Skye Dakota Turner) is a bubbly and talented pre-teen proudly for her father's friends at parties and his congregation. Tense family drama and abusive relationships begin robbing her of her joy and innocence. As she matures into a young woman, Aretha becomes more intentional in finding her own voice and making her own decisions, some of which propel her career and others that come close to derailing it. Through formative years, she works hard to create momentum in her career, breaking free from a jazz artist covering standards to discovering new sounds that merge her beloved gospel with R&B. At the same time, she lends support to civil rights causes and joins forces with Rev. Martin Luther King, Jr.
While Aretha's signature soulful repertoire is on full display, the film frames her life as a story of redemption and faith, focusing on her beginnings in church and her rededication to Christ later in life. In one scene, Rev. James Cleveland tells her, "Music will save your life," but in this context, he's talking about the gospel music of her upbringing, which brings healing from years of abuse and manipulation. For every "Think" or "You Make Me Feel (Like a Natural Woman)," there's an "Amazing Grace" or "There is a Fountain Filled with Blood" and the church is never far from her heart. "You are with God, Ree," her father tells her. "You have always been with God."
Hudson does a masterful job of disappearing into her role, altering her deep voice into Aretha's higher-pitched registry, and hiding behind a veil of insecurity and meekness. In the movie's most powerful moment, the lowest point in the singer's life, with a bottle of liquor in hand, she calls upon God to deliver her from addiction and personal misery. The answer to that prayer is a true come-to-Jesus finale which made me want to stand and worship along in the theater. It was an unexpected but incredibly powerful moment.
Beyond Hudson's Oscar-worthy performance, Tommy's direction makes the film truly unique. So many times, she frames the shots in a creative way, finding the right way to punch every scene with drama. Here's a first-time feature-length director, who honed her skills on television episodes, starting out at the top of her game. It's evident how sacred she views her stewardship of the singer's legacy; she even appears in a cameo telling Aretha just how much her example means to her. To her credit, even as a fan and admirer, she also doesn't deify the singer but exposes the trappings of self-esteem and addiction that she had to rid herself of. Aretha was flawed, but God kept calling her back.
When "Respect" was first announced, I wondered how much, if any, the film would focus on Aretha Franklin's faith. I was pleasantly surprised to find that, as Tommy says, her story starts in church and ends in church, focusing on her faith in God sustained her throughout her life. It's not just a biopic, and it's not just a musical. "Respect" is as close as it gets to having church in a movie theater, and without a doubt, it's my favorite film this year.
"Respect," directed by Liesl Tommy and starring Jennifer Hudson, releases Friday from MGM Studios.
Watch below for a faith featurette on the film.