Warner Brothers has released a new trailer for "King Richard," the inspirational true story of Richard Williams and his daughters, tennis legends Venus and Serena Williams. The new preview is also perfectly combined with a powerful new single by Beyoncé, "Be Alive." The movie will release in theaters and on HBO Max Nov. 19.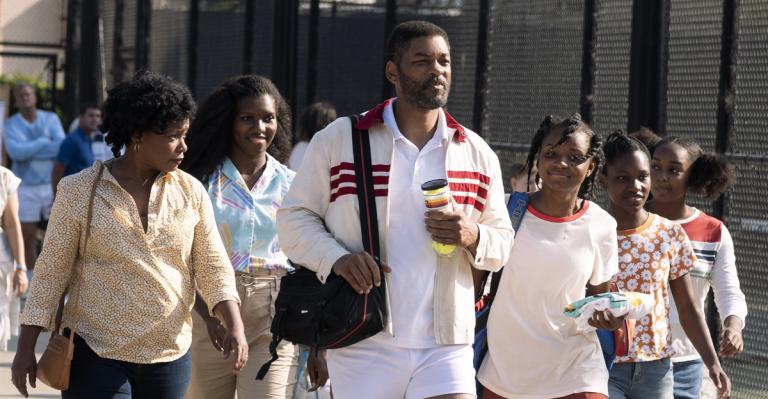 The film also stars Aunjanue Ellis ("If Beale Street Could Talk," TV's "Quantico"), Saniyya Sidney ("Hidden Figures," "Fences"), Demi Singleton (TV's "Godfather of Harlem"), with Tony Goldwyn (the "Divergent" series, TV's "Scandal") and Jon Bernthal ("The Many Saints of Newark," "Ford v Ferrari"). The ensemble also includes Andy Bean ("IT Chapter Two"), Kevin Dunn (the "Transformers" films, HBO's "Veep") and Craig Tate ("Greyhound").
As the patriarch presses on to fulfill his mission, he is met with skepticism and opposition, especially considering he's equally invested in both daughters. "Nobody's taking that bet . . . . It's like asking someone to believe you got the next two Mozarts in your house," Richard is told in the new clip, and yet he presses on with training and instruction to help make his girls into the tennis greats the world will eventually embrace. Bernthal as Coach Rick Macci later tells him, "I think you got the next Michael Jordan," to which Richard responds, "Oh no, brother man, I gots me the next two."
The official synopsis for "King Richard" is:
From Warner Bros. Pictures comes "King Richard," starring two-time Oscar nominee Will Smith ("Ali," "The Pursuit of Happyness," "Bad Boys for Life"), under the direction of Reinaldo Marcus Green ("Monsters and Men"). Armed with a clear vision and a brazen 78-page plan, Richard Williams is determined to write his daughters, Venus and Serena, into history. Training on Compton, California's abandoned tennis courts – rain or shine – the girls are shaped by their father's unyielding commitment and their mother's balanced perspective and keen intuition, defying the seemingly insurmountable odds and prevailing expectations laid before them. Based on the true story that will inspire the world, "King Richard" follows the uplifting journey of a family whose unwavering resolve and unconditional belief ultimately delivers two of the world's greatest sports legends.
"King Richard," directed by Reinaldo Marcus Green ("Monsters and Men"), is slated for U.S. release on November 19, 2021, in theaters and on HBO Max via the Ad-Free plan; it will be available on HBO Max for 31 days from theatrical release.
Watch the new trailer below.
DEWAYNE HAMBY is a communications specialist and longtime journalist covering faith-based music, entertainment, books, and the retail industry. He is the author of the book "Gratitude Adjustment." Connect with him on Facebook, Twitter, YouTube or InstaGram.