The new documentary "The Jesus Music," directed by Jon and Andy Erwin and featuring a who's-who of music artists, is the first big-screen project to address the 50-year history of contemporary Christian music since it began. Since the project was announced, devout fans wondered how and if their favorite artists would be acknowledged or included. With 100 artists interviewed and more than 300 hours of footage—which may make its way into a longer series at some point—some artists and bands were omitted, and others received less coverage than their listeners hoped for.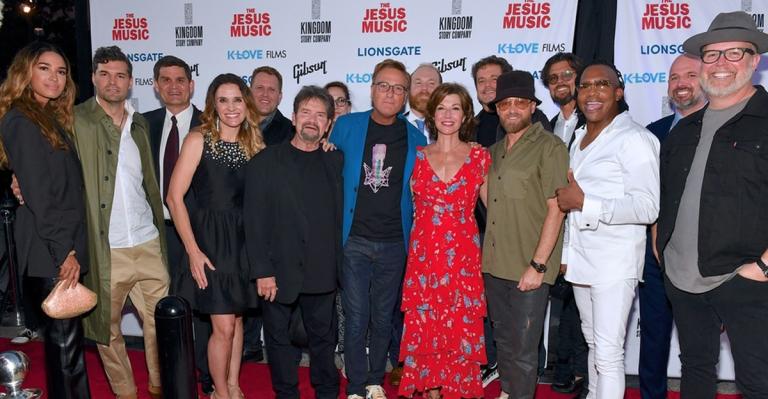 During a recent interview, director Andy Erwin explained how the duo narrowed their focus for the film and how that affected who was included and who wasn't.
I attempted to tell the story of Christian music for an article, through several interviews with key players at the time. When I turned it in, there were some holes that were kind of poked into it, which I would imagine what you're kind of facing. It's such a wide-ranging topic to tackle. How did you know what to put in and what to leave out?
We kind of went through this thematically. Because originally, we had thought about doing a broader, kind of five-part-series type thing. But it really kind of seemed to really want to be a feature film. So, we kind of had to narrow that focus down to a two-hour window. We had the daunting task of having over 300 hours of interviews that we had to whittle down. We kind of looked at it from this standpoint. These were a bunch of hippie freaks that were outside society that had a radical encounter with Jesus and didn't fit either place with their music. They didn't fit in the mainstream, and then they didn't fit in the church. They kind of were rebels who went out and said, "No, we're going to make our own music." And in that standpoint, it was incredibly rebellious, incredibly romantic. We asked, "Who were the rebels that pushed the grain to forge a path that didn't exist?" That eliminated us from really focusing in on a lot of the kind of anything that was kind of vanilla or too redundant, and we really focused on "Who were those rebels and those rebels that emerged, like the Larry Normans, and the Strypers, and the Amy Grant and Michael W. Smith, TobyMac, Kirk Franklin, that kind of birthed this whole modern movement of worship?" It also included the artists that are doing it now, with LaCrae and Lauren Daigle and for KING & COUNTRY. We kind of just went with "Here's the dreamers. Here are the rebels." We chased that storyline. That one was really appealing. I thought, "What a really human face to put on this kind of mega niche kind of genre."
Click here to read "Amy Grant, TobyMac, Kirk Franklin Bare Their Souls in New Doc 'The Jesus Music'."
When I was a teenager, I only listened to pop music at first. And then I had a friend who's trying to get me on Christian music, so he gave me "Age to Age." For me, I wasn't really interested. It was just "church music." But when she crossed over to radio with "Love Will Find a Way," I was like, "I'm all about that." But then my friend said, "Well, she's not gospel anymore." I was confused.
I think that's the interesting tension that we tried to explore in the doc. It's that world of these people that are bridges between worlds, whether it's, Kirk Franklin between gospel and CCM and pop or mainstream, or Amy Grant between mainstream and contemporary. It's just these people that were bridges, that kind of were trailblazers, that kind of took their stripes and their wounds on both sides. Kirk Franklin said, "You can't be willing to be a bridge unless you're going to be willing to be walked over." It was this really interesting tension. From a film side, it was a really cool thing to explore the humanity of each of these people and what they had to endure to blaze a trail for music to be represented, music that they really, really want to make.
"The Jesus Music," directed by Jon and Andy Erwin and featuring Amy Grant, Michael W. Smith, TobyMac, Kirk Franklin, Lauren Daigle, Glenn Kaiser, Greg Laurie, John Thompson, For King & Country, Bill Reeves, Eddie DeGarmo, Chris Tomlin, Michael Tait, Kevin Max, LeCrae, Mandisa, and Bill Gaither, is now in theaters.
Watch an interview with Michael W. Smith and Amy Grant from "The Jesus Music" red carpet premiere in Nashville.
DEWAYNE HAMBY is a communications specialist and longtime journalist covering faith-based music, entertainment, books, and the retail industry. He is the author of the book "Gratitude Adjustment." Connect with him on Facebook, Twitter, YouTube or InstaGram.