In the new family film "Home Team," arriving on Netflix Friday, a Super Bowl-winning NFL coach returns home after a year suspension and reconnects with his son while helping coach his football team.  The Happy Madison production, based on the true story of New Orleans Saints' Sean Payton, stars Kevin James ("The King of Queens," "Paul Blart: Mall Cop") and Taylor Lautner ("Twilight," "Abduction"), along with Rob Schneider, Jackie Sandler, Gary Valentine, Tait Blum, and more.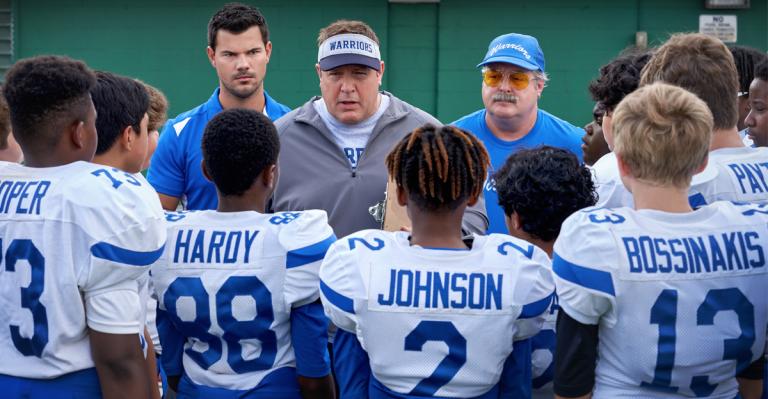 Popular actors James and Lautner, veterans of Adam Sandler's Happy Madison crew, recently spoke to DeWayne Hamby about the inspiration behind the story, the "blessing" of being a part of the Happy Madison family, and why films like "Home Team" bring families together.
Kevin, you're known for a lot of good family movies. Is that something you look for in a project? Or is it just something that just kind of is drawn to you?
Kevin James: That's definitely part of it. A movie I'm working on right now is not a family movie. It actually is, but it's for a different age group, for sure not for kids. But this one is, and a lot of mine do, because as a parent, I do struggle with finding good movies to sit down with my family to watch. I really do love family night when we do sit down as a group and just kind of watch a movie. It's always very hard to find a fun movie that everybody can enjoy, even if it's the kid movies and this and that. It can be difficult. They are great for the kids, but you're rolling your eyes as a parent going, "Oh, how am I getting through another hour and a half of this?" But there are some great movies, great animated movies out there. This one's a winner. It's great for everybody. There's different stuff in there. That's how I feel about this movie. It's a fun movie for everybody. There's inspiration in it, and it's based off a true story. So, it had everything. And it's got Taylor Lautner, man. Taylor Lautner!
Taylor, this movie is a comedy, but it's actually just as sweet and inspirational as it is funny. Was it fun being on set and being a part of the cast?
Taylor Lautner: That's one thing about Sandler and Kevin is they – or at least I feel like they do – purposefully surround themselves with good people. So, you know, everybody on set, there's no divas, just genuinely fantastic people to be around and learn from. For me to watch Kevin, his brother, Gary, Jackie, Rob, all these incredible people. I just felt very, very blessed to be a part of it.
They always say to watch out working with animals and watch at work and with children. How was it working with the kids on the set?
Kevin James:  Taylor was with them more than I was probably I'd say, right, because you were constantly . . .
Taylor Lautner: Probably, yeah, and they were great. We got so lucky on this. We had a terrific group of kids who are super talented, they steal the movie. They're fantastic. They're also just really good kids and really good families. So, it was a blast for me spending time with them.
Kevin James:  Yeah, and it's a tricky thing because you got to get kids that can not only act but they can also perform athletically. And they and they had a lot to do to make it look real. And now they came together as a group. Man, they were fun. They were fun to watch.
"Home Team," directed by Charles Kinnane and Daniel Kinnane based on a story by Christopher Titone and Keith Blum, will release on Netflix on Friday. Click here for more information.
Watch the exclusive interview with Kevin James and Taylor Lautner below.
DEWAYNE HAMBY is a communications specialist and longtime journalist covering faith-based music, entertainment, books, and the retail industry. He is the author of the book "Gratitude Adjustment." Connect with him on Facebook, Twitter, YouTube or InstaGram.