The fourth installment in the highly successful monster-sized animation franchise, "Hotel Transylvania: Transformania," featuring Selena Gomez and Andy Samberg, premiered this week exclusively on Amazon Prime. The story centers on the relationship between Drac (Brian Hull) and his son-in-law Johnny (Samberg), but also the eclectic group of hotel residents dealing with the fallout of a failed experiment by Van Helsing (Jim Gaffigan).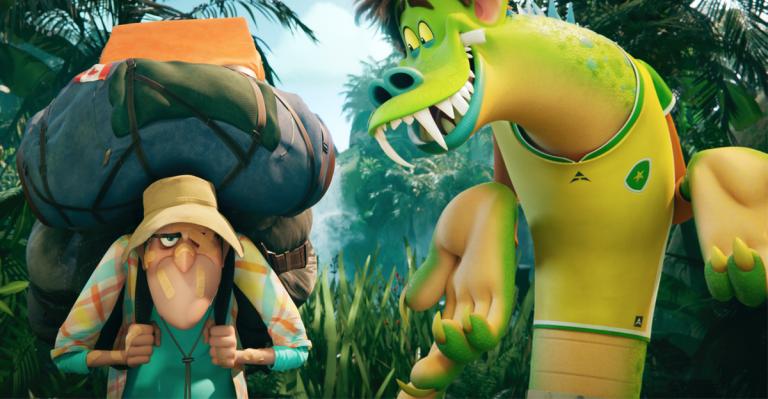 Series creator Genndy Tartakovsky penned the screenplay and served as executive producer, along with Gomez. Acclaimed animator and creator of the Women in Animation mentorship program Alice Dewey Goldstone ("Aladdin," "Hercules," "The Lion King") returned to help steward the franchise. In this exclusive interview, she discusses how the series reached beyond its third act, her history in animation, and the series' impressive cast, which also includes Kathryn Hahn, Keegan-Michael Key, Steve Buscemi, David Spade, Asher Blinkoff, Brad Abrell Fran Drescher, and Molly Shannon.
At what point did you think this would move beyond just being a trilogy? It's a sign of success to move ahead with a fourth film.
Well, you're absolutely right, it's very rare to get to a fourth. And we were very honored that the studio and Genndy Tartakovsky entrusted us with this very successful franchise to come up with an idea for a fourth one that made sense and merited another whole movie. And when Genndy came up with the idea of Drac, and Johnny, transforming, we thought, "Well, that's it," because it's familiar with all the characters people know and love and want to see again, but it's fresh and indifferent to that you get to see them both as turning into humans and turning into, in Johnny's case, into a monster.
It must have been fun for the rest of the cast to explore that transformation.
Oh, it was. The truth is, in the original draft of the movie, it was more of a buddy comedy. And it was Drac and Johnny that were the only two that switched. But we just missed our cast. You know, it's become such an ensemble type of film, that then we brought them all on the blimp too and said, "Oh, come on, everybody has to come down to South America." And plus, it's really fun to see our cast in daylight. For three movies, they'd have to be in the dark, with the vampires. Also, this time we have South America and color and dance and it's a lot of fun.
Adam Sandler who had been the anchor of it, couldn't be here, but now the voice actor that you have for this one does not skip a beat. Can you talk a little bit about overcoming that hurdle?
It's a shame not to be able to work with Adam. But as it turned out, we were lucky that we had a short that we produced before we started this. And in that short, we also couldn't get Adam, so we tried out, a young guy named Brian Hall. And he just did so well with that short that we thought we don't have a problem. And he came in and just was so pleasant to work with. He can do any voice you can imagine. If you've ever been to his webpage, he has just every kind of voice and it really an expert in mimicking people. But it was also more about getting him to develop the acting style that we wanted. We had some long sessions with him, initially, but then he had it. It was really just a really easy transition. He is a very, very talented young man. And the other thing that's interesting about Brian Hull is he was trained as an opera singer. And I think that opening moment in the movie where he has to sing "Just the Two of Us," to me, this is very telling because he hits it just like Adam. He listened and listened and listened to Adam's lullabies, and he just did it perfectly.
How does it feel to work in animation? There has to be some type of extra, you know, a different feeling than just an ordinary job. This is a job that connects with children, and then their children as they grow up.
My first job when I first came out of college was being a teacher. And I worked in elementary schools and middle schools and a little bit in high school. Then I went back and got my advanced degree in directing theater, and I went on to do musical theater for some time. When "The Little Mermaid" came out, I thought, "Well, that's one of the best theatrical shows I've seen anywhere." So I looked into getting into Disney, and I was lucky that I kind of hit it the right time. All that experience of working with children and working with musical theater, came to fruition on "Aladdin," and I was able to make that transition relatively easily. I mean, the creative process, storytelling is all the same. It really was lucky for me that I ended up where I was. But you know, I really have also enjoyed being at Sony, because it's really interesting to have a studio that could do "Spider-Man," "The Star," "Hotel T," "Smurfs." And it's been really wonderful to work with Kristine Belson and Pam Marsden and see their vision for making this be a real artist-based studio.
At what point was the decision to partner with Amazon and go straight to streaming with this? Was it because of COVID?
One hundred percent. We were initially thinking we would be out in August, then that's when Delta spiked. And so then they moved it to October. And, you know, the international community was concerned about that day, and then Delta kept going, and then they just felt like for us to really get it out for enough people to see it, "Let's go streaming" and I think probably more people will be able to see it eventually. Because they can sit down in the comfort of their home and bring their kids around. And you know, now with Omicron going on. I think that was the right decision, don't you?
Yeah, absolutely.
"Hotel Transylvania: Transformania," directed by Derek Drymon and Jennifer Kluska, is currently playing on Amazon Prime.