With more than 3 million copies sold in 30 languages, Francine Rivers' "Redeeming Love" is one of the most successful Christian fiction titles in modern publishing. The story, a parallel of the biblical story of Hosea and his wife Gomer, has garnered thousands of fans since its original publication in 1991. This weekend, the film adaptation, headed by director D.J. Caruso ("I Am Number Four," "Disturbia") producer Cindy Bond, and executive producer Roma Downey, will introduce the story to an even wider audience.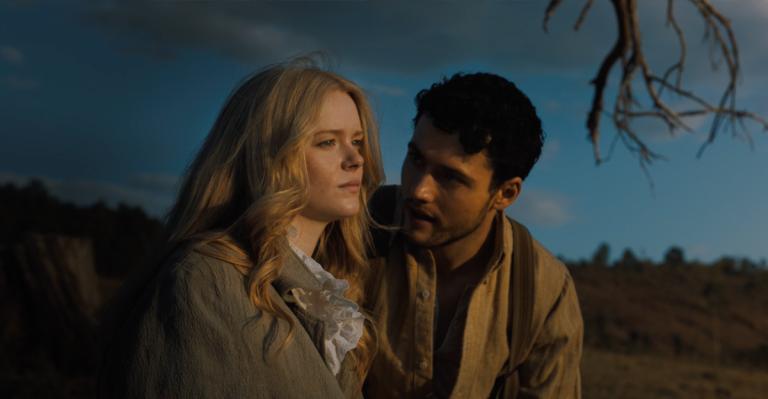 "Redeeming Love" is a frontier day imagining of the romantic pursuit of damaged prostitute Sarah/Angel (Abigail Cowen) by the honorable Michael Hosea (Tom Lewis) in the small town of Pair-a-Dice, California.  Although the subject matter is darker than a typical faith-based film, the story is meant to illustrate a just God redeeming his children through His love.
In this exclusive interview, author Francine Rivers discusses why the time was right for the big screen, how the creators delicately approached the subject matter, and how readers can share the story with their friends.
I'm sure making a movie of the story has been attempted or planned before now. Why was now the right time for this film?
We dealt with a number of different companies, and they never really got the script right because they didn't understand the cycle. When I started working with Cindy Bonds, with Mission Pictures, I thought I wanted to just try to tackle and write the script so that they'd had an idea of what I was looking for, not really expecting that they would use it. When D.J. Caruso came on board, I was able to work with him. If I wrote the script as a linear script, just like I did the book and on screen, that would be just too hard for people, to see the beginning story of where Angel came from, and how she ended up in prostitution. So, he really restructured the script. And then we worked together to strengthen scenes and make sure that all the way through Christ is at the very center. Because that's been the whole hope for this project with all the main people that are involved in it, that we want to glorify God and we want to get the message out that God loves you. There is a God and He loves you. We constantly are turning away to other things, but He pursues us and takes us back over and over again. Eventually, you have to make that choice. You have to decide
When did they pull the trigger and finish the filming? Did you avoid the shutdown?
They were filming in South Africa, before COVID. And, actually, this is a miraculous thing. They finished filming everything and had it "in the can" 24 hours ahead of the worldwide shutdown from COVID. So, they had all the film done. Then they had that year in a private studio to work on the editing and to put in the music and add in the special effects and all the different things that go on in moviemaking. So, the film has been ready for a while, but we've just been waiting for the theaters to open up.
It's an unconventional faith film. I'm sure it's gonna lend itself to more controversy than what Christian filmmaking has looked like for the past ten years. What kind of responses did you have when the book was released?  
Oh, there was pushback when the book came out. It was banned by one of the major denominations. But the thing is that you know, God's love is passionate. The Bible is from the beginning to the end, it's a romance about God's love for each of us and for His people. I could pull back and soften it all, but it would be the same thing. I mean, there are a lot of things in the Bible that if you saw them on the screen, they'd be X rated, not R rated. And this movie is PG-13. We were very, very careful. And wanted to make sure that everything was honoring to him and wasn't going to cause too many ripples, but there will be some.
Was there anything that changed during the process when you watched it? Was there anything where you said, "Let's pull that back"?
I was watching the early, early cuts of it, and I was able to say, "I think we could pull back a little bit on this, we can pull back a little on that," because we did want to absolutely keep it PG-13. And surprisingly, there were aspects of it that I would expect that would be, for the ratings, "This is going to be an R rated thing,"  actually were not the things that I think would have bothered Christians. But there are two love scenes, and they're pretty steamy. But the whole point is God created sex. And it's supposed to be the people within the bounds of marriage. And Michael waits a long time before marriage because he wants to know that she loves him. That's the point. It's to show the passion of God, but also, let's keep it in the right place.
The cast did a great job. Do you want to talk about what they brought to the characters?
Yes, I was involved in having some choice into who played what part, and I'll tell you when we saw Abigail Cowen, we knew immediately. I mean, she looks like a beautiful girl. And she's an extremely talented actress. So that was still what we just knew right away. Michael was harder to cast. We really looked at a lot of different very talented actors, but you want somebody that can really do all the nuances of emotion that he had to go through, and who could pull off purity. A man who's pure and waiting. And Tom Lewis is a British actor, classically trained, super talented. D.J. is the one that spotted him and said, "This is our Michael," and he certainly is. And then, you know, we were fortunate to get people like Logan Marshall-Green and Famke Janssen and Eric Dane and Nina Dobrev. They're all wonderful actors.
What was it being on set and being in that world that you helped create?
It was pretty amazing. Rick and I went to South Africa, and we were actually on set for about three weeks and were able to watch. And the first day we were there, we were taken out to where they had built the down at Pair-a-Dice. And it just blew me away. Because in my mind, it was fantastic. You know, I sort of pent tense structures and rough buildings and all that. It was built by Johnny Breedt. Tremendous set designs for inside and outside and they even stocked some of the shelves and in the general store, they there was a basket of real fish. So you could smell the fish on the front. Just to give that ambiance. They built a chapel. And I believe they're leaving the chapel and the and the town of Pair-a-Dice there. So we may see them in future films and other films.
I love the Old West. There's just some draw to it. And that's why I wanted to place you know, it's based on the book of Hosea from the Bible, but I wanted to put it in the Gold Rush period. I was writing in the general market for a number of years, steamy historical romances. They were all in California. So I wanted to reach the people that have been following my career up to that time and say, "Hey, I've been writing about love, but that's not the real thing. This is what the real thing looks like." Christ loves them.
If the average churchgoer, were talking to you about the film, and let's say they watched the trailer and they're hesitant to go or they don't know if they want to see it, what would you say to them?
I would ask them to read the book first because you know, you can see the movie is a book, there's something about seeing things visually that can actually have more power. But I think in a book, you get all the inner dialogue, you see the spiritual battle going on, and you understand the characters and why the scenes are there. So, for people that are hesitant, I would say read the book first. Then see the movie and you'll understand, you know, what's happening with the characters and why they're behaving as they are. People that are going to be bothered by certain things, I think we have to be sensitive to that and understand and just encourage them to take a look at the book and discuss it and talk about it. And if it's not something that you feel you could ever watch on screen, then that's a personal choice you have to make.
"Redeeming Love" releases in theaters today. For more information, click here.