Prolific, iconic actors Bryan Cranston ("Breaking Bad," "The Upside") and Annette Bening ("American Beauty," "Being Julia") team up for the heartwarming true story "Jerry and Marge Go Large," streaming on Paramont+. The film follows the true story of Jerry and Marge Selbee, who discover a mathematical loophole in the Massachusetts lottery and use it to help themselves and their small Michigan town.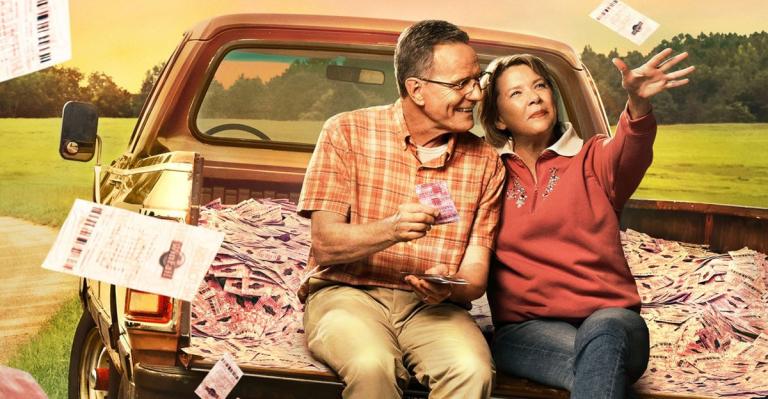 As Jerry, Cranston languishes momentarily in retirement mode until his mind unlocks the secret that begins his financial windfalls. As the funds pile up and the town comes together, he discovers the warmth of community. For the versatile actor, the rallying behind the "salt of the earth" kind of couple appealed most to him, especially in light of coming out of the pandemic.
"This was the first film I did after we got out of the 2020 lockdown with COVID," he said. "And I wanted to do something that actually created community that people could feel like, this is bringing people back together again. We're relating to each other once more, we're not as restrictive in our movements and things and telling the story about a small town and, and their friends and themselves."
Cranston said he read the script, put it down, and then returned to the story.
"I go, 'You know what, I'm going to take a look at this again'," he said. "And I went back to it a couple of times. I thought, 'Well, there's the sign'. If your key if you keep going back to it, it means that story resonated with you, and it did with me. So, I thought, 'Well, we'll just do this'."
Bening agrees with Cranston, saying the story "just made me feel good."
"Storytelling is somehow in our nature as people, we're hardwired for narrative," she said. "And a good story can really, for me, it can really lift my spirits. I loved that about this story, this Midwestern couple that had been married their whole lives, and in real life, they have a very, very good relationship."
The real Jerry and Marge are "wonderful people," she said, adding that she and Cranston enjoyed getting to know them and their story.
"I'm from the Midwest, and my parents are from Iowa, so I felt like I understood these people," she said. "They're wonderful people. They didn't cheat. Jerry is just a math whiz and happened to find this flaw in the lottery, which they then shared with their kids and their friends and didn't really change them or their lives."
By the end of the story, the couple was buying $500,000 worth of tickets standing at the lottery machines for hours at a time.
"They did have a good time, with the process of buying zillions of tickets every three every three weeks, which is what they would do," she said. "They were standing at the machines and buying $500,000 worth of tickets because the return was so high."
In a summer of big-budget marquee action blockbusters, "Jerry and Margo Go Large" is a sweet "underdog" story that tells an informative and entertaining story in a sweet way.
"It's not going to shake the earth with the story," Cranston said. "It's a beautiful, sweet story based on a true one."
"Jerry and Marge Go Large," directed by David Frankel and also starring Larry Wilmore, Rainn Wilson, Anna Camp, Ann Harada, Jake McDorman, Michael McKean and Uly Schlesinger, is now streaming exclusively on Paramount+.