In the new Paramount+ film "Jerry and Marge Go Large," Bryan Cranston and Annette Bening play real-life marrJerry and Marge Selbee who discover a loophole in the Massachusetts lottery and use that knowledge to score big for themselves and their small Michigan town.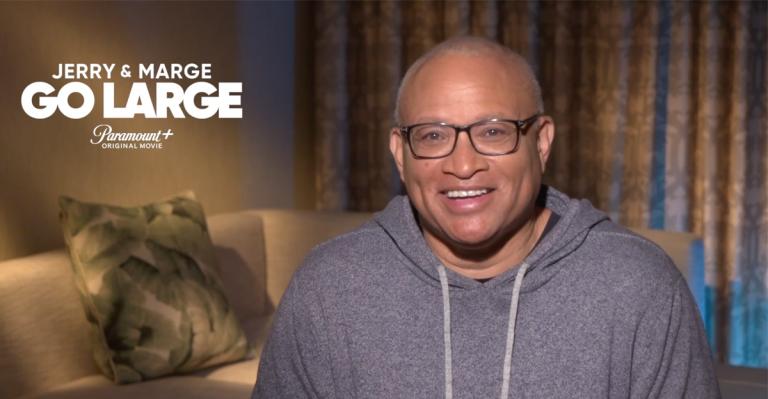 Comedian Larry Wilmore, who rose to prominence on "The Daily Show" before going on to create "The Bernie Mac Show" and executive produce "Blackish," plays Steve, the Selbee's longsuffering and slightly jealous accountant. Steve provides rational thought, support, and comedic relief in the charming film, now streaming on the Paramount+ service.
In this exclusive interview, Wilmore reveals how the true story behind the film captivated him, how purpose kept the Selbee's happy, and what role his character played in the story.
I really enjoyed this movie. It was a feel-good movie, very charming. Those were the words that came to mind. But I would love to know your initial thoughts when you came to it.
I hated it (laughs). No. No, I read it and thought it was so charming. But when I found out that it was a true story, I loved it even more, and I wanted to know more about Jerry and Marge and what actually happened. And I love the fact that number one, the first thing was he just wanted to figure out a puzzle. I mean, that's really what he wanted to do. He's this guy who's kind of restless. He just wanted to figure it out. That really appeals to me a lot. But the second part is what the movie is really, that he's not doing it for himself, the fact that there's something bigger there, doing it for the town, you know, people coming together, you know, winning, man, that part really was cool. I love that.
I love the illustration to me of having purpose. I feel like the movie is very much about purpose. And there for a while he's a little purposeless and miserable. But then when he finds a cause greater than himself, or you know, something else to kind of anchor, everything just seems to fall into place.
Yeah. And even in the scene, where the young punk kind of says, "Why would you want to keep doing this when you don't have to do anything at all? You know, we can just take this over." It points out exactly what you're saying. The point is, "This is what we want to do. It's we don't want to just make money. It's the doing of this is what's fun about this and what's giving us life."
Yeah. Let's talk a little bit about your character who I enjoyed. Every scene you were in was great. It was a subtle, dry, funny. It wasn't slapstick, or anything like that. But you brought a warmth to the character.
Well, you're giving me all the feels right now. He was written as this kind of curmudgeon real cynical type of guy, and for me, I thought, "Well, that's fine. But I still care about these people, and I'm connected." He had a backstory where he was a widower. There was something kind of broken in his life and missing and I approached it from that kind of standpoint, as opposed to "How is he funny?"  I never thought about that. I just thought about what's the real circumstance of his life right now and also the fact that I'm frustrated with Jerry, because you know, he's got this brain that just always makes my life more complicated. "If you could just be simple, just go in your boat, Jerry. What's wrong with you?" That is the starting point was really where I was coming from as an actor. It made the moments feel more real and that sort of thing. And hopefully, it's why we can laugh at it.
"Jerry and Marge Go Large," directed by David Frankel and starring Bryan Cranston, Annette Bening, Larry Wilmore, Rainn Wilson, Anna Camp, Ann Harada, Jake McDorman, Michael McKean, and Uly Schlesinger, is now streaming exclusively on Paramount+.