In the new film "The Mulligan," Eric Close ("Nashville," "American Sniper," "Suits") stars as successful businessman Paul McAllister whose life starts to fall apart until he begins listening to the advice of 'Old Pro' Will Dunn (Pat Boone). Through the film, the men strike up a friendship that shows Paul his life and his game are not too far gone for God's help.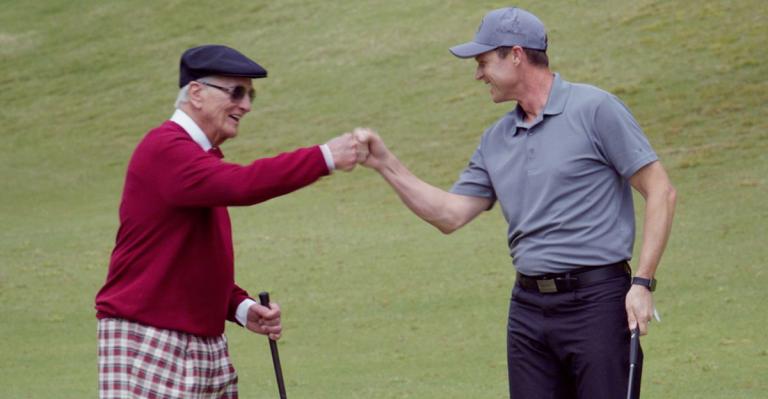 Close, who in real life is a golf lover, signed on to the film because of how the filmmakers used the framework of golf, including the "Mulligan" or "do-over," to represent something far more spiritually significant.
"In life, while there are rules, we do get second chances," he said. "A lot of people feel when they mess up in their lives that there's no hope. Those people carry a lot of shame or guilt, and never try to reconcile their mistakes. While we have to pay for the consequences of our choices, there's also a chance for redemption. That's why Jesus died on the cross, to pay for our mistakes, or sins. And all we have to do is believe that and ask for forgiveness and get a 'mulligan' in trying to turn a new leaf or have a second chance to make things right the next time around."
Paul is one whose life has been upended in several ways. Trying to do better than his father, who wasn't a great dad, he still loses his way, becoming estranged from his wife and not connecting with his son in the way he should be.
"He loses sight of other things in his life that are important, and that number one, his family, and then any kind of faith in his life," Close said. "He's working hard at building his company but what he's missing is balance. What's ironic is that Paul is sort of becoming the father to his son that his father was to him. That broken relationship now is repeating itself with his son."
The veteran actor, known widely for his role as Mayor Teddy Conrad in the ABC show "Nashville," said working with the "legendary" Pat Boone was a "delight." Like their characters, the two became good friends on the set.
"When we were on the set, nobody knew who I was, and everybody was coming up, 'Oh, it's Pat!' Can I get a picture with Pat?'" he said. "People would hand me the camera and ask 'Can you take a picture of us and Mr. Boone?' We developed an immediate friendship. We all shared a house together and would see each other in the mornings for breakfast. He and I would sit up and in the evenings after work and work on our dialogue."
The two shared their love of the game and their common faith in Jesus Christ. Close said his faith in God "is the most important thing in my life."
"I have a relationship with the Creator of the world. It's quite humbling when you think about the fact that God created this and the entire universe and all the amazing things just on our planet Earth, but He loves us this much that He wants to in a friendship and in a relationship with us. That's pretty extraordinary to even put into words. It's so awesome."
"The Mulligan," directed by Michael O. Sajbel and starring Pat Boone, Eric Close, and Tanya Christiansen, was released theatrically earlier this year and will arrive on home video Aug. 16.