In the new Affirm Originals/Pure Flix film "Legacy Peak," Lucas Black ("Fast and the Furious," "Sling Blade") stars as Jason, a man on an adventure with two children he hopes will become his new stepchildren. Through the course of the film, he finds himself braving the elements and teen angst to stay alive and keep them happy.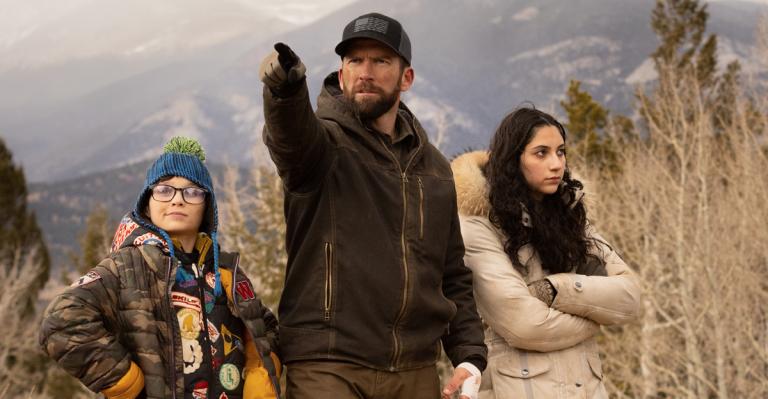 Black, who broke out with his starring role opposite Billy Bob Thornton in "Sling Blade" before going on to appear in "Friday Night Lights" and "NCIS," makes his Christian film debut, and in this exclusive interview with Reel Faith's DeWayne Hamby, he explains what drew him to the role, and why the themes are important to him.
Tell me how you felt getting involved in the film "Legacy Peak."
It was an answered prayer for my wife and I. When I left "NCIS: New Orleans," the main reason was to spend more time with my family. We've been there a long time. The show was good to us. I filmed 125 episodes. But, growing up in the entertainment business as a kid, I was able to observe how the business was run, what it could do to a family, and the concerns I had, just what it was going to do to my family relationships, my wife and I's relationship and my children's relationship. The way TV operates, it's not easy. It's very fast-paced, long hours, marathon filming. I felt like, that time was going to be short-lived because I wanted to really connect with my children because they were young. They're 11, nine, and seven right now. We took a year to rest, and we were praying the whole time, about what the next step was going to be.
We kept seeing, in our culture, just this shift, that was really lacking fathers in the family. There was an attack against the nuclear family and an attack against Christianity. I think for a long time, in Hollywood, the content of the movies has really undermined the father role and the concepts of manhood and masculinity. So when this story fell into my lap, it was an answered prayer, just in the sense of God was saying, "This is a way you can get the message out there that you want to get out, about fathers and also impact the culture in a positive way." That was, that was one of the main reasons I chose to do this project.
How did you feel stepping into the shoes of Jason, the main character?
I love how this story shows the importance of the need for an earthly father, no matter how old you are. My character is in his upper 30s, and you can tell that there's some pain there. Because his earthly father ran away. He didn't have a good earthly father. The kids had a good earthly father. They honored him and respected him and loved him. But, he was killed in the military. So it shows how they still yearn for the presence of their earthly father. This story shows that we can rely on our Heavenly Father to fulfill some of those needs. And that's what my character does, which I like and think is really powerful.
Because you've got such a recognizable voice, I was curious if anybody you know how some directors or whatever different shows might ask you to tone down the accent. Have you ever had that?
Early on in my career, there were a couple of projects that asked me if I could tone it down. I pretty much turn those roles down. Later in my career, I think most producers and directors realized that it was such a distinct characteristic that they were they were going to play it and embrace it, because, you know, it was unique. It's been a blessing and has worked for me throughout my whole career.
Have you done faith-based productions before? What was it like working on this?
I did "Seven Days in Utopia" and it had a faith-based aspect to it, but it really wasn't faith-based with our producers or our production. It was independently done. "Get Low" had a spiritual aspect to it, but it definitely wasn't like the faith genre. So, this is the first one. I think God wanted to show me that there are people out there, producers and directors, that are creating content, that are wanting to expand the kingdom of God and wanting to glorify my name, and wanting to point people to Jesus, and have the same Christian values as you do, and have the same family values as you do, and American values as you do. It was just an encouraging, uplifting, working environment. Me, I had a lot of friends. I left "NCIS: New Orleans" before COVID and a lot of my friends were telling me how rough it was, on set what they were doing mandates, protocols, isolation, and it was terrible. They were hating it. Struggling, nobody was having any kind of fun. I'm at home, and I'm trying to uplift and encourage and pray for people. And I'm shaking my head saying it saying it doesn't have to be this way. I had my own thoughts and ideas of how the working environment could be. And it was every bit if not more on "Legacy Peak" how it was. Everybody came to work with smiling faces. Nobody was trying to call people out or make it hard on anyone. We were all getting along with the same goal in mind, the same agenda in mind, and, and created a wonderful project. So, it was awesome.
"Legacy Peak," directed and produced by Aaron Burns and also starring Kyleigh M. Bakker, Roman Engel, Todd Terry, and Ina Barron, is now streaming on the Pure Flix streaming service.