Sight & Sound Theaters, which launched its own streaming platform, Sight & Sound TV, last year, will debut its latest musical production, "DAVID-Live," on the platform Friday, Sept. 1. Using 12 cameras planted throughout the audience and stage, the broadcast will capture a bird's eye view from its Lancaster theater, which will host a sold-out audience.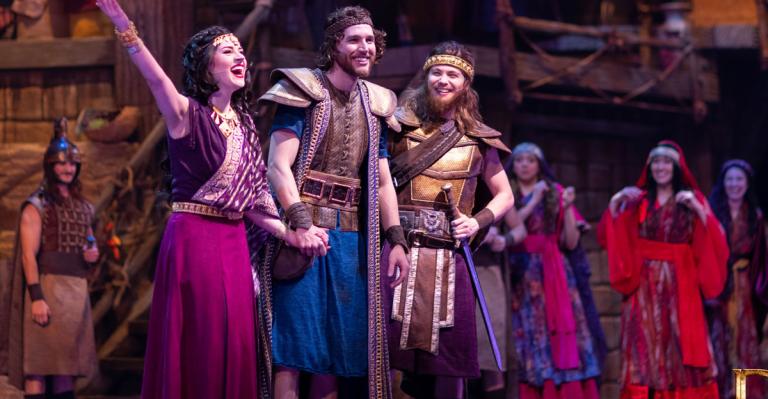 The production is the latest from the company, following the debut of "Queen Esther," during the pandemic. The launch of the streaming platform, prompted by the Covid-19 shutdown, has helped the growth of Sight & Sound, according to Sight & Sound's Director of Marketing & Communications Katie Miller. In this exclusive interview, days before its premiere, she speaks with Reel Faith's DeWayne Hamby about how the shutdown opened a new audience for them.
Tell me what's happened with Sight and Sound since the shutdown closed the show in March of 2022.
If you want to go back all the way to the start of the pandemic, we all thought it was going to be a couple of weeks, and it ended up being months and months and months. To have both of our locations closed. Not only was it obviously an extreme challenge financially, but truly just like as an organization as a ministry, we were just at the place of not knowing how long this was going to go. So, how do we pivot? How do we continue to get the gospel out there to inspire people to bring these stories that we're so passionate about, in a way that people can experience them? Answering that question is what truly led us to the launch of Sight and Sound TV, our streaming platform, in the summer of 2020. We launched that with our first-ever live broadcast of "Queen Esther." And it has just been such a journey since and one that has surprised us completely along the way. Because you know, God comes in, in the moments where you're at your lowest and sort of going 'Will we ever be able to truly recover from this?' Then to actually use that as a launching point for the biggest growth we've experienced as an organization, I think, in our history in such a short period of time. To have "Queen Esther" broadcast to over 100 countries throughout the world. So much has happened since then with it. It's just astounding.
So what's it like now with "David-Live" premiering Friday?
We're super excited to be bringing "DAVID-Live." We're broadcasting David Friday, September 2, so just in a couple of days, it's a flurry of activity around here with stress. I think it's hard to ever imagine going back. This has become such a way for those that can't come and have an in-person theater experience to still get as close as you can get to be here in the comfort of your own home, no matter where you are. We're still several days out and we have all 50 states have purchased event passes. And last I checked, I think a few dozen countries. We know it's gearing up to be yet another true worldwide broadcast of this show that has been on stage now since this past March. It's our most recent one. So we're excited.
And you're launching your first ever motion picture soon, right?
At the very end of 2019, we were really feeling the Lord call us towards growth. And we didn't entirely know what that meant. But one thing that we were starting to really sense was taking this step into producing feature films. So we had these like dual trajectories happening with Sight and Sound TV growing and exploding and kind of starting to build this digital, and digital, national, and worldwide audience of people beyond those that are typically coming to the theaters. And in the middle of that started to walk towards producing a film that. It actually began as a short film. We thought, 'Okay, we'll just do this and do a little test and (find out) how our storytelling translate. As we started to watch some of the footage, we thought that this story is meant to have a full feature to it. So we shifted gears last year, and we're able to produce our first ever full-length film, "I Heard the Bells," which is coming to movie theaters this December, in partnership with Fathom Events, which we're super excited about.
Being in the audience, I know it's such an immersive experience, with action happening all around. How do you capture that for the online audience?
You know, this theater is massive. If you've been here, you will hear this all the time—you have to watch it more than once because there's so much that's going on. And the thing that the broadcast does that is unique and makes it feel special is that we have 12 cameras, and we have cameras onstage, in set pieces in the aisles, we're doing we're using a fly cam this time. We're truly flying the camera over the audience. You don't have to decide where you're looking. It's chosen for you. So, 'This is the best moment of this scene. Here it is.' And you get this up-close view. It's almost like watching a different show because you get the detail of the emotion on the actors' faces and you get the up-close shot of our flock of sheep that run up and down the aisles. It is it's a different experience, one that feels like an entirely different show in many ways.
So you'll have a sold-out crowd and you're going to perform it live at the same time.
Yes. We've had people say, 'There's no way you're doing this live, in real-time.' And we're like, 'Yeah, we really are.'  That's what the theater does. It brings us together, and we get to celebrate and honor these stories in the same way that Jesus did. He was the ultimate storyteller. For us, it's coming together at a specific time, all across time zones to celebrate and honor this very worshipful show. We just can't contain ourselves. We're so excited.
You've been doing this show since the spring. What's been the reaction?
The reaction has been awesome. We didn't get to do the big celebration of 'Queen Esther' opening because of the pandemic. So, to be able to actually premiere a show again, just have the excitement and the celebration around it was really special. My favorite thing about this show—and this is what we hear from audiences—is that we're familiar with David's story and writing Psalms, but you don't often see them put together. So, to watch him walk through and process the anguish of being chased by Saul who had become like a father to him and him sit in a cave alone, and sing 'My God, My God, why have you forsaken me,' you know, 'My enemies, they surround me,' but then turn it into praise. Or to watch him in the middle of this beautiful scene and scenery of Psalm 23 and singing. This is what his life experience would have been, watching the Psalms unfold with his life events is just really cool. And this is my favorite. I poked my head in the theater during rehearsal. We had an audience today for the rehearsal, and there's a song in the middle of the show. It's one of my favorite parts, but it's where they're singing, 'Let everything that has breath, praise the Lord.' And there was this dear older gentleman when I walked in. And as soon as I walked in, I was standing in the back, I looked down, and he put his hands straight up in the air for the whole song, and he just was worshipping right along with the cast on stage. We see that so often, with the soundtrack and the music and just seeing the songs truly come to life in a way that we can all connect to and resonate is the thing that sets this show apart from what we have done in the past in a different way.
"David-Live" will premiere Friday, Sept. 2 on Sight and Sound TV at 7 pm EST with encore viewings through the weekend. For more information, click here.