It's an all-out war in the sixth episode of Amazon Studios' "The Lord of the Rings: The Rings of Power." Entitled "Udûn," the one-hour entry focuses on the orc army pursuing and reaching the villagers led by Arondir and Bronwyn. After an episode or two of build-up, the forces finally clash, leading to a riveting hour of television, which I believe is the best of the entire series.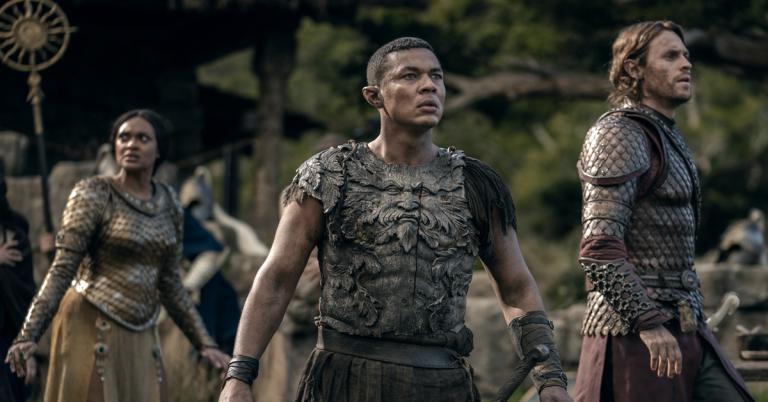 Adar ruthlessly leads his army toward the innocent, seeking the remnant of Sauron's sword. With the orcs at their heels, the villagers are small in number and must rely more on their physical strength to survive. They make their stand and hold out hope that it will be enough. In the meantime, the forces of Númenor, led by Galadriel, Queen Regent Miriel, Halbrand, Elendil, and Isildur rush to enter the fray. When they arrive, the result is explosive.
Arondir continues to be an extraordinary elf character in the vein of the trilogy's Legolas, displaying impressive courage and impressive combat skills, especially in the first few moments. Bronwyn, who faced her moment of doubt, now shows a strong determination to lead her people to safety, even when the situation seems the most desperate. The story also allows further backstory on Adar, whose treachery is certain, but plans are unknown.
Though the episode is marked by mostly action, there's a tender moment on a ship between Galadriel and Isildur. Addressing his dissatisfaction at his lowly position, she tells him, "Despise not the labor that humbles the heart." Believers in Christ know that humility is a key component of leadership, and that "the greatest among you will be your servant" (Matthew 23:11).
Later, Galadriel rescues Halbrand from succumbing to a thirst for vengeance by saying, "One cannot satisfy thirst by drinking seawater." Harboring bitterness, she is saying, is a craving that will never be quenched, but one that will forever change the person refusing to let go. Keeping his anger in check would not only benefit Halbrand but the entire cause as they seek to ready for the larger battle.
On Thursday, Nielson revealed that "The Rings of Power" had risen to the top spot in streaming ratings, with 1.3 billion minutes viewed, ahead of other similar series such as HBO's "The House of the Dragon." It's an impressive feat for a massive production, hopefully, one that will propel future seasons forward after the two episodes that follow. The series has consistently delivered and, with "Udûn," supplied its finest moment so far.
"The Lord of the Rings: The Rings of Power" episode six is now available on Prime Video.