Reeling from a crushing defeat, the forces of good recover in "The Eye,' the seventh and penultimate episode of "The Rings of Power." The volcano erupted, consuming lives, and transforming the landscape of the Southlands. Even though the heroes Galadriel, Queen Regent Míriel, and Arondir displayed their physical strength and bravery, they were outsmarted by Adar and his minions.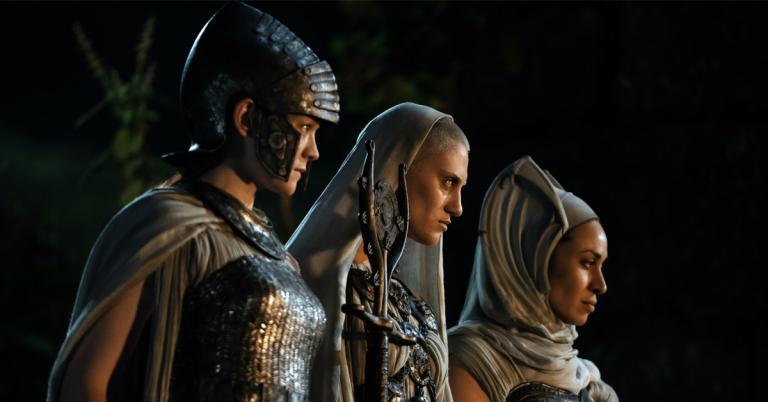 Last week's "Udûn" was filled with nonstop action sequences, but "The Eye" offers a calm after the storm and a larger battle looming with the season finale. Removed from the devastation, the harfoots remain uneasy with the mystery of The Stranger, but soon find themselves targeted by the even more mysterious and nefarious Mystics. Perhaps the kind-hearted group might wonder if they could ever stumble across any normal people.
Elrond pleads his case to Prince Durin IV for the lifesaving mithril in the caves, prompting some very awkward but transformative moments in their relationship. Can their friendship survive if the dwarves turn their back on the elves? The dynamics between Elrond, Durin, and Princess Disa are so captivating and provide a much-needed personal heartbeat to the series.
Galadriel and Theo, separated from the others, comfort, and protect each other as they search for the survivors. Theo wrestles with anger and bitterness, believing the worst about the fate of his mother in the aftermath. The wise elf commander advises him to guard his heart after he says it would be "good" for the enemies to be killed.
"I would not use such words," she says. "It darkens the heart to call dark deeds good. It gives place for evil to thrive inside us. Every war is fought both without and within. Of that, every soldier must be mindful. Even I. Even you."
Throughout world history, stories have been crafted of bitterness and anger transforming the innocent into the malevolent creatures who they were wronged by. Hurt people hurt people, and the hurting started somewhere. But the good are called to rise above it. Even though there is a war to be won and swords will still be wielded, Galadriel is concerned about how the darkness will affect Theo internally. "Above all else, guard your heart, for everything you do flows from it" (Proverbs 4:23).
"The Rings of Power" is one of the most talked about and popular series on the planet right now. It continues to build a following, and it's easy to see why. The story is captivating, the characters are well-developed, and the production value is excellent. Episode Seven, "The Eye," provides a few pivotal moments for the characters and a breather before what is sure to be high-stakes action in the season finale next week. It is currently streaming on Amazon Prime.