As "The Wingfeather Saga" animated series debuts this weekend, author Andrew Peterson sees the culmination of years of creativity. The popular young adult fantasy series led to a record-breaking crowdfunding campaign and a full commitment from Angel Studios. Also known for his music, such as the Christmas favorite "Behold the Lamb of God," Peterson says he feels grateful for the team who has contributed to the new series.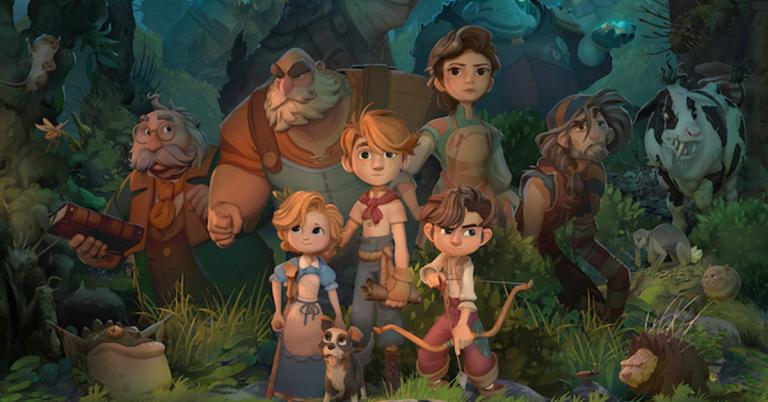 "I'm so proud of what the team has made as I am about people seeing what's about to happen," he said on the series' red carpet premiere event in Nashville recently. "There's a lot of gratitude."
Chris Wall, who serves as showrunner and an executive producer alongside Peterson, added that "our whole team just served the story. There's not any selfishness. We're all excited about the story."
The fantasy series centers on the Igiby family and their fight against the evil Fangs of Dang and the mysterious ruler Gnag the Nameless and stars Jodi Benson, Kevin McNally, Henry Ian Cusick, among others.  It's the newest release from Angel Studios, the studio behind the popular biblical series "The Chosen."
In 2008, Peterson founded a non-profit arts organization called The Rabbit Room. The Rabbit Room hosts concerts and conferences and has published over 30 books to date. For the animated series, Peterson turned to his friend Wall, a "master at what he does," a Veggie Tales veteran who began his career in with Max Lucado's "You Are Special" direct-to-video special and created the acclaimed "Slugs & Bugs Show" with Brentwood Studios and RightNow Media. It was decided that "The Wingfeather Saga" would be served better as an episodic release rather than a film.
"We watched 'Avatar The Last Airbender' as a family and there were a few other animated things happening, watch some really great television shows that had multi-season and I saw how beautiful it was," Peterson said. "This was an amazing way to tell a story with a closed arc. A movie wouldn't necessarily make sense for the story."
"The Wingfeather Saga," executive produced by Andrew Peterson and Chris Wall and starring Jodi Benson, Kevin McNally, and Henry Ian Cusick, premieres today on the Angel Studios mobile streaming app.