Premiering today on the Angel Studios streaming app, Andrew Peterson's animated The Wingfeather Saga is a fantasy series centering on the Igiby family and their fight against the evil Fangs of Dang and the mysterious ruler Gnag the Nameless. Based on the acclaimed Penguin Random House book series, the series set a new record for crowdfunding, raising $5 million in less than 20 days.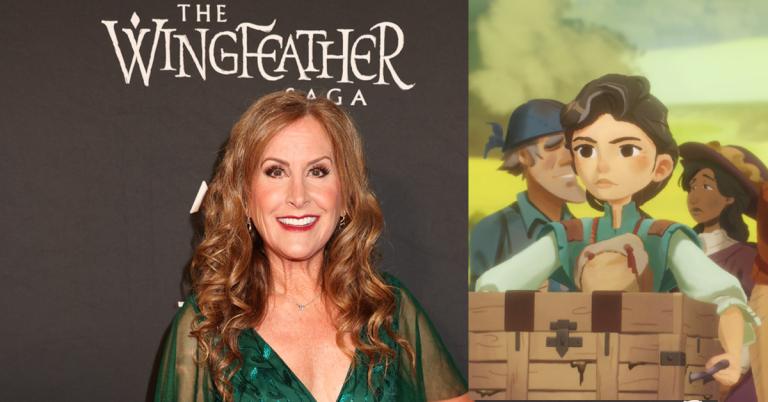 Tony Award-winning actress Jodi Benson, forever known as the Disney princess Ariel from "The Little Mermaid" as well as Barbie in "Toy Story 2" and "Toy Story 3" and "Thumbelina," provides the voice for Nia, the mother of the Igiby children. In this exclusive interview, she talks about the unique vision behind The Wingfeather Saga, the legacy of "The Little Mermaid" and its iconic song, "Part of Your World."
What drew you to this project, "The Wingfeather Saga"?
The thing that I love about being in the industry is that any chance that I get to share my skill set, whether it's a voiceover for animation, whether it's on stage in a theatrical production, whether it's with the symphony orchestra, strictly singing, I get to be part of storytelling. And that's what I'm passionate about. What was extra special about The Wingfeather Saga is that when you add the element of a faith-based project, on top of getting to share the skill set that I know God has given me that he's designed for me to share, it just makes it an extra special blessing. To be able to connect with Chris (Wall, executive producer, and showrunner) and Andrew (Peterson, executive producer and author) and to hear their heart about this project, it just felt like a perfect match for me. I'm thrilled to get to create Nia and I love the character. I love that she is strong. I love that she stands in a position of power and authority, yet she has an incredible heart of love for her kids. And she will fight fiercely for them. She's definitely a mama bear, which I love. So, it's been really great to develop this character of Nia for the project.
I just love that you have generations that are bringing their children to meet you because you've impacted them when they were young.
I've spent 36 years (in the industry) and that's a blessing. It's a huge blessing. The project for "The Little Mermaid" was really supposed to be just a one-and-done. It was 'go do this film, and then go back to Broadway and do eight shows a week.' That was the plan. But it was right before the film came out that they decided to send me on a press tour of 22 cities in 20 days and announce who the voices are, that you would put a face with that. That was not part of the plan at all. So, as soon as the movie came out, life just took a different turn. And it's been an amazing ride ever since.
As a girl dad, I'm probably more up on your career than maybe the average man. I've sung "Part of Your World" so many times. I can't think of a more iconic Disney song.
It is a beautiful song. It's a monologue that happens to be put to pitch. That's what makes it so special. I love story songs like that, that are just it's more powerful. To have the music going along with it is incredible. But the words and the lyrics and the heart of who Ariel is, you know, we had to get that across in those three minutes and 15 seconds in order for you to fall in love with her and then root for her all the way to the end of the film.
Back to "Wingfeather," what do you hope the younger generations will get out of it. 
I think what I'm most excited about The Wingfeather Saga is that it is a real piece of entertainment that allows a child and a family to have a whole bunch of emotions.  There are moments of light, there are moments of dark, there are moments of fear, and moments of joy. You're gonna' have a gamut of emotions. And I think that's really good. I think it's important for kids to understand what all these different emotions are and to not just sort of like sugarcoat things and make them sort of fluffy. And that's what I like about this project. It's not fluffy it is real. And I think it's important for kids to learn how to have these feelings and then how to process them.
"The Wingfeather Saga," executive produced by Andrew Peterson and Chris Wall and starring Jodi Benson, Kevin McNally and Henry Ian Cusick, premieres today on the Angel Studios mobile streaming app.