Tonight, NBC will premiere the latest television movie from music icon Dolly Parton, "Dolly Parton's Magic Mountain Christmas." The film is a fictionalized behind-the-scenes of the making of a Dolly Parton Christmas special featuring her closest friends and special guest artists, including Willie Nelson, Miley Cyrus, Billy Ray Cyrus, Zach Williams, Jimmie Allen, and Jimmy Fallon.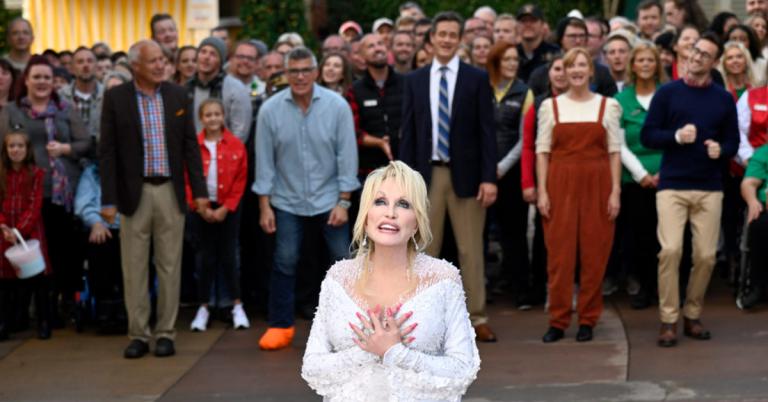 The film is the 12th project Parton has done with producing partner and longtime friend Haskell, including the "Christmas of Many Colors" and "Dolly Parton's Heartstrings" series and "Christmas on the Square." The two met 40 years ago backstage at an Emmys when they bonded over Ole Miss, Haskell's alma mater and Parton's husband Carl Dean's favorite football team.
"We sat and talked for 30 minutes because everybody else was late," he said. "Then I'd run into her from time to time. It took me about ten years to get Sandy Gallin to let me represent her. I started in the early 90s. She's godmother to our children and such an important part of our lives."
For the new movie, Haskell recalls that Parton wanted to take her gospel songs and weave them through a dramatic story. Her team then saw this as a way for Parton to be recognized for a more dramatic performance and rallied behind the project.
"Everyone wanted Dolly to do a dramatic piece that could be her Emmy," he said. "But we just struggled and struggled with writer after writer trying to get the story right. It was first about a gospel singer who had a fall from grace and had to build her way back. And she went back to her roots to rediscover who she was. Right after everything was greenlit to go forward, Dolly had a change of heart and came up with this idea about doing behind the scenes of The Making of a Dolly Parton Christmas Special."
In the film, there are moments when Parton speaks directly to viewers with messages of faith and love. It's a "legacy project," Haskell says, that gives her a chance to say everything she wants to at this point in her life.
"The world is a tough place right now," he said. "And Dolly wanted to give a gift of hope and love and security to people at a time when I think they really need it most. I think we captured all of that. This is Dolly at her best. It's Dolly with all her friends and the people in her life who are special to her. And she is delighted with it."
That's not to say the anxiety depicted onscreen wasn't present in real life. Haskell was grateful to have the network's support which allowed them to put together a first-class production. But one hurdle remained—Covid-19. If Parton or any of the leads got sick, he knew it could mean delays in production and expenses in the hundreds of thousands.
"Dolly had said to me at the beginning, you worry about everybody else and yourself, but don't worry about me, God's got me," Haskell said. "She just never even considered that she would get sick and wouldn't be able to do this. I was on my knees every morning, right after my 5 am calls with Dolly, praying, 'Please, please, God, please keep everyone healthy. Please, help me with this. And He did."
In addition to his films with Parton, Haskell is resurrecting another faith and family franchise, the beloved TV series "The Waltons." He produced "The Waltons: Homecoming" and "A Waltons Thanksgiving," two specials that did very well for the CW network. It's part of his calling to provide Christian content for families who are not getting it elsewhere.
"I've always believed that the best messages of faith, hope and love start in a family," he said. "Families are so disjointed now, and unless the parents are devout Christians, kids are not going to church every Sunday. They don't sit around a TV and watch things together. I've witnessed it in my own family. I am a very strong Christian and I have been raised with that. That's how I remember my childhood."
He added, "I just want to put something out there that will bring families back together to enjoy entertainment together and maybe cause them to discuss it during a family dinner, or that might send them back to church. That's why it's so important to me that all the projects that I do have this faith element in it."
It doesn't hurt to have the support of the world's most beloved celebrity, either.
"One of the great compliments in my life is when she sheds a tear and says, 'You did it, Sam, you did it again'," he said. "It just warms my heart to please her. When you think about it, she's probably the most important world icon that we could ever have imagined. To please a world icon is just a compliment of all compliments."
"Dolly Parton's Magic Mountain Christmas" premieres tonight on NBC and continues airing on the Peacock streaming network.