"Shooting Stars," based on the life of LeBron James and his high school basketball teammates Lil Dru, Willie McGee and Sian Cotton, recently premiered on the Peacock streaming network. The sports drama details the rise of the "fab four" who rose to national attention and propelled James to his status as a sports legend.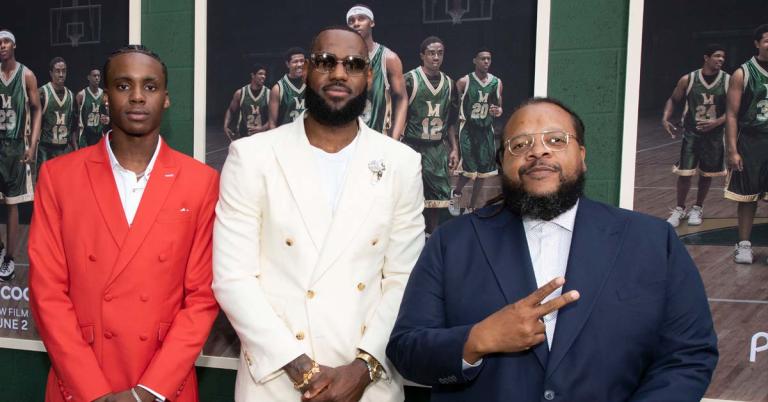 Though James, who co-authored the book the film is based on with Buzz Bissinger ("Friday Night Lights"), is a central figure, the film is ultimately a story of friendship before and after a historic rise to stardom. Director Chris Robinson ("Beats," "Grown-ish") recently spoke to Reel Faith's DeWayne Hamby about the themes of the film and his journey to making it.
This is a basketball movie, but really at its core, it's a story about friends, and how we make each other better. Would you agree with that?
That definitely was the intention.
So, what appealed to you about making the movie?
I read the script, and all those things you mentioned, brotherhood loyalty, and, to some degree, it's a father son story. That's what really attracted me to the script and just kind of connecting it to all the things that we all go through. I was a coach for my son's 11-12 basketball team. Those guys were all kind of crazy misfits. When we started, when they were nine, and they just kind of grew in understanding not only the game but understanding things that make teams and being dedicated to one another, and loyalty and that growth. Then you realize that LeBron James, this is his story. He's in the middle of it, and he had that same experience. In life, you can't skip steps. We all think like LeBron was born out of the womb, and he was, you know, slam dunk for the Cleveland Cavaliers. But the truth is, he went through an awful lot, as a kid, with his family, with his friends. And I think the reason all these guys are still friends is they lean on each other in a way that is beyond the sport. It's beyond basketball. It's about real life and friendship. I'm so motivated by movies like "Stand by Me," and "Breaking Away," you might not remember that movie, it's an old movie. You look at those relationships with those guys, and that's the heart and soul of the story.
Was there hesitancy working on a film where the real-life subject is so involved in the production? Like you had to make sure to get it right and be true to his story and not be a 'puff piece.'
When you take on a biopic you got to realize that, take it in, and then understand that the most important part of this is to tell the story in an authentic way. It may not be exactly how the people that really lived it think it should go. Fortunately, everyone who's been involved has seen it and loves it. So, I was like, "Whew! Okay, great, you know, that made me feel better." When I was in Akron screening,  I'm like, 'I gotta make it out of Akron.' The fact that they really liked it was gratifying. But I think the most important part is to tell the story authentic and true. But simultaneously, that it's interesting enough that the audience wants to keep watching it. And the documentary is a totally different animal. A book is a totally different animal as far as storytelling and art goes.
When you take on a biopic, you know, and I've seen some recently that are amazing. "Elvis" was amazing. It's the way you tell that story. I think all these sports stories that resonate go beyond the sport. So, I wanted to make sure that I was in that space. One of my favorite all time sports movies is "All the Right Moves," an early Tom Cruise film. I love that movie. The football is amazing. At the time, I was in high school playing ball. It was all authentic. I felt every time in the mud and could smell the terrible stench in the locker room watching the movie. But it ultimately was about relationships and the heart and soul. I paid attention to all those notes as I became a filmmaker. And then when I wanted to tell this story, obviously, the stakes are high. It's Lebron James. He's the king. How do you tell this story? With like you said, I love that. You said "It's not a puff piece." How do you tell a story that's not just like a nostalgic remembrance of all the good stuff. I wanted to tell the story—warts and all—get the real story from the real people that were there. The good thing is that we started with an amazing script. Thank you Frank E. Flowers, who adapted the book. Great producers, Rachel Winter. Spencer Beighley, Jamal Henderson, all those guys at Spring Hill. It was a team effort to tell the story not only of a team, but ultimately to tell the story of a group of guys that are still friends today.
"Shooting Stars," directed by Chris Robinson and starring Wood Harris, Marquis "Mookie" Cook, Caleb McLaughlin, Natalie Paul, Algee Smith, and Dermot Mulroney, Khalil Everage, Sterling "Scoot" Henderson, Katlyn Nichol, Avery S. Wills, Jr., is now streaming on Peacock.