In the new film, "Sound of Freedom," releasing this week from Angel Studios, Mira Sorvino ("Mighty Aphrodite," "Romy and Michele's High School Reunion") co-stars as Katherine, wife of Tim Ballard (Jim Caviezel), a former government agent fighting for the release of abducted children. The film sheds light on the worldwide epidemic of human trafficking, a cause dear to the heart of the Academy Award-winning actress and former United Nations Goodwill ambassador.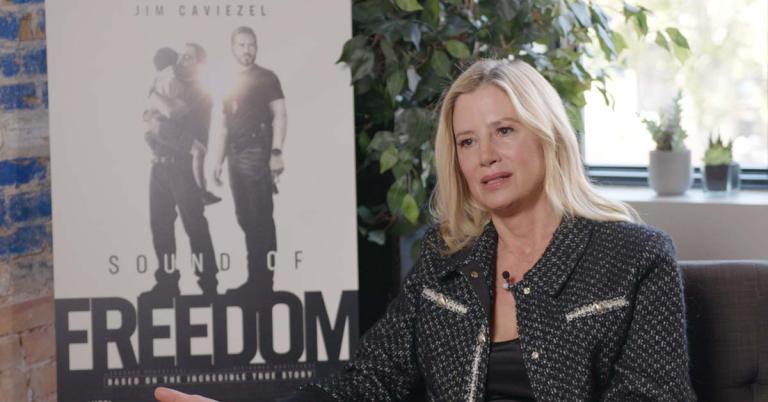 "I've been an advocate against human trafficking since 2004," Sorvino said. "I first discovered that slavery did not die with the end of legal slavery but is alive and well in the form of this illicit, multi-billion dollar industry, with 40 million people living as slaves today, the highest number in recorded history, and only .4% of them being discovered, rescued or exiting themselves."
The true story centers on Tim, who at times is torn between being a husband and father at home or remaining on the frontlines to rescue trafficked children. It is the couple's love between each other and faith in God that compels them to continue.
"Katherine challenged him to say that, 'Now that you know about this, now you have the opportunity to help these children —you're asking me for an excuse not to?'" she said. "'When we're called before God, what are we going to say? We had a calling and we didn't answer it? You need to answer this, even if it causes sacrifice to our family'."
Beyond the Ballards, Sorvino says that the calling of God is for all people – to reach out and help that are oppressed and mistreated.
"We have a soul that the Holy Spirit can affect," she said. "It can call to us, God can call to us, Jesus can call to us. And when we hear that call, if we don't answer it, we're turning away from God. I had a minister once who described sin as distance from God. And when we don't do what we need to do to help people in need— if we see the need and really exposed to it and we look away — we are distancing ourselves from God in the most profound sense. And Jesus loved children more than anyone. He said, 'Whatsoever you do unto them, you do to me.' Our call is to help these children."
Sorvino credits the performances in the film, including Caviezel, whose "face registered the pain" of the situation and the "beautiful" child actors who portrayed the real-life heroes who the film is based on.
That pain Ballard experienced may translate as a wakeup call for many viewers who were not aware of the depth of the issue. The answer, she says, is to call upon local, state, and federal governments to do more to toughen legislation against human trafficking as well as to address the root causes that cause children to either run away or be abducted and sold into slavery. Sorvino hopes viewers walk away knowing that even though they can't venture into the deepest darkest parts of the world, "all of us in some way, small or great, can do something to end modern slavery in our time."
"I think all of us can watch this movie and say, 'Well, he did something, we can do something'," she said. "All of us in our own way, small or great, can do something to end this modern slavery in our time, and help the survivors of it reclaim the lives that they were meant for."
"Sound of Freedom," directed by Alejandro Monteverde and starring Jim Caviezel and Mira Sorvino, releases July 3 from Angel Studios. For more information or to order tickets, click here. Watch below for the extended interview with Mira Sorvino and DeWayne Hamby.